Oi, dopeheads, leave Mo Farah alone!
The anti-doping witch-hunt is dragging another Olympian's name through the mud.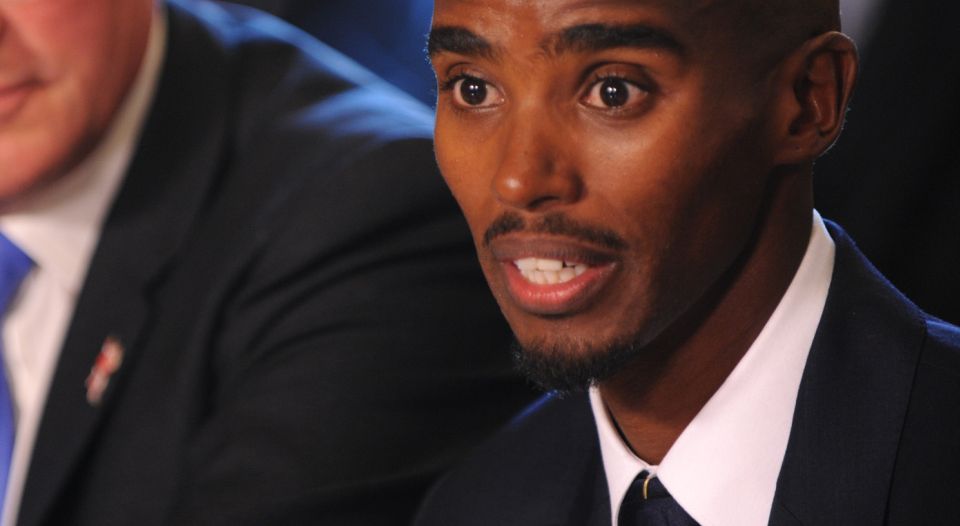 Almost as wide-eyed and sweaty as he is on the home straight of the 5,000 metres, a bewildered Mo Farah sat in front of assorted journalists in Birmingham last weekend running a completely different race. He was trying, and failing, to sprint away from a witch-hunt. The moral mob, which has completely overrun athletics, had finally caught up with our dear Mo. The very same man who had Britain screaming in unison less than three years ago, with glorious performances at London 2012, had now been thrown to the wolves. The 32-year-old was forced to hold a press conference amid allegations his coach, American Alberto Salazar, had violated anti-doping regulations, supposedly coercing Farah's friend and training partner, Galen Rupp, plus a host of other athletes, into taking banned substances, and somehow implicating Farah and sullying his reputation in the process.
With his brow furrowed and his voice cracking, Farah complained, 'I haven't done anything, but my name is getting dragged through the mud', before gesturing to the press and saying 'you guys are really killing me'. Welcome to the murky realm of athletics, Mo. It's a world in which suspicion and cynicism spread faster than Usain Bolt's raking strides eat up the track. Since the 1980s, track-and-field events have been gripped by a performance-enhancing-drugs-fuelled moral panic. Athletics has morphed into a sport that has a knack for chewing up its heroes and spitting them out once there are enough fragments of evidence needed to do so. No matter how much we marvel at Bolt's sheer speed or ogle at Farah's feats of superhuman endurance, we can't help casting a grudging, suspicious glance at our champions once the smoke of triumph clears. And that's far from a good thing.
We're encouraged to shrug our shoulders and doubt the achievements of our heroes at the drop of a hat. Imagine leaving Wimbledon feeling that Roger Federer's mastery with a racket was fake, or exiting Camp Nou thinking Lionel Messi's mazy dribbles were all just illusions. After years of doping scandals and fearmongering, each and every accomplished performance in the recent history of athletics is marked with an asterix – a little note that goes something like: 'Hold on. He could have been on something.'
The stupidest thing about all this cynicism and the sweeping suspicions of supposed wrongdoing? Society asks for athletes to be great, to go beyond the limitations of the average human body. Those running and jumping for our amusement aren't simply men and women – they're not allowed to be. For our entertainment purposes, they're freaks; monsters capable of otherworldly feats of strength and speed. In the modern era of huge television audiences and mammoth sponsorship contracts, athletes feel even more inclined to push their training to the very limits, in order to gain that marginal advantage in a race that could come down to a photo finish, a matter of hundredths of a second. The only way to do that in this day and age is to tap into all manner of scientific advancements that aid athletic performance.
Notable modern training and recovery methods include exercising at altitude to increase the amount of haemoglobin in the blood and boost stamina, and the use of cryogenic chambers, which are freezing-cold pods that athletes sit inside following training sessions in the hope of a speedier recovery from muscle soreness. The use of new, trendy training techniques raises questions: what's the difference between sitting in a cryo chamber and taking anabolic steroids, given both are intended to boost recovery? What's the difference between training at high altitude and taking EPO, given both are intended to boost stamina? If all of these techniques have the same physical effects as banned substances, then why are some stigmatised and others not?
Farah is now due to undergo a strenuous FBI-style examination of his medical records in what could lead to an undeserved dismantling of his reputation. To put it simply, he is a man who, like so many others before him, just wanted to go faster, to meet the high expectations set by the public and himself. He felt joining Salazar at the Nike Oregon Project was the best way to do that. With the line between 'cheating' and training so thin, it's incredibly presumptuous to take the moral high ground and look at things in black and white. There is no clear-cut right or wrong, no guilty or not guilty, in a track-and-field world in which no one is allowed to be normal. Who knew being a superhuman was so hard?
Shingi Mararike is a sports writer and graduate of the Young Journalists' Academy. Visit his blog here.
Duleep Allirajah, spiked's regular sports columnist, is away.
Picture by: Wikimedia Commons
To enquire about republishing spiked's content, a right to reply or to request a correction, please contact the managing editor, Viv Regan.