Gay-marriage flip-flopping Down Under
Australian politicians who once disapproved of same-sex marriage are now shamelessly embracing it.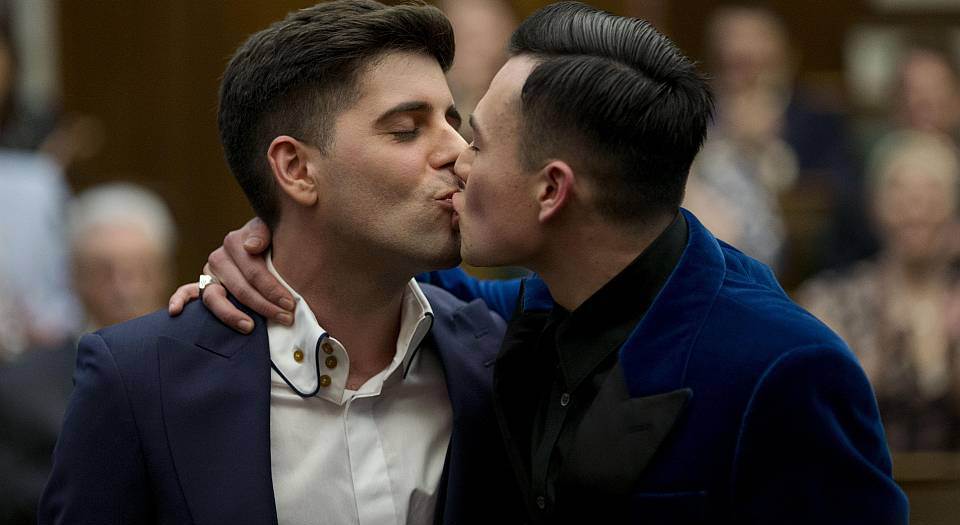 The debate on same-sex marriage has flared up once again in Australia – and, by the looks of it, this could be the last round of parliamentary discussion on the issue. Following a landmark marriage referendum in Ireland, a chorus of Australian politicians on both left and right are suggesting that the time is right for new marriage laws. Last month, Labor Party leader Bill Shorten introduced a private members bill on 'marriage equality' to the House of Representatives. Shorten's bill is unlikely to go very far, but a bill with bipartisan support – likely to be introduced later in the year – would have a good chance of passing.
So, what exactly are we witnessing? From one perspective, it would seem our politicians have abandoned old prejudices and resigned themselves to the spirit of the times. This neo-Enlightenment narrative is writ large in the commentary being churned out by the majority of Australian media outlets.
But has there really been a principled change in Australian politicians' views on this area of social policy? Even though I oppose same-sex marriage, I almost wish I could say that there has been. But the sad truth is that the newfound support for same-sex marriage is fuelled by something far more banal: it's another sorry story of our politicians marching to the tune of political expediency.
Look beyond all the impassioned rhetoric for a second and it will soon become clear that, in the face of aggressive lobby groups and significant media pressure, it has simply become too inconvenient for politicians to dig their heels in on traditional marriage. If anything, the rapid change in opinion confirms the political-realist thesis: power is the end of political action. Or rather, it smacks of a deep trend in Australian politics, in which public policy is increasingly driven by polls, soundbites and the 24-hour media cycle, rather than ideas and principles.
Over the past couple of months, we've watched a parade of supposedly conservative Labor politicians flip-flopping on same-sex marriage: Chris Bowen, Ed Husic, Wayne Swan and Tony Burke, who is now aligned with the right-leaning Labor union Shop, Distributive and Allied Employees' Association (SDA), have all thrown their support behind 'marriage equality'. And there are whispers in the halls of parliament that scores of Liberal Party pollies, like Corangamite MP Sarah Henderson, also support a change.
But make no mistake. These politicians have not simply had an epiphany following Ireland's marriage referendum. If only life was that poetic.
Take the sorry story of the opposition leader of the House, Tony Burke. Here's his flash of insight: 'The days when the law of Australia can limit access to marriage in ways that are so far removed from the modern-community view have long since passed.' So the time for government restrictions on marriage have long since passed? Why, then, did Tony Burke vote against the Marriage Amendment Bill in September 2012? By 'long-since passed', does Burke mean last year? Last month? Last week? An hour ago?
The subtext is this: pressures within the Labor party, and, more to the point, increasing distance between Burke and the conservative SDA, have made it more convenient for him to support gay marriage.
Or let's take Wayne Swan, who also voted against the Marriage Amendment Bill in September 2012. Swan says that he once had a principled objection against gay marriage, but has thought 'long and hard' about it and 'realised he had it wrong'. Stop the press! Politician admits he was wrong!
Unfortunately, Swan's u-turn is not a confession of humility, but rather a characteristically pragmatic decision to ingratiate himself with supporters and strengthen his political standing. Imagine if ex-Labor leader Julia Gillard was still in power, and still standing in opposition to gay marriage. Would Swan be so quick to change horses? Even Shorten's introduction of the marriage bill on Monday – ostensibly 'a moment bigger than politics' – had a pragmatic feel. Shorten was slammed by Liberals, Lib Dems and Greens alike for trying to win votes at the expense of parliamentary cooperation on marriage equality.
At least Labor's Tanya Plibersek has been consistent on gay marriage. She took a stance on gay rights during her student days at Sydney's most progressive university, University of Technology, Sydney (UTS). She's kept to this position throughout her political career. Plibersek has campaigned tirelessly for gay rights since entering parliament in 1998, raising the issue as early as 1999.
Sarah Hanson-Young, a Greens senator, recently chided Tony Abbott, the Australian prime minister and Liberal leader, for his '1950s views of marriage'. For Hanson-Young, the 1950s worldview was steeped in prejudice, and it's high time Australia sloughed off the remnants of this antiquated way of thinking. And sure, there's something to this. But the glib rhetoric of 'time' is quickly used as a convenient excuse to trade in key moral beliefs for political brownie points.
Here's a thought on time: marriage is an age-old institution, much older than the 1950s. I'd say it's somewhere between 5,000 and 500,000 years old, depending on how you interpret it. Should we really be so hasty to change it? Some of you may say 'yes'. Fine. Everyone is entitled to his or her considered opinion. Hopefully we can at least agree on this much: the rhetoric of 'time' is no excuse for jettisoning political integrity.
Xavier Symons is a graduate philosophy student at the University of Sydney and deputy editor of Bioedge.
To enquire about republishing spiked's content, a right to reply or to request a correction, please contact the managing editor, Viv Regan.