I'm good, you're bad: the rise of competitive caring
From the SNP to the trans lobby, why is everyone so belligerent?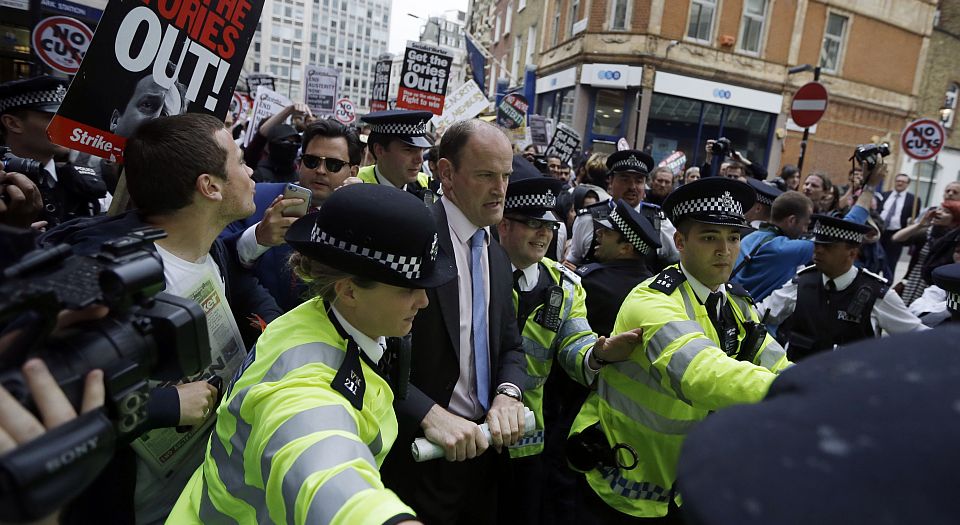 The Scottish National Party is more like 'a nascent, evangelistic faith', writes a blogger for History Today. 'Party rallies are more akin to megachurch services than traditional political meetings and the party gives a powerful sense of belonging and purpose to its thousands of new members. The air is thick with evangelism and conversion narratives ("I used to vote Labour, but after the referendum I saw the error of my ways!") and new believers are warmly welcomed into the fold.'
This isn't the first time the SNP has been compared to a religious movement, and its followers to members of a cult. But it still rings true. People with deeply held, quasi-religious convictions are invariably testy and intolerant of those who disagree with them, which is why SNP rowdies often behave in such an appalling fashion. The verbal assault on Labour's Jim Murphy by such hooligans last month was but the latest example of this. 'Cybernats' on social media can be just as rude, loutish and very angry with unbelievers.
People of a Labour-voting persuasion, who worship the NHS and the welfare state, can be likewise as fanatical. During the General Election, Conservative and UKIP posters were defaced, party offices were vandalised, but and placards people had put outside their homes were daubed with graffiti. This explains why the 'anti-austerity' fundamentalists are wont to ambush such prominent UKIP types as Nigel Farage and Douglas Carswell. The latter was subject to their antediluvian bile last month outside Westminster. 'Get the scum!', shouted masked faces at Carswell, obviously with empathy. 'See if you can outrun us, Tory filth', said another, caringly.
Belligerent self-righteousness becomes supercharged when you add a sense of grievance and victimhood into the mix. Consider the snotty behaviour by some of London's lycra-clad cyclists, those aggrieved and morally superior martyrs par excellence. See how they very ethically bang their fists on the bonnets of planet-killing cars, and shout obscenities at drivers in a genuinely sustainable fashion. The self-styled 'outsiders' and plucky underdogs of the SNP are also masters of assuming this pose, blaming all manner of woes on that nebulous entity known as 'Westminster' (the SNP's leader in the House of Commons, Angus Robertson, referred to 'Westminster parties' in a disparaging tone on Radio 4 last week, even though the SNP is very much one itself now).
This week it's been the turn of the transgender lobby. Having also drunken deep from the poisonous stew of grandiose self-importance, narcissism and victimhood, trans activists have been reproaching online anyone who has the temerity to suggest that Bruce 'Caitlyn' Jenner is biologically actually a male. Or consider the culture of intimidation and authoritarianism in Ireland regarding the vote on gay marriage, opponents of which have literally been pathologised.
Taken together, the carry-on by supporters of the SNP, the 'I ♥ the NHS', 'anti-austerity', infantile left and the transgender collective indicate a common, curious correlation: that the more 'progressive' or 'inclusive' your views are, and the more virtuous and caring are your professed motives, the more repellent and intolerant your behaviour is likely to be.
'Convictions are more dangerous foes of truth than lies', said Nietzsche. Always beware those who claim to possess virtue and truth, religious or secular, and especially those who boast of their victimhood.
---
I'm boycotting the Sainsbury's badger boycott
I read in The Times that both Caffè Nero and Sainsbury's have stopped sourcing milk from Somerset and Gloucestershire, areas where badgers carrying tuberculosis (TB) are being culled under a scheme operated by the Department of Environment, Food and Rural Affairs. This, it transpires, is the result of lobbying by animal-rights activists, who seek a boycott of milk inside the cull zones. This is pretty spineless stuff. I don't go to Caffè Nero, but I will stop shopping at Sainsbury's.
The animal-rights lobby also has a long and contemptible history of violence and intimidation on account of caring very much more so than you do. Back in the 1990s, I remember seeing anti-vivisectionists on London's Oxford Street, regaling shoppers with photographs of lacerated and mangled, bloodstained chimps and rabbits. These photos, I later read, were taken in the 1950s from laboratories in the Soviet Union, not in the UK in the Nineties.
Rather than accompany relevant stories with pictures of healthy animals, why don't today's reports on the cull show photos of diseased badgers, dying slow and agonising deaths from TB? The cull is kinder for all concerned.
So what do the animal-rights people care about more? Animals themselves, or their own public image as ostensibly morally Good People?
---
The womb: the ultimate Safe Space
I appreciate that students, most of whom have left home for the first time, tend to regress as a consequence: listening to 'retro' music from their childhood, 'ironically' watching kids' TV, playing computer games. My generation was no different. We watched Knight Rider reruns on Saturday afternoons, played Super Mario Kart, and went to Eighties discos. Such strategies are comfort blankets by proxy.
Yet I suspect that this tendency has been accentuated today by our 'Kidult' culture. I do a lot of reading and writing at the University of Kent's Templeman Library in Canterbury. Recently, there's been a bouncy castle outside the building, to help students relax during exam time. If this isn't your bag, you can always go to the university bookshop, where alongside primers on Balzac and Proust you can buy Tintin books, and even Meg and Mog. To the university's credit, I have yet to see any Safe Spaces on campus, a phenomenon which seems to represent the ultimate stage in today's propensity to regress: seeking to return to the womb.
Patrick West is a spiked columnist. Follow him on Twitter: @patrickxwest
To enquire about republishing spiked's content, a right to reply or to request a correction, please contact the managing editor, Viv Regan.