Taylor Swift: queen of the Peter Pan generation
Twentysomething Swiftdom shows how scared of growing up my generation is.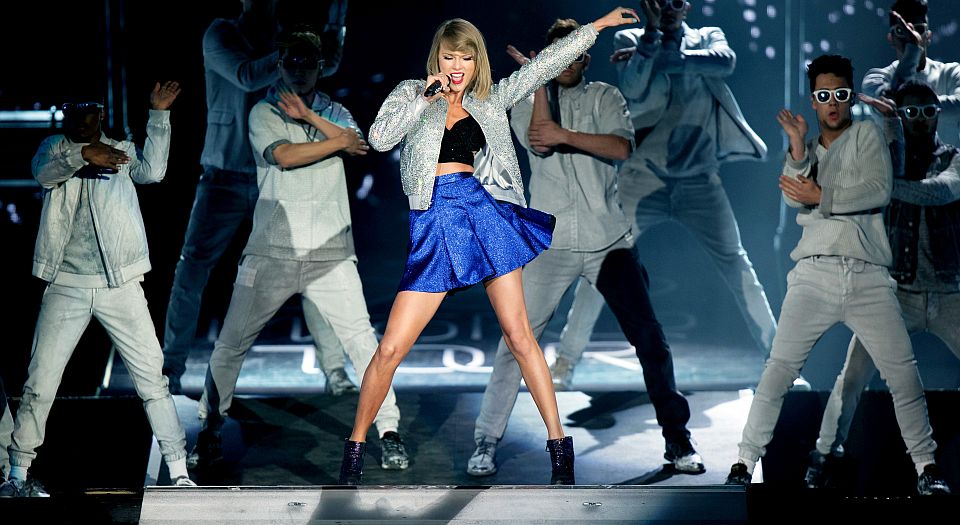 Time was, guilty pop pleasures were just that. Guilty. If you had a bit of Dane Bowers or Avril Lavigne tucked away in the unnamed folders of your iPod, that was your business. Not anymore. Now, the guilty pleasure is at the heart of trendy twentysomething pop consumption.
It began as sheer nostalgia, with pound-a-drink student nights featuring Kylie deep cuts and closing with ritual singalongs to the Fresh Prince theme tune. But now the guilty pleasure is getting even more ingrained. The trend that you would have thought could only eat itself is being renewed. Having plundered our own musical childhood for all its bubblegum-fizz worth, we're now looking to our little cousins' iTunes library in search of another hit.
What we've found is Taylor Swift – the teen Nashville star turned international kiddie-pop sensation, and now the talk of the Silicon Roundabout's water coolers. This week, the launch of Swift's blockbuster music video 'Bad Blood', depicting Swift's superhero girl-gang preparing to exact revenge on a traitor, set the Twittersphere on fire. While the tweens were busy Snapchatting each other revenge porn, or something, we were poring over Bad Blood's every frame, #Swiftgasm-ing, critiquing and 'dying' along the way.
The embrace of TayTay among the Byron Burger set is a strange turn. When she first bounced on to the scene aged 16 she was everything Hoxtonites loathed. She was born into a dynasty of bank presidents, her glossy tween country played directly to the heartland, and half of her music videos seemed to end in blissful, Aryan marriage. When Kanye West infamously interrupted her acceptance speech at the VMAs, insisting a bewildered Beyoncé should have won, I reckon most people secretly thought 'too right'.
Now, since her last two multi-million-selling albums, Red and 1989, when Swift dropped the banjo and transformed into a Max Martin-produced behemoth, she's never out of the comment pages. She's even, inevitably, been inducted into the feminist sisterhood. After once rejecting feminism as man-hating, her bunny-boiler 'Blank Space' video, which sent up her 'boy-crazy' image, won her some much-needed Jezebel cred. The highfalutin, socio-political readings of her work reached such a nadir last year that even the Guardian published a pisstake, picking apart the 'Blank Space' video and giving each element a 'paradigm-smashing rating'.
All of this reeks of a generation desperately trying to justify its newfound obsession. This is not to take away from what Taylor Swift does. She's a precision-pop starlet with a preternatural ear for hooks and an unrivalled ability to tap into preteen angst, conjuring up images of a One Tree Hill season finale that kids, slumped on their suburban sofas, wish they could live out in real life. She's great. Great for 13-year-olds, that is. But her embrace among those with student-loan repayments and more important things to do can't just be brushed off. It is a bit weird.
Is it just irony? The pop-culture mantra of our age, that tells us nothing, and everything, must be taken seriously. Perhaps in part. The like-a-bit-of-everything generation has exploded the tribalism that used to pervade pop culture. That, coupled with the fact that older pop audiences have continued to follow the charts into their forties, has stripped pop of its generational boundaries. Now a good tune really is just a good tune. And, say what you will about Taylor, she can pump those out with the best of them.
But there's something about twentysomething Swiftdom that is distinct. The fact that young nostalgists have turned to her is no accident. My generation is terrified of growing up. The world, full, we're told, of eternal renting, ungainful employment and scarring relationships, is simply too tough for many of us to bear. Swift's melodic angst-lite, so reminiscent of the three-chord pop-punk a lot of us grew up on, is like a comforting onesie; it expresses a longing for a preteen simplicity where prom-date heartbreak was about as bad as it got.
Don't get me wrong, 'Shake It Off' is a tune. But it's time we started dancing to a different one.
Tom Slater is assistant editor at spiked. Follow him on Twitter: @Tom_Slater_
To enquire about republishing spiked's content, a right to reply or to request a correction, please contact the managing editor, Viv Regan.