Morsi death sentence: a judgement on Western liberals
Too many sacrificed support for democracy at the altar of Sisi's coup.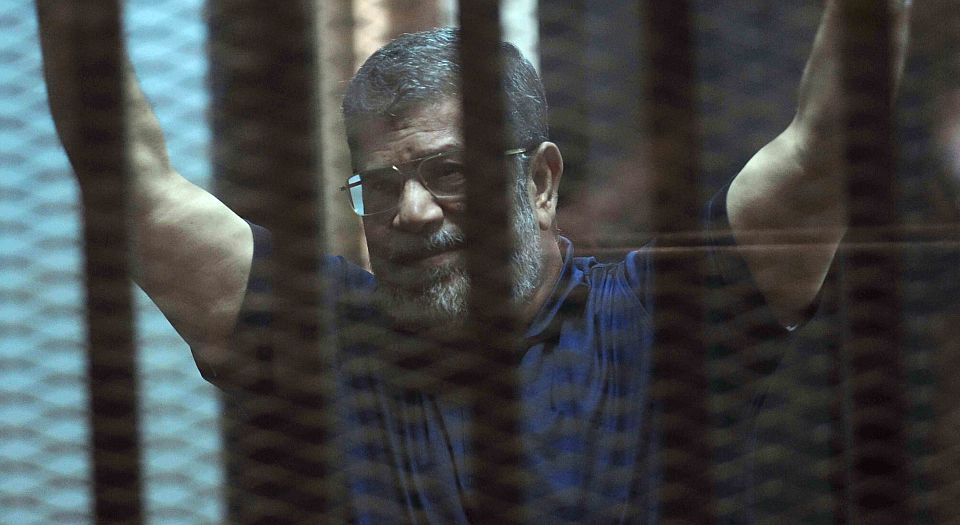 In June 2012, Mohamed Morsi, a leading figure in the Muslim Brotherhood and then chairman of the Freedom and Justice Party, became Egypt's first freely elected president. The significance of this moment shouldn't be downplayed. If the Egyptian uprising in early 2011 brought an end to decades of often brutal military dictatorship, then the presidential elections the following year were meant to be the start of a freer, more democratic future. Morsi may have been far from a universally popular candidate, but, with 52 per cent of the vote, there was no doubt he was the legitimate victor.
Now, less than three years on from what was meant to be Egypt's democratic dawn, Morsi has been sentenced to death.
The details of the case – Morsi was accused of leading a mass prison breakout in early 2011 – are largely irrelevant. Morsi has been a dead man walking ever since he was deposed in a military coup led by then General Abdel Fattah al-Sisi in July 2012. From that moment on, Morsi and his supporters have been treated as enemies of the state. Pro-Morsi protesters have been arrested in their thousands, largely thanks to the efforts of the resurrected and still loathed secret police. And they have been slaughtered, too, most infamously in August 2013, when over 1,000 Morsi supporters were mown down in Rab'a al-Adawiya square by Sisi's security forces.
Morsi's death sentence is the culmination of Sisi's dictatorship, its rule by force, its callous intolerance of anything that whiffs of dissent. Yes, Sisi himself was voted in as president last year by the 97 per cent of the 46 per cent who voted. But, given he had banned his political opponents from standing, it was not so much an election as a coronation. The heady days of Tahrir Square in 2011, when thousands protested and forced president and army chief Hosni Mubarak to stand down, seem a long time ago now. The military dictator is dead. Long live the military dictator.
But what is striking about the fate of Morsi is how little response, let alone criticism, it has generated in the West. This, after all, was Egypt's first democratically elected head of state. His victory was made possible by the progressive, democratic yearnings of the Arab Spring. And yet, when Sisi's tanks rolled through Cairo in July 2013, supported by anti-Morsi protesters, Western liberals, be they politicians or pundits, were, at best, silent, or, at worst, cheering them on.
Rarely has liberal hypocrisy been quite so brazen. In Washington or London, politicians who never miss a chance to espouse their democracy-loving credentials rushed to endorse Sisi's coup, with US secretary of state John Kerry unironically calling the freshly installed military government a regime for 'restoring democracy', and EU foreign-policy chief Baroness Ashton praising Sisi for continuing on the 'journey [towards] a stable, prosperous and democratic Egypt'. To those who countered that Morsi was himself elected, and therefore an essential part of that journey, US President Barack Obama responded by saying 'that democracy is about more than elections'.
Commentators likewise showed their appreciation for Egypt's military coup. New York Times columnist David Brooks backed Sisi, pointing out that Morsi's election showed that the Egyptian people 'lack the mental equipment to govern'. A Channel 4 News blogger struck a similar note, saying '[Egypt's] headlong rush into elections, before the basic tenets of democracy are set, is a mistake, the result of which we're seeing in Egypt today'. Elsewhere, a Guardian columnist declared that 'it's hard not to root for the crowds in Tahrir Square, thrilled to be rid of a man [Morsi] apparently bent on becoming a theocratic tyrant'.
Over and over again, those who waxed lyrical as the crowds toppled dictator after dictator during the early days of the Arab Spring were more than happy to see an army general restore a military dictatorship just a couple of years later. The reason was obvious. Western liberals like democracy only to the extent that it provides the right result. And, by electing the Muslim Brotherhood candidate in 2012, the Egyptian people had failed to do that. Hence a coup could be dressed up as a progressive move. As one liberal commentator put it after Morsi was overthrown: 'I cannot feel any gut identification with reactionary men and women in the Muslim Brotherhood.'
Since then, as the scale of Sisi's repression has become apparent – dissenters arrested, protesters killed, martial law imposed in spirit if not in fact – some in the West, especially among the human-rights industry, have become slightly more critical. In 2014, the United Nations, for example, was alarmed at the dictatorship's willingness to use the law to silence people: '[Egypt has] a judicial system where international fair-trial guarantees appear to be increasingly trampled upon.' This has been Amnesty International's recent line, too. Criticising Morsi's death sentence, it said that 'Egypt must ensure the independence and impartiality of the justice system and bring to justice all those responsible for gross human-rights violations'. But such criticism misses the mark. It suggests that if Sisi and Co followed, rather than deviated from, correct legal procedures, everything would be okay. The mass death sentences, the systematic oppression and the silencing of dissent are all presented as incidental to Sisi's reign, problems that, with a bit of tweaking, can be righted.
Yet the mass death sentences, the systematic oppression and the silencing of dissent are not incidental to Sisi's reign. They are essential to it. They are the manifestations of what is essentially a rule built on military force. They are the necessary means by which an army general, after a coup, seeks to consolidate his power.
But to criticise the essentially dictatorial nature of Sisi's government is too much for many Western liberals. They would have to face up to the inherently anti-democratic impulse of the coup they supported in 2013, when Sisi's tanks and soldiers swept a democratically elected head of state from power. They would have to face up to something else, too: their skin-deep commitment to democracy, their superficial support for people's freedom. Because, when faced by democratic decisions they don't like, when confronted by people's views they disdain, all their blather about human rights, all their jabber about democracy, counts for nothing.
'[The UK] looks forward to working with the Egyptian government', said the UK's then foreign secretary, William Hague, upon Sisi's election last year. So, the next time Western leaders, and their media cheerleaders, advocate bombing another nation to democracy, or call for some sort of progressive regime change, remember Egypt – remember that support for democracy and civil liberties were all too easily sacrificed at the altar of Sisi's coup.
Tim Black is deputy editor at spiked.
Picture by: Ahmed Omar / AP/Press Association Images
To enquire about republishing spiked's content, a right to reply or to request a correction, please contact the managing editor, Viv Regan.