Motown and the end of the American Dream
Detroit 67 is a gritty portrait of the year Motown unravelled.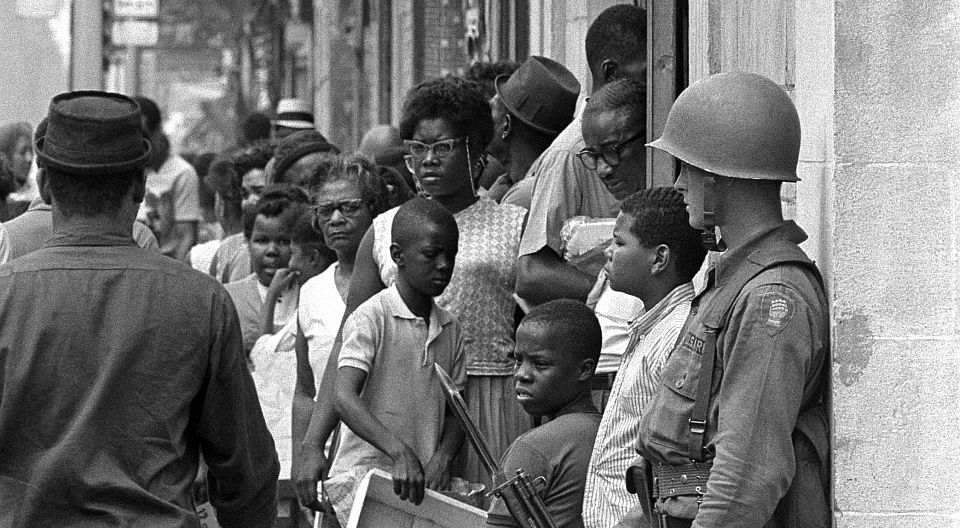 Detroit 67: The Year That Changed Soul by Stuart Cosgrove is an engrossing book about a tumultuous year in the life of Motor City. The book is broadly structured around two topics: Berry Gordy's Motown record company and the social unrest that rocked the city that year.
Internal strife was tearing apart Motown's most successful group, The Supremes, while many of its other artists, musicians and songwriters were growing dissatisfied with their lot. Motown's precious image of being one big happy family was beginning to unravel. At the same time, social unrest on the streets of Detroit was brewing as crime and unemployment were on the rise. Across the city, militant and countercultural groups embraced recreational drug use and came out in opposition to the Vietnam War. Motown was looking increasingly out of step with the times.
The book is divided into months, and each event therein is described in forensic detail. It's an impressive piece of research, and the story of Detroit in that fateful year is very well told. In a recent interview, Cosgrove explained that one of the reasons he wrote the book was because so little has been written about soul music. But while the book explores the many fascinating characters and events that made up Detroit's burgeoning music scene, it is more of a social history than a book about soul music itself.
Social history it may be, but it's often gripping stuff. The first half reads with the pace of a good crime novel; Cosgrove cleverly weaves the growing tensions within The Supremes together with the broader social tensions in the city. With every turn of the page you think something is about to blow. The volcano at the heart of The Supremes was founding member and original lead singer Florence Ballard, who had become disgruntled at being sidelined by Diana Ross. Ballard was the better singer, but Ross was far more charismatic and ambitious. The more Ross grew in confidence and stature, the more resentful and disruptive Ballard became.
Ballard was fired from The Supremes in dramatic circumstances and replaced by Cindy Birdsong. Ballard's departure from the group and her untimely death in 1976 has given rise to a pop-music fable about how ruthless ambition trumps talent. It inspired the Broadway musical Dreamgirls, later made into an Oscar-winning film.
To his credit, Cosgrove dispels the simplistic myth that Ballard was 'stabbed in the back' by Berry Gordy so he could replace her with his then girlfriend, Ross. If anything, it was Gordy's desire to patch things up and avoid conflict that caused problems to brew, both with The Supremes and with other Motown talent, such as the hugely important song-writing team Holland-Dozier-Holland, who left the company a few years later following a long and bitter legal battle. As Cosgrove points out, Gordy was loath to fire anyone and was criticised by more business-minded executives for not being more ruthless.
Just as tensions within The Supremes were coming to a head, Detroit erupted in violence after the police raided an unlicensed soul club called Blind Pig. The ensuing riots lasted almost five days, leading to the loss of 43 lives and the destruction of much of the inner city. While Motown's Hitsville HQ escaped with only a graze from a tank shell, many of the city's near-on 400 other black-music companies, studios and record stores were destroyed.
Cosgrove tells many harrowing stories from the riots, the most infamous of which took place at the Algiers Motel, where three black teenagers were gunned down by police. Young male vocal group The Dramatics were spending the night at the motel and were caught up in the grizzly events; two of the band members were assaulted by police. Cosgrove's retelling of what happened makes for grim reading:
'According to his witness testimony, Roderick Davis of The Dramatics reported that one officer screamed: "We're going to kill all you black niggers off one at a time!" Davis was then beaten around the head seven or eight times. Police fired questions at him, and when he tried to answer, they beat him again, smashing his fingers with the butt of a gun.'
One of those killed that night was a former schoolfriend of the band, who they had employed as a roadie.
Nineteen sixty-seven could be described as the end of an age of innocence, both for Detroit and for Motown. Yet Berry Gordy nevertheless refused to give up on Motown's teenage pop formula of the early Sixties and 'move with the times'. He wasn't interested in making music that reflected the more sober social and political times.
Essentially, Gordy still believed in the American Dream. He had no desire to 'turn on, tune in and drop out'. He was the product of an incredibly enterprising and ambitious family, and Motown reflected these values. Indeed, the most impressive and inspiring story in the whole book is that of the Gordy family. His parents, who had moved north from Georgia as part of the 'great migration', had built a string of businesses across Detroit. His mother Bertha co-founded an insurance firm and his sisters Anna and Gwen ran their own record companies before Motown. Gordy's sister Esther, a businesswoman and political campaigner, lent him $800 from the family's 'tuition fund' to start Motown, and various family members and friends became involved in running the company as it grew.
Motown's success grew out of the aspirations and sense of possibility it offered. If by 1967 Motown and Gordy were 'out of step' with the times, it was because, for most Americans, the American Dream was starting to seem like an anachronism.
Detroit 67 is a wonderful book and a welcome contribution to both the history of soul music and the history of Detroit. However, it's a shame that what mostly fascinates contemporary writers and filmmakers is the city's sad decline. I look forward to reading a book that explains what inspired a generation of young African Americans to be so creative and enterprising, in the face of often extreme adversity.
Niall Crowley is a writer based in London.
Detroit 67: The Year That Changed Soul , by Stuart Cosgrove, is published by Stuart Cosgrove. (Order this book from Amazon(UK).)
To enquire about republishing spiked's content, a right to reply or to request a correction, please contact the managing editor, Viv Regan.