Has feminism really come to this: fear of adverts?
The fuss over Protein World exposes the wetness of the new feminism.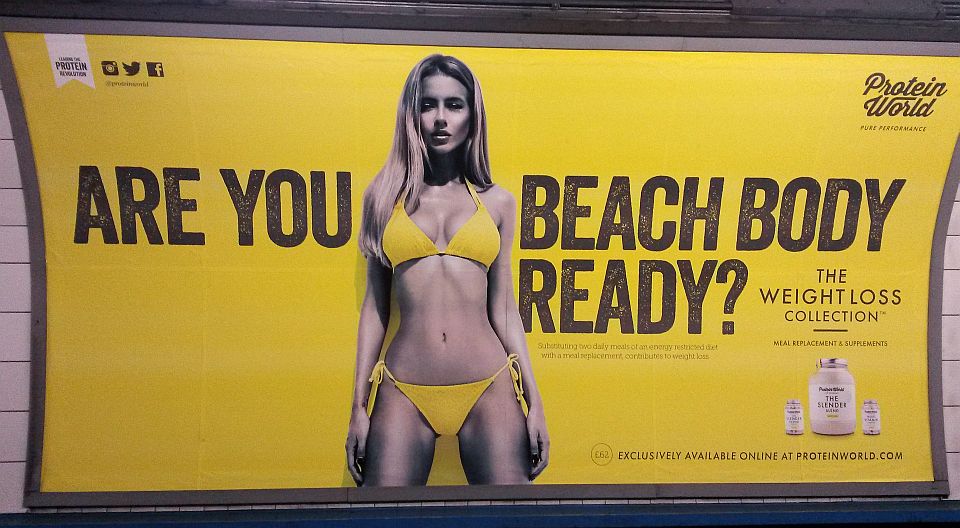 Last week we were told a triumph had been won for women. Those evil, nasty 'body-bashing' Protein World posters had been ripped out of Tube stations across the capital, ensuring London's ladies a commute safe from 'socially irresponsible' advertising. Phew.
Almost as soon as the diet-supplement posters went up, Twitter and Facebook feeds were filled with angry condemnation of the image of a skinny, bikini-clad woman next to the question 'Are you bikini body ready?'. And naturally, the media had a field day.
Fashion freebie magazine Stylist practically dedicated a whole issue to it. Its front cover was a mock-up of the Protein World ad, but instead of a super-skinny model there was a smiling model around two dress sizes bigger, a beach ball under one arm next to the proud declaration: 'Tell me I'm not beach body ready!' and the tagline: 'Go on, we dare you. Why no body-bashing ad campaign will ruin our holidays.'
The ad-bashing continued inside Stylist, with an editorial titled 'Your body is not up for judgement' and then a four-page feature analysing the advert.
The feature begins by smugly announcing that Stylist has always been a 'diet-free zone' because it wants 'to give women a break from the relentless pressure to fit that particular week's body ideal'. Very noble. Except I couldn't help noticing that within the first 15 pages of the magazine, there were no less than five adverts featuring skinny models wearing bikinis or less. In most of the perfume ads the models were completely naked apart from some strategically placed jewellery.
Sidestepping for now the obvious hypocrisy of dedicating a feature to how bad women feel on being presented with unattainable beauty ideals while simultaneously promoting them a few pages later, let's delve into the Stylist writer's analysis of the Protein World ad. She chides the company for using 'threatening block capitals' — yes, like a shouty email — and goes on to tackle the model's body language, which she labels 'confrontational', her 'narrowed' eyes 'scrutinising the body in front of her: yours'. Pretty scary stuff.
Incidentally, she missed one thing: the posters were yellow, the colour of wasps, and anyone who watches their nature documentaries will know this is the warning colour of DANGER.
Has feminism really come to this? Fear of a poster?
'I've spent my life believing I wasn't good enough: I signed [the petition to ban the ad]', tweeted one woman. How on earth do these people leave the house in the morning? There are so many potential obstacles to their self-esteem.
Throughout the controversy the advert has been accused of promoting eating disorders and encouraging women to hate themselves — hefty claims to lay at the feet of just one advertising campaign, especially when you consider that almost all women's magazines make money on the same premise: that women want to improve how they look.
Before the recent Protein World media storm, if you typed the words 'beach body' into Google you would have been presented with a wide variety of summer diets and bikini fitness programmes all designed to make women slim down for the hotter months. And the magazines that were promoting them are the same ones now tearing apart the Protein World advert. In response to the advert anger, Cosmopolitan promoted Tado Cern's 'Comfort zone' photos of people, both fat and thin, on the beach, hailing the images as 'body-positive'; yet a quick search on the Cosmo website reveals an article titled 'Get summer ready with these diet tips'.
Meanwhile, heat magazine, initiator of the 'circle of shame' column, whereby the wobbly bits and wardrobe malfunctions of celebrities are blown up and circled in bright red, had the nerve to write an article chastising reality TV star and Protein World ambassador Holly Hagan for standing up for the adverts.
Beyond this hypocrisy of arguably the biggest promoter of 'body-shaming' — women's magazines — much of the argument against the Protein World posters is complete nonsense.
Towards the end of Stylist's analysis, the writer draws the 'logical' conclusion that if adverts like the Protein World one are allowed to continue to 'body-shame', then they might end up driving women away from the seaside and into forced city-breaks through fear of showing off their less-than-perfect bodies on a public coastline. That would be the ultimate tragedy, wouldn't it? Millions of women forced into a five-day shopping spree in New York. How will we cope?!
Why is it that for these so-called feminists the go-to response for anything they don't like is to crumble and cry 'ban it'? The media have talked about 'angry' protesters and feminist 'rage'. Well, that's not what it looks like to me. It sounds like whining and self-pity. A chorus of 'it hurt my feelings'.
Protein World reported a huge increase in sales after the posters went up, partly due to the backlash, indicating that a significant number of women were not so appalled by the advert.
But censoring the advert does more than remove the choice from others who may well have wanted to buy the supplements; it does a disservice to all women. What the angry protesters and hypocritical women's mags are really saying is: 'We are too weak to handle a poster.'
Well, speak for yourself, sister. While some women down protein shakes, or do stomach crunches to get 'beach body ready', others can look at a picture of a skinny woman in a bikini and then simply look away again. Life unchanged.
To enquire about republishing spiked's content, a right to reply or to request a correction, please contact the managing editor, Viv Regan.