Why the opinion polls got it so wrong
In an era of 'You can't say that', people aren't always honest with pollsters.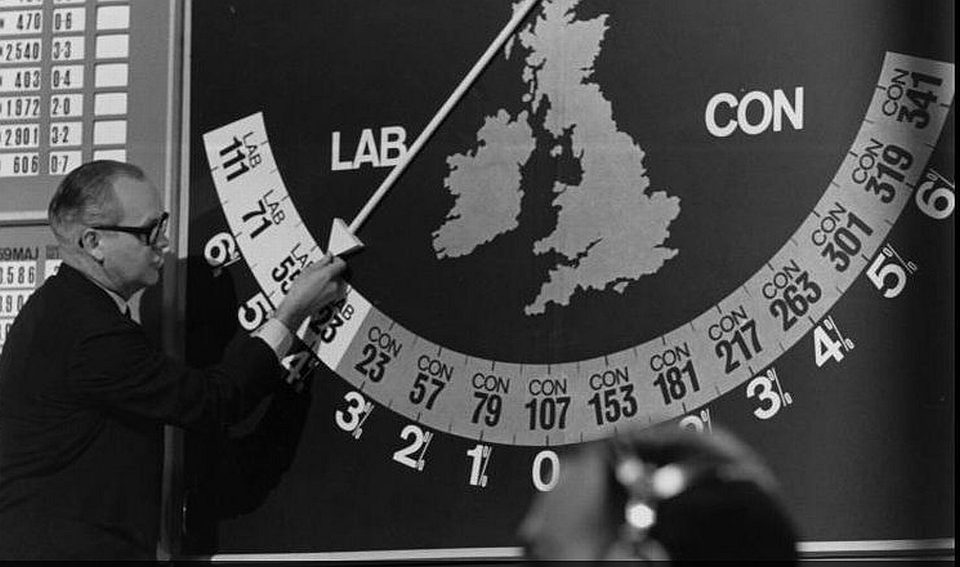 For me, the most memorable moment of the General Election campaign occurred a few days before voting. I was listening to the Radio 4 Today programme, which was running a feature on the issue of immigration in Northern Ireland. The presenter said that the traditional hostilities and tensions between Catholics and Protestant had been suspended, giving way to a new division between the Irish and immigrants. Interviews with people from Catholic and Protestant communities seemed to back up the claim that they no longer felt threatened by the 'other side'. But what was truly fascinating about their comments was the language they used to describe their new concern. Time and again, they used a variation of the expression 'We are not allowed to say what worries us'. It was as if they self-consciously feared naming the source of their concern. In the end, after failing to extract what it was that the interviewees were 'not allowed to say', the reporter said to them: 'You mean immigration?' At which point one could almost visualise the female respondent nodding her head in agreement as she blurted out: 'Yes, immigration.'
Something about this exchange struck me as very disturbing. Over the past week my mind has kept coming back to it, to reflect on what it meant. Is it not worrying that in a free society ordinary citizens feel uncomfortable with publicly expressing their true opinions? What I found even more unsettling was that the BBC reporter did not express any surprise about the hesitant and reluctant manner in which her questions were being answered. One would have thought that the frequently expressed comment 'We are not allowed to say' was itself newsworthy, and an important point to comment on. But it was just nodded through, capturing the view that, yes, it is understandable that people should feel they are 'not allowed to say' certain things. In hindsight, it was difficult to avoid the impression that the BBC itself — perhaps inadvertently — was complicit in legitimising this self-censorship of true opinion.
If people in Northern Ireland feel unable openly to express their cultural insecurities, it is likely that their counterparts in other parts of the United Kingdom feel the same way. Indeed, this is probably why so many opinion polls got the result of the General Election so wrong. It is likely that a significant section of the electorate told polling organisations what they believed they wanted to hear. Since people know that certain sentiments are stigmatised today, what they communicate to pollsters is not always their genuine view. A significant proportion of the opinion communicated to pollsters is influenced by a pressure to provide the 'right responses'. Many people do not want to be thought of as 'bigots', or even just as old-fashioned, and in part they experience a demand for their opinions as a pressure to conform. That certainly seemed to be the driver of those anxious Northern Irish voices trying to avoid castigation for their opinions by being hesitant with an interviewer.
The pressure to conform and the fear of social isolation can lead to what the German social scientist Elisabeth Noelle-Neumann identified in 1974 as a 'spiral of silence'. According to this theory, people's assessment of the opinions held by the majority influences and modifies the way they express their own views. Some individuals feel anxious about expressing sentiments that differ from the consensus outlook, as expressed in the political and media realm, and it is thought that, 'prompted by a "fear of social isolation"', some are 'less likely to express their own viewpoint when they believe their opinions and ideas are in the minority'. Typically, the fear of negative social sanctions influences the way people express attitudes about numerous morally charged 'threats', such as foreigners, crime or terrorism.
Of course, in virtually every social setting there is always an element of self-censorship. But in contemporary Britain, the all-too-understandable impulse to conform is continually reinforced by the message 'You can't say that!'. Regrettably, the only time these insecure voices feel confident enough to express their true opinions is in the secrecy of the polling booth. This is why, from time to time, a seemingly predictable election campaign can result in a surprising outcome.
Sadly, significant sections of the political and cultural establishment would rather that the people always felt that 'We are not allowed to say that'. This is the 21st-century version of the old oligarchical ideal, 'Know your place'. Which is why fighting for a culture of tolerance and open debate, and above all for freedom of speech, is so important today.
Frank Furedi is a sociologist and commentator. His latest book, First World War: Still No End in Sight, is published by Bloomsbury. (Order this book from Amazon (UK).)
To enquire about republishing spiked's content, a right to reply or to request a correction, please contact the managing editor, Viv Regan.