Labour: a death is denied
Grafting on a new head won't bring the zombie party back to political life.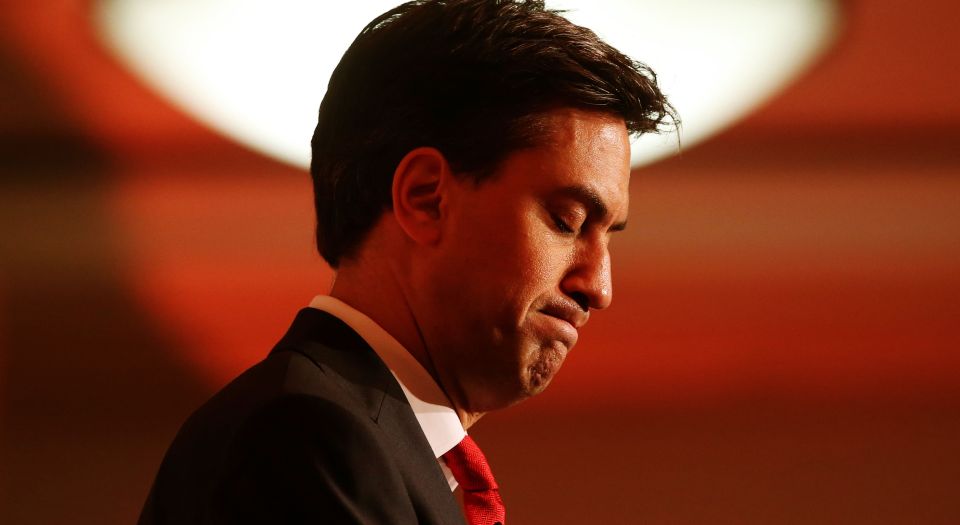 The corpse of the Labour Party's brutally slaughtered 2015 election campaign was not yet cold on the battlefield before a more bitter battle began. The civil war between petty Labour factions and individual wannabes, seeking to blame one another for the defeat and lay claim to the party leadership, exploded across the media (though not the country outside) within hours of the results.
Watching all the candidates to replace Ed Miliband try to position themselves for the leadership contest, the question that came to mind was not just why voters would support any of them. Why would anybody want to win the right to become the latest head grafted on to the Labour zombie, after Miliband's was unceremoniously chopped off by the electorate last week?
One thing that unites most of those fighting over Labour's corpse is the wish to play down the scale of the problem. Labour has just suffered its worst election night in 30 years, ending up with just 232 out of 650 members of parliament — 99 behind the Tories, and 26 fewer MPs than even Gordon Brown managed in 2010. The only two worse election results Labour has suffered since the Second World War came at Margaret Thatcher's high tide, in 1983 (209 MPs) and 1987 (229). Those thrashings sparked changes that eventually led to the rise of Tony Blair's New Labour and the abandonment of the left's totemic Clause 4 (Labour's historical commitment to the redistribution of wealth).
By contrast this time the contenders are talking as if, with a newly minted leader and newly polished 'message', all can be well again in the house of Labour. As we have noted before, whatever else the British left might lose, it retains its powers of self-delusion.
Assorted New Labour grandees and aspiring Labour leaders have attacked Miliband's campaign for allegedly being too 'old-school socialist', making a 'left-wing' pitch to Labour's 'core vote' in working-class areas by attacking the rich, but not reaching out to the middle classes. The magic word of the moment is 'aspirational', apparently underlined (presumably not in red) in the script from which they are all reading.
Former prime minister Tony Blair came out at the weekend to insist that Labour must show it is the party of 'ambition and aspiration' as well as compassion and care. Labour's business spokesman and leadership candidate Chuka Umunna also complained that 'we spoke to our core voters but not to aspirational middle-class ones'. Another wannabe leadership contender, Labour shadow health secretary Liz Kendall, echoed the new line that the party must show more people that 'we understand their aspirations and ambitions'. Former Blairite minister Ben Bradshaw emerged from the shadows to rubbish claims that 'we lost because Labour wasn't radical, left-wing or distinctive enough', and instead agree that the party had 'failed to connect with aspirational voters'.
These leading Labour figures are really failing to connect with reality. They seem to believe that, unlike the middle classes, the working classes who supposedly constitute Labour's core vote are not really 'aspirational', but will be content with their lot so long as the party can promise to limit zero-hours contracts and raise the minimum wage by a pound. Patronising Labour politicians appear as disconnected from those voters as from anybody else. Hence their argument ignores what actually happened in the election, where Labour's 'core vote' deserted it for the SNP in Scotland and for UKIP in many northern English seats.
Meanwhile the one area where Labour showed signs of life was in the 'aspirational' capital, the London city state. As Brendan O'Neill argued on spiked immediately after the election, the results demonstrated that Labour is now the minority party of a metropolitan elite rather than a mass movement in society. The notion that this historic decline could be corrected simply by getting a new face – preferably female or black – to mouth the magic A-word more often is as ridiculous as Ken Livingstone and the rump of the left claiming that more old-school socialist tub-thumping is the way for Labour to win in the 21st century.
The old lords of New Labour have joined in the bunfight over the future in an attempt to settle scores with the past. Former top fixer Peter Mandelson says the party's 'terrible mistake' was that 'in 2010 we discarded New Labour rather than revitalising and re-emphasising it'. In others words, it was all the fault of that awful Gordon Brown who ousted Blair as Labour premier in 2007. Blair's deputy prime minister, John Prescott, says the Miliband campaign was 'bloody disastrous' largely because it refused to defend New Labour's economic record: 'I warned that if we didn't defend the past we wouldn't have a future.'
It was certainly risible for Labour leaders this time to try to distance themselves from Blair and pretend that the 13 years of New Labour government never happened. But it is equally ludicrous to imagine they could have won by playing 'Things Can Only Get Better' again. Miliband did try to defend the previous Labour government's financial record in his rare unscripted meeting with voters during that televised question time, and was loudly scorned by the audience for his efforts. Perhaps one way to 'defend the past' would have been to point out that the Tory-Lib Dem coalition government had effectively continued with New Labour's managerial economic policies over the previous five years. But that would hardly have made Labour look a convincing alternative, either.
The attempt to trivialise Labour's problems is summed up by those blaming electoral failure on the campaign's 'disastrous gimmicks', notably Miliband's execrable interview with Russell Brand and his two-tonne limestone pledge stone, known as 'Edstone' since his political demise. Of course these were cringeworthy efforts. Yet they were only visible symptoms of the void at the heart of the zombie Labour Party.
What was striking about the Edstone was that, despite its portentously solid appearance, it said virtually nothing of substance. The pledges – 'An NHS with time to care'; 'A strong economic foundation' — were so nebulous as to be meaningless, slightly lacking the moral clarity of the Ten Commandments they were intended to bring to mind. The only clear message was No4: 'Controls on immigration.' The idea that such a programme was somehow 'too left-wing' confirms that political language has now been robbed of any real meaning.
Any political party worthy of the name would surely begin a post-mortem by debating what principles it wants to stand for – and then setting those principles out as clearly as possible in order to persuade people to support them. By contrast Labour's post-election spat is all about how to moderate its image and PR message in order to adapt to the existing state of public opinion – how to say what they imagine voters already want to hear. Labour is a party without a reason to exist beyond its own survival.
No change of leader can address the fundamental problems facing Labour, a party founded to represent a mass trade union movement that no longer exists as anything more than an empty shell. Yet those who cling to the hope of resurrection cannot admit that their party is a zombie of its former self.
That is why the debate is all about what language to use and which leader to promote, rather than which political principles to stand for. Indeed there are few political divisions here on fundamental issues. All sides agree, for example, on Labour's commitment to more state intervention, notably to restrict freedom of speech and other personal liberties.
None of this means, of course, that Labour might never recover in the polls. Cameron's Conservative government will undoubtedly get into trouble before long. But it does raise the question of why anybody who wants change should care what happens to Labour, or bother trying to revive the political corpse?
Mick Hume is spiked's editor-at-large. His book, There is No Such Thing as a Free Press… And We Need One More Than Ever, is published by Societas. (Order this book from Amazon(UK).) Visit his website here.
To enquire about republishing spiked's content, a right to reply or to request a correction, please contact the managing editor, Viv Regan.