A bikini-clad celebration of weakness
Ella Whelan reports from the protest against Protein World's beach-body ad.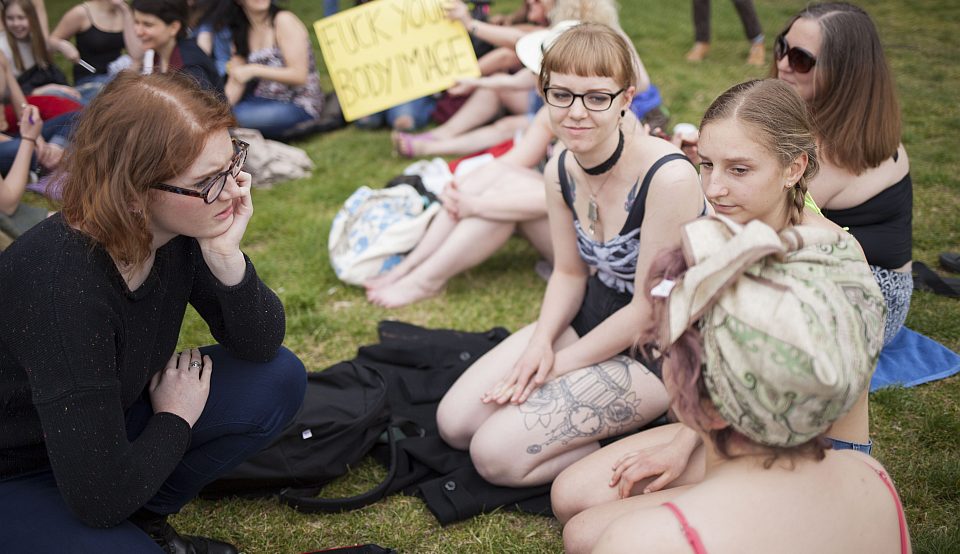 Last week, feminists on social media called for a mass demonstration at Speakers' Corner in Hyde Park to 'take back the beach' – take it back, that is, on behalf of all those who felt slighted by Protein World's 'Are you beach body ready?' adverts, which sparked protest in recent weeks after they appeared on the London Underground.
So, on Saturday, there they were, 40-odd protesters in bikinis, huddled together in front of a sea of press and cameramen. The protest looked more like an exhibitionists' picnic than a political event. When I began speaking to some of the half-naked protesters, the absence of any political argument became obvious. The first person on the scene was actress and feminist Cathy Tyson, who proclaimed: 'The picture excluded me.' Excluded her from what?, I asked. From a world of beauty dominated by the skinny, blonde Aryan, explained Tyson. It was this racial aspect, and not the weight-loss issue, that bothered her. 'I run three times a week and I exercise daily', she added.
The protest seemed to be more about the superficial than the sexual. There was no mention of the sexualisation of women, a topic which usually crops up any time a company uses a good-looking woman in an advert. Instead, the protest focused on what Renee Somerfield, the Australian model who appeared in the Protein World campaign, looked like and how this imposed an 'oppressive' standard of beauty on the women who were confronted with her bikini bod.
As the protesters gingerly began to expose themselves to the chilly weather, I caught up with a group of teenage girls looking on awkwardly from the edge of the spectacle. They told me they were 'very influenced by the media in general', and that they felt they were being subtly brainwashed by Protein World-style weight-loss campaigns. These four confident girls assured me that while they themselves knew there was more than one idea of beautiful, it was important to protect other, more vulnerable girls from this 'hostile environment towards women'.
As the event got into full swing, hordes of photographers crowded around the delighted group of (predominantly young) girls as they eagerly posed in their best swimwear, clearly excited at the prospect of appearing on Channel 4. After all, what teenager wouldn't be? But there was a sinister aspect to this bizarre flesh-flashing spectacle. There was no girl-power posing, no fist pumping; rather, it was a celebration of weakness. Several of the women I spoke to were quick to tell anyone who would listen that they were survivors of eating disorders. It soon became clear that this was not a protest at all, but a group-therapy session for all those who felt hurt and upset by Protein World's yellow billboards.
I made my way through the amassed media to the protest's gleeful pair of organisers, Tara Costello and Fiona Longmuir, who claim to have kicked off the campaign with their much-tweeted photo of themselves in bikinis on the Tube. Blaming 'bodyshaming media' for women's supposed low self-esteem, Costello and Longmuir told me that they were happy about the Advertising Standards Authority's recent decision to ban the poster. Longmuir said she would prefer to see 'adverts that promoted positive emotions'. This echoed the ASA's sentiments when it said it had 'launched an investigation to establish if [Protein World's ad] breaks harm and offence rules or is socially irresponsible'. It seems that these protesters not only want Protein World to suffer; they are also concerned about the threat posed to women by an uncontrolled and unregulated world.
Perhaps the most concerning thing I heard during my two fully clothed hours in Hyde Park was that these women felt comfortable with declaring themselves incapable of dealing with something they don't like, and were okay with some external agency sorting out their problems for them. For Costello and Longmuir, having the state and outside bodies regulate their interaction with the world was no bad thing. They told me that women were decidedly less able than men to cope with the terrorism committed against their body image by the likes of Protein World. The women (and one bikini-clad man) on the protest thought that the best way to deal with their disagreement with the ad was to admit defeat before the battle begun, and portray themselves as victims in need of support and, most importantly, attention.
What a depressing day. I went home and took two showers, not because of the sheer number of arse cracks I'd seen, but because of the sickly sweet nature of this love-in on the grass. This is what contemporary feminism looks like: a pathetic but dangerous gaggle of self-proclaimed victims of patriarchy who want a state-sanitised world, free of offence and confrontation. There was absolutely nothing offensive or even controversial about the Protein World ads, and the majority of the girls I met at the protest were there for a photoshoot and nothing much else. The other attendees consisted of the usual roll-up-smoking, fight-the-patriarchy stereotypes who follow controversy around like a bad smell. The talk was of nice feelings, brave faces and the overcoming of faux-personal battles. The fact that, by proclaiming themselves hurt and incapable, these women were relinquishing their own sense of agency didn't seem to bother the protesters. This celebration of weakness is the garb of contemporary feminism. Dressing it up in a fancy bikini doesn't make it any less pitiful.
Ella Whelan is staff writer at spiked. Follow her on Twitter: @Ella_M_Whelan
Pictures by: Henry Kenyon
To enquire about republishing spiked's content, a right to reply or to request a correction, please contact the managing editor, Viv Regan.