Rugby lads: the last of the campus rebels
The ban on the LSE rugby club summed up the new campus McCarthyism.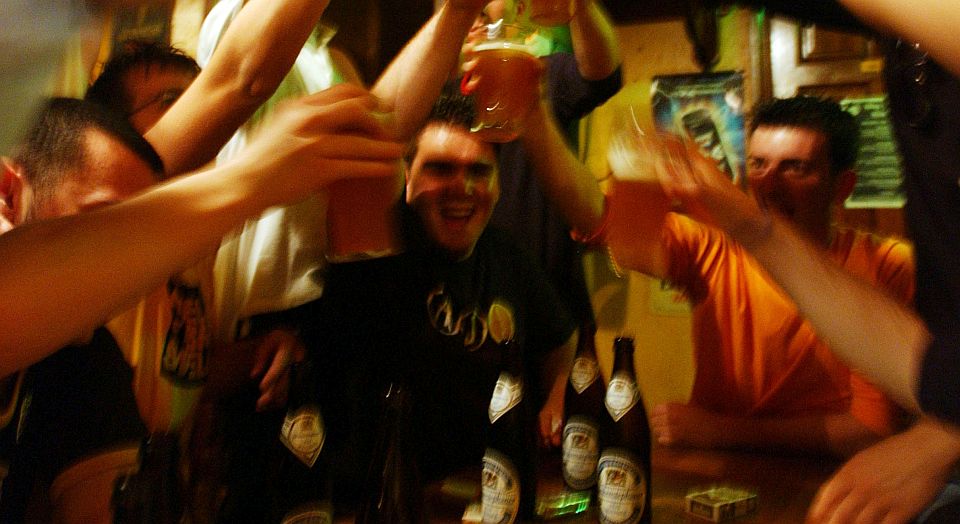 This month, the quashing of Occupy UAL, an anti-cuts encampment at Central Saint Martins, a London art college, sparked outrage among student politicos. An injunction, filed by the University of the Arts London against 15 of the occupation's ringleaders, was slammed by students as an affront to their right to protest – reflecting, in the words of one student, 'utter contempt' for the protesters and their views.
Now, this is a complex issue. The freedom to speak one's mind should be indivisible. But there is no freedom to d-lock fire doors and block walkways. In the case of student protests, university administrators have to try to balance the protesters' freedom of assembly against the desire of other students to go to their classes and access services and facilities. While UAL was heavy-handed, they were well within their rights. The cries of horror from the protesters only underlined quite how naive this new generation of so-called radicals is. If you break the rules to make your point, you have to expect some comeback. It doesn't matter how right(-on) you are, you can't expect the pricks you're kicking against to tolerate your behaviour just because they 'get where you're coming from'.
But imagine for a moment that it all played out differently. Imagine that university officials, eager to rid themselves of this pongy nuisance, happened upon one of the occupiers' leaflets and decided to leak it to the press. Imagine its blurry sketches of faux revolutionary fists in the air and exclamations of 'fuck the cuts' were plastered under shock-horror headlines and spawned yet more condemnation on Twitter and in the media. Imagine the university banned the occupiers for having deeply offended the institution's strident neoliberal values. Imagine they said that 'Talk of free education has no place at UAL' because 'it creates an environment that makes students feel threatened and unsafe'. Imagine the occupiers were told they would only able to reclaim their positions in the students' union once they could demonstrate that they had rid themselves of their backward and damaging views. And imagine, almost half a year later, that this process of repentance was still grinding on.
Sounds far-fetched, right? A sort of McCarthyism more befitting the commie-bashing dons of the Fifties and Sixties than the risk-averse university bureaucrats of today. But it is not so ridiculous a prospect. While middle-class student radicals are no longer the target of the campus thoughtpolice, this impulse to crush those who refuse to toe the moral line lives on.
Almost six months ago, barely a mile down the road from what was the Occupy UAL encampment, this is precisely what happened. Not to a group of Guardian-backed protesters, but to a bunch of unashamedly un-PC lads who made up the LSE men's rugby team. The team had been riling the students' union for months with their raucous socials and offensive pranks. They'd trashed bars, urinated on everything in their path, and, in one particularly puerile stunt, dressed up as Guantanamo Bay prisoners and mocked Muslim students when they were leaving Friday prayers. For some reason, LSE Students' Union (LSESU) had long been unable to stop the unacceptable and destructive aspects of the rugby team's behaviour. But the team's final SU-goading prank gave the union the perfect opportunity to bring the hammer down.
At the LSE freshers' fair in October, the team distributed leaflets, extolling the club's bylaws (they ban 'homosexual debauchery'), warning new students about the pitfalls of LSE's social scene ('nowhere in the world can so many mingers look so appealing'), and introducing prospective players to their 'beast-like' colleagues in the women's team. In short, it was a bad joke. A grossly offensive parody of the anodyne welcome packs universities and students' unions offer to freshers each year.
But the union certainly wasn't laughing. After the leaflet was leaked online by members of the feminist society, the SU, no doubt under pressure from LSE's press team, decided to take action. LSESU demanded the rugby lads responsible for the leaflet turn themselves in. And, after the team closed ranks and refused, LSESU general secretary Nona Buckley-Irvine announced that the entire team would be banned for a year. 'Our actions in disbanding the club demonstrate the seriousness of the situation, and our commitment to challenging cultures that allow misogyny, sexism and homophobia to exist', read her statement. 'We do want students at LSE to play rugby — but our greater obligation is to lay to rest the existing culture and seek to establish a new one for the club.'
Many of the players simply left, but those who remained have gone into a long process of public repentance so that the team can be reinstated next year. They formed the LSE Men's Rugby Working Group and, taking their cue from the general secretary's calls for the team's 'culture' to be 'rehabilitated', they issued a series of pledges, including: committing themselves to playing mixed touch rugby (in order to make the team more inclusive of female and lower-ability players); establishing a programme of 'charitable community outreach work'; and creating 'a men's rugby club primarily focused on rugby rather than socialising'.
Since then, the team has gone out of its way to prove to LSESU that it is serious about changing its ways. It started a 'Good Lad campaign', in which team players posed on the main university concourse with whiteboards bearing slogans like 'A good lad… understands that feminism isn't a dirty word' — a kind of public shaming reminiscent of Maoist China. And, in the coming weeks, the team is hoping to play a charity match against a local gay rugby team, the King's Cross Steelers, in an effort to prove it is now okay with the 'homosexual debauchery' it once decried.
All this should make anyone with a liberal bone in their body retch. But, six months on, it's failed to provoke much of a response at all from students. Even the recent kickback against censorious students' unions, motored in no small part by spiked's Down With Campus Censorship! campaign and Brendan O'Neill's writings on the Stepford Students, has failed to produce any real criticism of the ban. But, as much as it might appear trivial, as much as it is tempting to say these lads had it coming, the crushing of the LSE rugby team is easily the most shocking example of campus censorship in recent memory.
Sure, this wasn't political censorship. It wasn't an all-powerful SU quashing dissenting campus radicals. It was something much creepier than that. After months of failed attempts by the SU to reprimand individuals in the team for their actions, the team's leaflet became a pretext for a purge of what the union saw as a problematic culture. In between the lines of these puerile jokes, union officials claimed, was a dark, coercive force that posed an existential threat to the values of the 'LSE community' itself. A threat so immediate that this team needed to be taken in hand, forced to repent and have their blinkered worldview dissolved and a new, SU-sanctioned morality installed in its place.
The ongoing panic about 'lad culture', the brow-furrowing about expressions of machismo and laddishness on campus, is the context here. At universities across the UK, the twattish excesses of rugby teams, something as old as the sport itself, have been painted as a harbinger of something much darker. Their penchant for crude rape jokes, faux-racist banter and the wanton destruction of Yates' pubs across the land is seen as fuelling a climate of racism, homophobia and, above all, sexual assault. The often-quoted and completely unreliable figure that one in four female students experience sexual assault is used as the moral shield, the green light for a top-down purge of a harmless laddish culture that the rarefied SU set simply don't like.
In 2013, the men's rugby team at the University of Sussex was disbanded after it trashed the team coach. And, as part of their rehabilitation, the team members were made to take part in NUS-approved 'I *heart* Consent' workshops. The logic here beggars belief. Even if we take the discredited one-in-four statistic for granted, there's no evidence to suggest that rugby lads are the most prolific sexual predators. But SU heads across the UK seem genuinely to believe there is a neat correlation between any physical or verbal expression of 'lad culture' and sexual assault, a vomit-stained tour bus or a crass leaflet providing the perfect excuse to bring these lads in for a much-needed reprogramming.
What makes this all the more ridiculous is that the handwringing over lad culture only prevents the prompt and appropriate punishment of those few who do, genuinely, break the rules. 'It was claimed that there was a culture around rugby. Well, no, there was a culture around a group of individuals', says George Greenwood, a master's student at LSE, who had just joined the rugby team when it was disbanded. 'It was more of a symbol than a punishment. The problem is it punished people like me as well, people who just love playing rugby', he says. Indeed, the few bad apples behind the team's most destructive stunts merely split off after the ban, formed something called the LSE Gym Club and continue to throw punches in union bars and piss up walls with impunity.
University should be a place in which students' prejudices are pricked and their worldviews rattled. That is why free and open debate is so essential to the academy. But that's not what the LSE rugby ban was about. This wasn't an attempt to challenge a group of proud sexual predators; it was an intolerant purge of a jokey culture the SU simply didn't like – one which challenged and mocked their own prissy, PC worldview.
The great irony of it all is that it is precisely this kind censoriousness that fuels lad culture. The more someone tells you that there are some things you simply can't say, that your behaviour is 'damaging', the more that rebellious muscle twitches. Forget Occupy UAL, the LSE rugby team is the closest thing we've got to real campus rebels. And that's the real shame here.
Tom Slater is assistant editor of spiked and coordinator of spiked's Down With Campus Censorship! campaign.
To enquire about republishing spiked's content, a right to reply or to request a correction, please contact the managing editor, Viv Regan.