The secret to winning the yoof vote? Big ideas
Young people want some vision, not pity-me politics.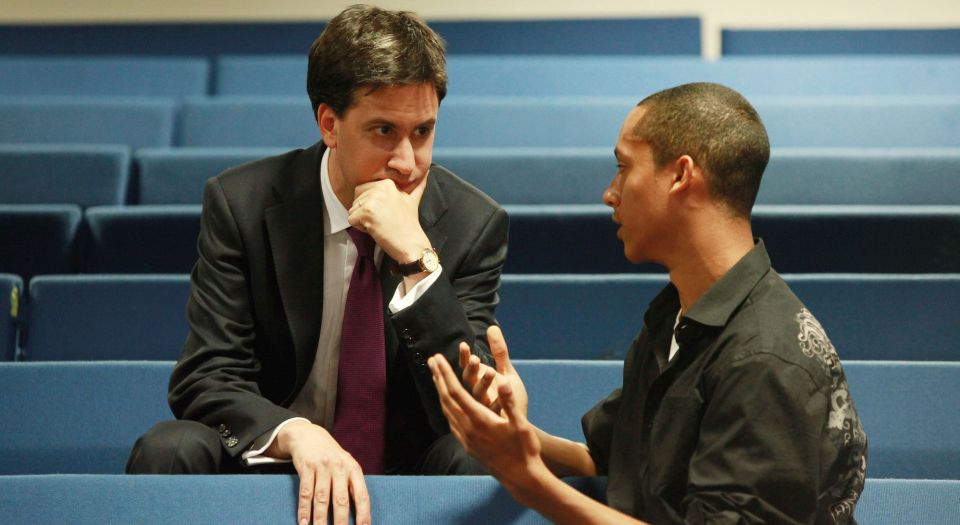 As the General Election approaches, as Labour and the Tories jostle for single-digit leads in the polls and discussion is filled with speculation about what nefarious party-political gumbo will result from another hung parliament, little seems certain. But if one thing is starkly clear, it's that young people, once conceived of as the motors and muscle of political change, will continue to detach themselves from the entire process.
The figures, as we all know, aren't good. At the 2010 General Election, only 51 per cent of 18- to 24-year-olds cast their vote. While representing a peak for the decade, following a paltry 38 per cent in 2005, it continued a marked historical decline in youth-voter turnout. One particularly damning Hansard Society study found that only 12 per cent of under-25s intended to vote on 7 May 2015.
But if there's anything more dispiriting than peering into the gaping chasm between young people and the party-political process, it's thumbing through the solutions that commentators, policy wonks and politicians are putting forward. Youth volunteering charity vInspired has challenged the party leaders to tweet their top-five policies which affect young people. Cos, you know, social media. Online tools like Vote For Policies, which tell users what party their views are most aligned with via a questionnaire, are being fiercely promoted by youth-voting campaigners in an attempt to trick young people into thinking they've supported a political party all along, and just didn't know it.
Many of those currently concerned about the youth-voting deficit are deeply sincere. None more so than Rick Edwards, the youth TV dreamboat, who has penned a refreshingly optimistic plea for young people to get out and vote called None of the Above. Talking to Edwards over the phone, he offers me a forthright case for the technical solutions to the current crisis. He advocates compulsory voting for 18- to 24-year-olds, is insistent on voting going digital in order to cater to the internet generation, and generally feels that more savvy use of social-media would help bring politicians' message to Britain's disaffected youth.
But it's hard not to feel that these technical fixes ignore the parties' sheer lack of political vision. This General Election campaign seems to have been built, not on a clash of ideas, but on a clash of slogans: 'security' (Conservatives); 'fairness' (Labour); and 'bit of both' (Lib Dems). Rather than present a vision of where society could go, the parties prattle on endlessly about how they can tax a bit here and cut a bit there in order to secure a smidge more of their preferred buzzword.
So, I ask Edwards, isn't the shocking lack of contention, the fact that the political parties are merely fiddling with their spreadsheets in the middle ground, the real problem here? 'When big ideas and strong ideologies are put forward, it's quite appealing', he concedes. 'The fact that everyone is now in the middle ground certainly doesn't help, but there are other, technical factors here.'
While on this we may disagree, Edwards' insistence that young people can't merely be written off as apathetic or cynical is important. Talking to first-time voters, it's clear that while they desperately want to get involved in the political process, they can't help but bristle at what's on offer. 'Labour and the Tories are far too close together', says Nadia Sayed, an 18-year-old currently studying for her A-levels. 'They're two cheeks to the same ass', she says, adapting George Galloway's colourful metaphor.
Although Nadia is undecided, she's leaning towards Labour – the lesser evil, she feels, of the two cheeks. And this sentiment seems to cross the so-called political spectrum. 'I see the Conservatives as the devil I know', says Amara Willett, another London sixth-former, who is reluctantly backing Cameron.
The fact that the parties are still more or less indecipherable for most young people is something that should give the Labour Party, in particular, pause for thought. Miliband's pledge to cut tuition fees, introduce votes for 16-year-olds and maintain benefits for under-25s has reflected a concerted effort to court youth voters, just as the Tories' pledge to maintain the triple-lock on old-age benefits has helped it to tighten its grip on the over-65s (among whom voter turnout is highest). But this has done little to shake the long-standing perception that neither Labour nor the Tories are really bothered about young people.
Edwards is right when he says that, as politicians have exploited the generational voting gap, so young people have effectively been sidelined. 'Politicians are going where the votes are, or at least where they think the votes are. And so therefore young people are feeling like they're being marginalised, because they are', he says. And this has, inevitably, spurred on youth disengagement. 'I think a vicious circle has been spun', says Eleanor Sharman, a student at Oriel College, Oxford, and editor-in-chief of feisty, alternative student rag, Versa. 'Politicians play to those most likely to vote, who are (perhaps inevitably) the elderly. So young people feel disengaged and don't bother.'
But while some students still smart over the Lib Dems' backtrack on tuition fees, or the Tories' wilful disregard of supposed 'youth issues', more generational gerrymandering ultimately only makes matters worse. In the conversations I've had with first-time voters, so-called youth issues are far from a priority. For Eden Bokrezion, a student at the University of Sussex, and Tom Owolade, a south London 18-year-old on his gap year, immigration is a primary concern. Meanwhile, Sharman says that social and economic freedom is what has led her (mistakenly, in my opinion) to the Liberal Democrats. Look beyond the pity-me think-pieces being penned by twentysomethings on Comment is free, and it becomes clear that young people are interested in issues which go beyond their own immediate needs.
The politics of generational conflict is, then, ultimately self-defeating. The insistence on fracturing political questions into bitesize, 'relevant to you' chunks may give you a short-term electoral boost, but it only brings politics further away from the big, juicy ideas that have always got young politicos' pulses racing. 'I have much more in common with an 85-year-old free-speech advocate than the typical, censorious SU rep', says Blair Spowart, a 20-year-old student and free-speech campaigner at the University of Edinburgh. 'The young are, like every other age bracket, an extremely diverse section of the population. Any politician attempting to relate to "the youth" should be asked what on earth they are trying to relate to.'
The crisis of modern politics is fundamentally a crisis of vision. No amount of youth-friendly policies or FaceTime hustings sessions will change this fact. But young people can't expect these big, earth-moving ideas simply to be delivered to them. They, as with everyone else in society, need to reignite the battle of ideas. Only then might we see parties and ideas that are worth voting for.
Tom Slater is assistant editor at spiked and coordinator of the Down With Campus Censorship! campaign.
Picture by: Yui Mok / PA Archive/Press Association Images
To enquire about republishing spiked's content, a right to reply or to request a correction, please contact the managing editor, Viv Regan.