The Tories' great third-sector sell-off
Selling off housing-association homes further erodes the social spirit.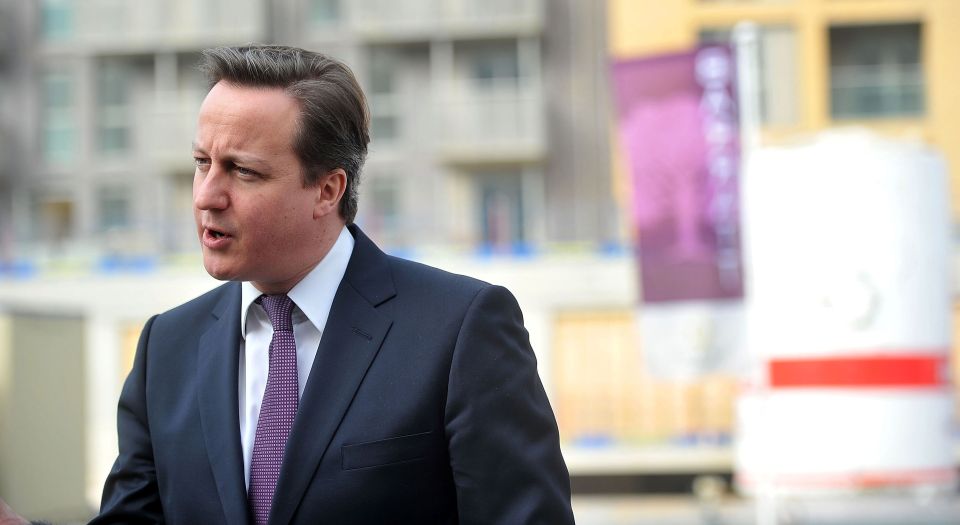 With the launch of their manifesto this week, the Conservatives clearly decided that mocking Labour's dweeb-in-chief Ed Miliband, and droning on and on about the deficit, was hardly the stuff General Election victories are made of. Where was the vision?, critics harped. Where were the positive things the Tories were going to do in the future, if elected, aside from not being Labour? So yesterday, Tory leader and prime minister incumbent David Cameron responded. The Tories will help 'working people', he said. They will pay out for a few more hours of free childcare. And they will offer substantial discounts (35 per cent at least) for England's 1.3million housing-association tenants to buy their homes.
This last proposal, an echo of the 1980s right-to-buy scheme, was clearly meant to channel the spirit of the Tories' Thatcher wonder years. But this was history repeated as pale, parodic imitation, a farcical re-tread of one of Thatcher's signal policies. Sober critics were quick to point out that there is a huge problem with housing at the moment, but it's not ownership. It's the fact there isn't enough. How does selling off existing housing stock help with that?, they asked. The Tories did claim that for every housing-association property sold, they will build another in its place. But given they said that about council houses in 2012, a period during which 26,000 homes have been sold and only 2,298 built, few gave the claim much credence.
But there's another problem with the Tories' Ouija board policy – 'Is that you, Margaret?' – and it's that by selling off housing-association properties, which are distinct from state-controlled council housing, they are eroding just a little bit more of that third-sector social spirit. Because housing associations do embody a residue of that spirit. They are private, not-for-profit groups, albeit now supported and regulated by the state, that have their roots in the philanthropy and voluntarism of the late-nineteenth century. They were the largely spontaneous product of citizens' desire to help themselves and their fellows, a civil-society attempt to address a problem in its midst. You can see that still in the fact that they are run not by the bureaucrats of municipal council housing, but by the largely public-spirited – residents and their representatives, community groups, business people and local politicians. Unlike directly state-controlled council housing, housing associations are far less interfering, far less snooping, far less hectoring. In their own way, they represent a social, civil-society effort to enable their members to act just that little bit more autonomously, a civil-society willingness to allow their own members to depend on each other rather than some state proxy.
So by offering to sell off housing-association properties, the Tories are corroding that best-of-the-third-sector spirit. They are dismantling it, privatising it, individuating it. And in the process, that intermediate social space between the private realm and the state/political realm, in which people can forge relationships and associations, shrinks just a little more. Which is almost ironic, given that the Tories' whizz idea in the run-up to the 2010 General Election was the 'Big Society', the whole point of which was supposedly to roll back the state, and roll out an ever-expanding third sector consisting of big-hearted volunteers. The Big Society was not just BS, or 'a pile of piffle' as London mayor Boris Johnson put it; it was also self-contradictory, thanks in no small part to the deployment of professionals to run the rule over voluntary community groups. If this was voluntary, it was state-propelled. At every stage, then, even when talking enthusiastically of a potential flowering of civil society, the Tories have nipped (and nudged) it in the bud. That they can treat housing associations so blithely and instrumentally is entirely in keeping with their New Labourish disdain for people's social freedom.
However, this shredding of the third sector, this snuffing out of the social impulses in our midst, has largely been ignored by those critics who prefer to knee-jerk off about evil Tories, the ghost of Thatcher, and nasty, money-grubbing landlords. They can't see the wood for their forest of lefty prejudices, not to mention their love of a big, council-house-building state. But their criticisms, like the Tories' policy itself is a massive distraction from the real problems here, from the destruction of a socially spirited third sector to the housing crisis itself. The Confederation of British Industry almost got it right, save for the policy jargon of 'affordable', when it said: 'Extending the right-to-buy scheme doesn't solve the problem of boosting the supply of affordable homes'. Quite. As James Heartfield has consistently argued on spiked, let's build.
Tim Black is deputy editor at spiked.
To enquire about republishing spiked's content, a right to reply or to request a correction, please contact the managing editor, Viv Regan.