Opportunity Knox for Italy-bashing
Yes, Amanda Knox has been demonised. But so has Italy.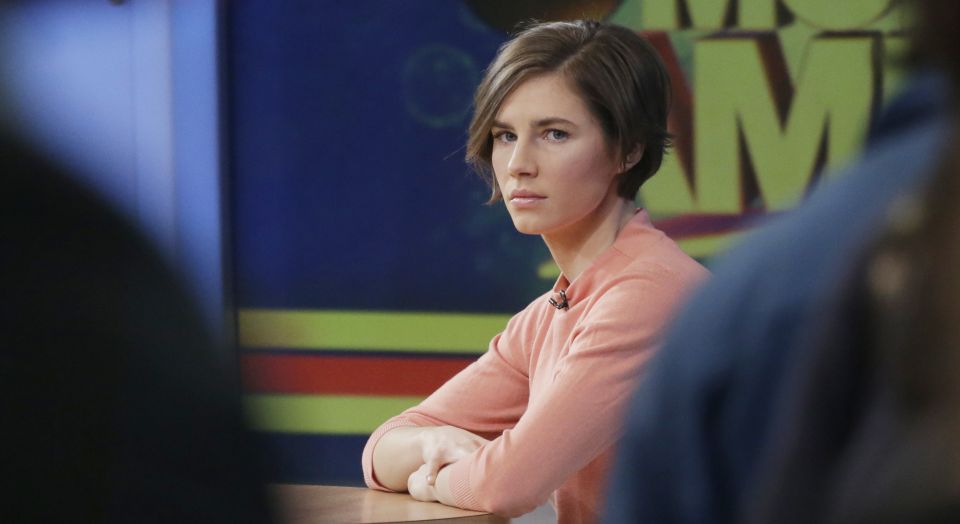 Nearly eight years ago, 21-year-old British student Meredith Kercher was found stabbed to death in Perugia, Italy. In 2008, then 22-year-old Rudy Guede, an itinerant petty criminal, was convicted of her murder following a fast-track trial and a fair bit of deal brokering. But, as everyone now knows, the story didn't end there. It wasn't even the main story. That belonged to the trial of the then 20-year-old American student Amanda Knox who, alongside her then boyfriend Raffaele Sollecito, was also found guilty in 2009 of the murder of Kercher (who was her flatmate at the time). From that point, what unfolded has been a slow but twisting legal tale. In 2011, Knox and Sollecito were acquitted, with the judge trashing much of what had passed for evidence in the original trial. Then, at the beginning of 2014, an appeals court reinstated the guilty verdict. But now, however, following the decision of Italy's highest appeals court, the Supreme Court of Cassation, to acquit the pair, the tale of Amanda Knox does seem to be at an end.
It certainly looks like the Italian courts have finally arrived at the right verdict. There was no evidence to implicate Knox and Sollecito, apart from some decidedly dodgy DNA samples collected weeks after Perugian police had contaminated the crime scene. There was no motive, aside from that conjured up by prosecutors, initially in the form of a sex game gone wrong, and then in the third court hearing, as an argument about cleaning regimes turned bloody. And there was already a culprit in the shape of Rudy Guede who, shortly after Kercher's body was found, had fled to Germany before he was caught, extradited, and eventually convicted of Kercher's murder. His DNA was all over Kercher's room and body, and his defence – that he had sex with Kercher and then went to the bathroom to listen to his iPod while someone else killed her – didn't exactly convince.
And yet, despite the gaping holes in the case against Knox and Sollecito, despite the fact that they, and Knox in particular, were convicted on the basis of speculative character assassinations — Knox was a decadent, morally lax American, with a Foxy soubriquet, and Sollectito a virginal naif — last week's verdict is still deemed to be a gasps-galore shock. Why was it a shock? Because observers simply assumed that Italy's highest court of appeal was going to ratify the guilty verdict. It was simply assumed that if Knox and Sollecito were going to be cleared, it would have to be done outside Italy, at the European Court of Human Rights. It was simply assumed that the whole thing was little more than a charade, a fait accompli, the cherry on the cake of Italy's impenetrable, irrational judicial edifice.
Those assumptions have been shown up for what they always were: prejudices.
So why were so many in the UK and especially the US willing to assume so much, and think so little, of the Italian justice system? Because, from the very beginning of this murder case and trial, where the sad, mundane facts of Kercher's killing have been trumped by extraordinary fictions, Italy, its culture and its legal system, has been as determinedly calumnied and demonised by American and British observers as Knox was by certain Italian prosecutors and journalists. In the eyes of the pro-Knox brigade, Italy is just too sunk in old ways, too in thrall to backward traditions, too gripped by retrograde attitudes, to be capable of judging Knox fairly. Everywhere Knox's band of supporters look they see a dark mixture of misogyny and medievalism.
Examples of Italy-damning abound. Take pro-Knox US journalist Nina Burleigh who, in her The Fatal Gift of Beauty, explored 'a disquieting facet of Italian culture: an obsession with female eroticism'. Or British journalist and author Joan Smith, who said that the Knox trial brought 'into the open a strain of irrationality and misogyny that exists as an undercurrent in many headline-grabbing criminal cases [in Italy]'. Or even the BBC's meant-to-be sober Newsnight, which asked what 'the trial of Amanda Knox tell[s] us about modern-day misogyny in Italy'. Given the way Italy has been constructed during the Knox trial, as everything right-thinking Anglophone progressives disdain — anti-women and traditionalist — it's not a surprise that, as one commentator concluded, the Knox case is a 'feminist issue' and she herself 'a victim of discrimination'.
Italy's legal system has been similarly damned, an institutional embodiment of everything that is supposedly rotten about Italy's rank Old European outlook. 'Clumsy and illogical' is how one US commentator described it in 2011, when Knox's acquittal was quashed. Rich in 'absurdism' and capable of prompting 'despair' was how a Rolling Stone writer described it. A Guardian commentator was harsher still, calling the Knox trial an indictment of Italy's legal system. 'This case', he wrote, 'so long and tortured and so unsatisfactory to many, seems destined to go down not just as a breathtaking miscarriage of justice, but one that raises serious doubts about Italy's ability to mete out criminal justice.'
Questioning a whole nation's capacity for a just justice system on the basis of the treatment of Knox is quite a leap from the particular to the general. But then, it's a leap that many have been more than willing to make. Be it an eagerness to condemn an entire society for its putative misogyny, or the enthusiasm for slamming its entire justice system as an updated version of the Inquisition, too often over the past seven-or-so years, the Knox trial has allowed the right-on to vent their prejudices, to conjure up an image of everything they hate and to project it on to Italy.
No wonder the decision of Italy's supreme court to chuck out the Knox and Sollecito convictions came as such a shock. So happy were the liberal-ish, feministy supporters of Knox with their stereotyped view of Italy, they couldn't see what was right before their eyes. That misogyny is not rampant in Italy. And that its justice system is not completely rotten. Yes, of course there are problems and there are miscarriages of justice — as there are anywhere else, including in the UK and the US. But this, remember, is the same justice system in which prosecutors risk life and limb to successfully 'mete out criminal justice' to the mafia; the same justice system famous for its slow but meticulous processing; the same justice system that has such a faith in the maturity of its citizens that it allows a trial to be publicly discussed while it is happening.
As for the rampant cultural stereotyping of Italy as women-hating and witch-hunting, it's worth pointing out that, from the very start, there was no shortage of Italian critics of the Knox trial. As the national broadsheet La Repubblica put it after the guilty verdicts were reinstated in 2014, 'from the very beginning, [the Knox-Sollecito trial] has been judged more on the basis of sensation than actual evidence. In reality, what is probably more at stake than assigning responsibility for a murder is the prestige of a part of the magistrature and the Umbrian police.' Or as another national, La Stampa, observed after Knox and Sollecito had their convictions overturned in 2011: 'The confirmation of the evidence was missing; faced with doubt the judges inexorably, but justly, reached their conclusions.'
So, yes, due to a botched investigation and a salacious conspiracy-hunting prosecutor, Knox and Sollecito have suffered a great deal over the past seven years. Yes, the Kercher family has been massively let down by proceedings. And yes, Knox in particular was subject to some pretty low cultural stereotyping. But then, so, too, has the whole country of Italy itself. Not at the hands of the Perugian police and local judiciary, but at the hands of all those in the US and UK willing to prosecute Italy on the evidence of a single case.
Tim Black is deputy editor of spiked.
Picture by: PA
To enquire about republishing spiked's content, a right to reply or to request a correction, please contact the managing editor, Viv Regan.