Why isn't Farage entitled to a bit of privacy, too?
The media's complicity in Sunday's pub stunt reeks of double standards.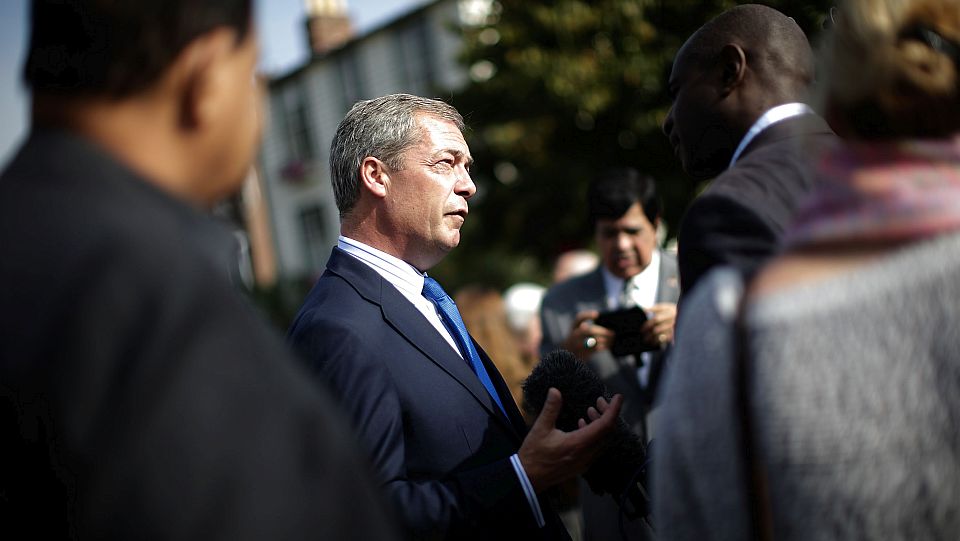 There was something very odd about this weekend's much-hyped pub confrontation between UKIP leader Nigel Farage (and his wife and two kids) and a gaggle of anti-UKIP activists. And no, it wasn't the fact that the anti-kippers performing in this 'cabaret of diversity' turned out to be so uniformly twattish. That was to be expected. They may bang on about difference and play endless semiotic games with their own gender pronouns, but they're all cut from the same narcissistic cloth. And, as such, they are utterly incapable of tolerating a world not entirely in their own image.
No, it was something else that stood out amid the LGBT performers, breastfeeding ladies and assorted trans-ient types doing a conga towards the Kent pub in which Farage was enjoying a quiet lunch with his family. And there it was, right in the thick of it. A journalist for the Guardian. But he wasn't simply reporting on what was happening; he was revelling in the sheer stuntishness of it all. He wasn't an objective observer who just happened to be on the scene; he was a tacit supporter of the event who had been invited to fellow travel with 'Beyond Diversity'. '[The people involved] represent what I want my country to be in 2015', he waxes; 'diverse, creative, spirited, cheerful, understanding'. (You can read the full account of his 'day trip to a mostly monocultural corner of England' here).
So what, you might say? Surely it's just a journalist getting a lead on a story. But there's something that sticks in the craw a little, a sense that, once again, the liberal media are complicit in the debate-averse intolerance and animosity towards Farage and Co. How else are we to understand the tenor of the Guardian's frontline, embedded reportage? While many media outlets, not to mention politicians, felt that giving Farage and his family an impromptu anti-UKIP cabaret show, complete with anti-fracktivism and 'HIV-positive migrants', was a bit much, the Guardian planted itself firmly on the side of Beyond Diversity. '"From what I can tell we pretty decisively lost the 'battle of the story' in the media", [activist] Andrew Boyd emails me on Monday morning.' That's a telling inclusion. It shows that the Guardian is willing to see itself as a participant in the battle against UKIP, a propagandist in the war against people with the wrong views.
That the Guardian in particular should have been given a heads-up about a pub run-in with Farage is not a surprise. Beyond Diversity is the brain-fart of Dan Glass, a professional activist (PRAT) associated with anti-cheap-flights snobs Plane Stupid, and someone the Guardian itself celebrated as a 'youth climate leader'. The Hampstead and Brighton bible once even carried a piece by Glass showing off about super-gluing himself to then prime minister Gordon Brown. Glass is the vanguard of Guardianista sentiment, a rainbow-coloured warrior for its vision of lower consumption and identity politics. If the Guardian took to the streets, it would look like Glass.
Not that the Guardian is alone in its complicity with anti-UKIP sentiment. As was revealed a little while ago, British newspapers had been gleefully gobbling up anti-UKIP stories, usually featuring offensive tweets and daft remarks from local councillors, fed to them by a team of anti-UKIP researchers at the Conservative Party's campaign headquarters. And, given the continued emergence of such dog-bites-UKIP stories, there seems little reason to doubt that the party-political establishment is still happily working with its friends in the respectable media.
Perhaps it is this anti-UKIP myopia, this bien pensant consensus, this eagerness to see UKIP and its leader Farage as the Second Coming of the British Union of Fascists, that explains why the hacked-off, anti-tabloid champions at the Guardian failed to see what jumping Farage and his family amounted to: an invasion of someone's privacy. After all, as Brendan O'Neill has pointed out in the Spectator, the anti-phone-hacking brigade has been wailing about privacy when it comes to the hacked phones of Steve Coogan or Sienna Miller. Yet, for some reason, it's okay for a diversity of plonkers, with a Guardian journalist in tow, to intrude upon Farage and his family – a family, it should be remembered, Farage has been very keen to keep away from the unfailingly harsh media spotlight. As O'Neill writes, a line was crossed here. By all means confront Farage with questions and argument, and with protest and anger, in the public, political sphere. But not in private, not when he's with his wife and children. 'He didn't want to engage', said one of the protesters, plastic boobs on show, bile in reserve. Funny that.
It seems that for elements of the press and oh-so-liberal campaigners, privacy is not a right. It is a privilege. It is something to be accorded to those they think are deserving of it, such as right-on comedians and fashionable celebrities. It is not something to be granted to someone as beyond the Guardian pale as Farage. He deserves no space, figurative or physical, free of potential intrusion. After all, he thinks and says the wrong things, things the likes of Glass don't agree with. Too much privacy, too much space to muse and talk freely, and Farage might get away with thinking and saying the wrong things. He needs to have prosthetic-breasted protesters stamping Doc Martens on his face, forever.
There has been criticism of the stunt. But it has been criticism on grounds of pragmatism not principle. What Glass and his comrades did was wrong not because it denigrated privacy, but because it benefited UKIP. As one commentator put it: 'Suddenly Farage looks like the victim, and the activists – whose cabaret was aimed at drawing attention to how they feel victimised by UKIP's attacks on their communities – look like aggressors.' Or, as another put it: '[Farage] can present himself as the innocent victim of attacks by fruitcakes, when, in fact, he spends most of his time attacking the vulnerable.' Little wonder Glass tried to regain the moral highground of victimhood. 'Since yesterday's events I have received at least 100 abusive messages and phone calls, including death threats. Some have attacked me for being gay and, ironically, others have even called me a Nazi.' Poor Dan.
Intolerant, hypocritical and underpinned by a game of competitive victimhood. As depressing snapshots of political life in twenty-first-century Britain go, this is right up there.
Tim Black is deputy editor at spiked.
Picture by: Getty Images.
To enquire about republishing spiked's content, a right to reply or to request a correction, please contact the managing editor, Viv Regan.