The Sun 4: 'Guilty' of being journalists
The UK state is prosecuting tabloid reporters for telling the truth.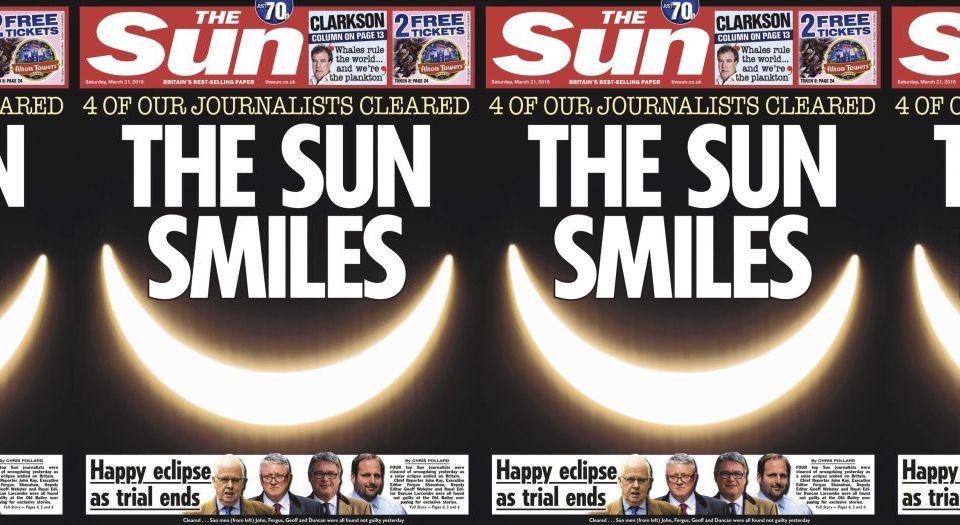 Four Sun journalists walked free from the Old Bailey on Friday, in another humiliating setback for the British state's war on tabloid journalism – or what the top prosecutor described in open court, with open contempt, as the 'gutter press'. The paper's front cover on Saturday (pictured above) rightly celebrated victory in the courtroom battle for justice. But the war is far from over, as those for whom 'popular' is a dirty word still seek the eclipse of Sun-style journalism.
Chief reporter John Kay, deputy editor Geoff Webster and executive editor Fergus Shanahan were cleared of conspiring to commit misconduct in public office. Royal editor Duncan Larcombe was cleared of aiding and abetting such misconduct. Arrested in 2011 in the sort of dawn police raids more often associated with suspected jihadists than journalists, they and their families were left dangling on police bail for more than three years with the prospect of prison hanging over them; as the Sun's clearly angry associate editor Trevor Kavanagh says, 'Their careers were on hold, their lives in a state of suspended animation'. For what? Doing their jobs too well for the liking of our secrecy-obsessed authorities.
There was little doubt that the four had indeed done what the prosecution alleged – made payments to public officials for information that the authorities wanted kept secret. But after deliberating for over 48 hours, the jury unanimously decided that the reporters had not committed any crime by doing their jobs and unearthing news stories – whether or not some of their allegedly 'smutty' stories (that snooty prosecutor again) were to elitist tastes.
The only thing of which the Sun Four were found 'guilty' was being journalists.
After the not guilty verdicts, we learnt that during their deliberations the Old Bailey jury had felt compelled to ask the judge to explain exactly what the accusations meant. Mr Justice Saunders admitted that, 'This is an extremely difficult charge even for lawyers to understand, it's even more difficult to properly explain it to a jury'. It is little wonder that the jurors and even the judge found the charges confusing. The offence of 'conspiracy to commit misconduct in public office' is a nonsense, effectively invented by police and the Crown Prosecution Service (CPS) in order to get tabloid journalists.
As I noted on spiked in January, after another jury cleared two Sun journalists but failed to reach verdicts on charges against four others: 'The tabloid journalists arrested and prosecuted under Operation Elveden have been charged with the novel and nonsensical-sounding crime of conspiring to commit misconduct in public office. The offence of committing misconduct in public office can only, logically, be committed by those working in public office, not reporters. So the authorities have stretched the law by adding the word "conspiracy" to cover journalists paying for information from public officials. In effect they have invented a crime specifically for tabloid hacks. What is more, it is an offence that criminalises the normal practice of reporters searching for inside information and trying to expose stories the authorities want hidden.'
Never mind all the lectures about how journalists are 'not above the law'; we must insist, as the jury's verdicts did on Friday, that they are not 'beneath the law' either, to be singled out in a legal witch-hunt.
Defending John Kay in court, Trevor Burke QC told the jury that the prosecution of journalists is 'the hallmark of oppressive regimes that seek to restrict free speech, crush the press and silence open debate'. What our democratic and civilised authorities have in common with such regimes is that they are prosecuting investigative journalists not for breaking the law, but for breaking embarrassing stories; not for printing lies, but for publishing hidden truths. Unlike in those police states, however, crusading UK prosecutors are still faced with the inconvenience of having to persuade a jury made up of members of the populace who evidently do not all share their fear and loathing of the popular media.
Since the UK authorities used the 2011 scandal over phone-hacking at the closed News of the World as the pretext to launch their war on tabloid journalism, more than 60 journalists have been arrested in the biggest criminal investigation in British police history (that total rises to more than a hundred if those questioned under caution are included). More than half of those arrested, left hanging on police bail and charged, have been targeted under the Metropolitan Police's huge Operation Elveden, investigating not hacking but our old friend, conspiring to commit misconduct in public office. To date, this multimillion-pound operation involving scores of detectives has secured the conviction of three former News of the World journalists.
As the embarrassing failures to convict leading tabloid journalists for doing their jobs mount up, there have been loud calls for prosecutors to end their witch-hunt. But the Met, CPS chief Alison Saunders and her cohorts show no signs of abandoning their crusade. There is a lot at stake for the witch-hunters. It is not simply about justifying the £40million of public money they have already poured into this seemingly bottomless pit. It is also about the moral authority of their wider crusade to tame and sanitise the unruly popular press, through the Leveson Inquiry and the attempt to impose a system of state-backed regulation. This crusade still has supporters in high places – notably in the Labour and Liberal Democrat parties and at the bitter BBC, whose lunchtime news headline on Friday was about the conviction of one Ministry of Defence official for accepting payments – she was actually jailed in January after pleading guilty to misconduct in public office – rather than the acquittal of the Sun Four.
Where juries have understandably been unable to reach verdicts on the apparently unintelligible charges, prosecutors have immediately ordered retrials. As top media lawyer Gavin Millar put it after the inconclusive Sun Six trial in January: 'Jurors trying those cases will have asked themselves, what on earth is the criminality? Why are we dealing with this in a lengthy, expensive trial? It doesn't make sense to jurors. That's becoming apparent from the trend that we are seeing – juries are not convicting defendants – but huge amounts of money are being spent. Journalists are spending years on bail, with long trials and hung juries and then another long trial. It's a nightmare.' Yet it is a nightmare that the authorities seem content to ensure continues.
Even worse, there are moves to ensure that this sort of thing never happens again by closing down all access to the leaked information that is the lifeblood of investigative reporting. Lord Justice Leveson's proposals that the police formalise all contact with the media through press officers has already been put into practice. Ministry of Defence officials have been ordered to record any contact with the press. And only last week, cabinet secretary Francis Maude effectively imposed a gagging order on almost half-a-million civil servants, by changing the rules so that state employees are only allowed to speak to the media with prior permission from a government minister.
All of this, alongside new laws making it an offence to pay whistle-blowers, inevitably threatens a further chilling effect on what one investigations editor has already described as 'an ice age' for UK investigative journalism. The losers will be not just the journalists persecuted for doing their jobs, but the public denied access to what the authorities don't want us to know.
That's why the acquittal of the Sun Four is a victory for all who want to live in a free society. Freedom of speech and of the press are indivisible liberties that we must defend for all or none at all. Press freedom is not the gift of those authoritarian elitists and sanitising snobs who look down on 'the gutter press' and wish for the total eclipse of the Sun.
Mick Hume is spiked's editor-at-large. His book, There is No Such Thing as a Free Press… And We Need One More Than Ever, is published by Societas. (Order this book from Amazon(UK).) Visit his website here.
To enquire about republishing spiked's content, a right to reply or to request a correction, please contact the managing editor, Viv Regan.