Save Gardies from the Stepford Students
Sexual-assault claims are being used to shut down a Cambridge fast-food joint.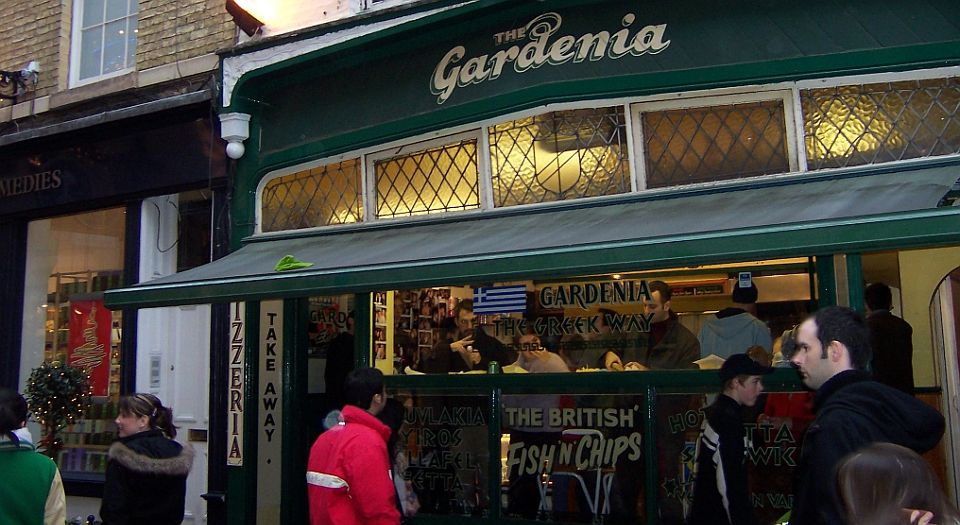 In order to keep my heart rate at a regular pace, I am often loathe to engage in student politics. I have used reaching my late twenties as an excuse to remove myself from the bizarre, identity-obsessed world of 'safe spaces', AGM votes on which are the most ethical fruits, and the latest ban of something someone somewhere finds offensive. But sometimes a student campaign comes along which is so vile, so wrong on so many levels, that I cannot help but wade in. The campaign to boycott a small independent café, which was launched over the weekend, is one such campaign.
On Sunday, a Facebook page was created calling for the boycott of the Gardenia café – or 'Gardies', as the gown call it – in Cambridge. The café has long been considered an institution among Cambridge students and was even subject to a successful student campaign to keep it open, when it was threatened with closure in 2003. The new Facebook page was set up following an anonymous blog post in which the author alleged that she had been forced to kiss a member of staff at the café when she was drunk on a night out. At the time of writing, the page has received over 1,000 likes. The campaign claims that 'everyone had a Gardies story' involving sexual assault. There was, apparently, the 'touching of women without consent' occurring on endemic levels at the café, in which staff had the unenviable job of servicing the demands of pissed-up Cambridge students.
The campaign posted a series of 'demands' to the café, including 'the installing of more HD (CCTV) cameras' and 'the suspension of any staff members involved'. Of course, the idea that a small business might not be able to magic the money for 'HD CCTV cameras' out of thin air, or the fact that sacked staff members might not immediately land another job at their daddy's firm, seemed to bypass the blissfully unaware, reality-lite students behind the campaign, who were intent on 'sending a strong message' at any cost.
So what exactly is being alleged in the Cambridge Kangaroo Court? Having read the anonymous blog that led to the campaign, it's obvious that, even if what is being alleged is true, Gardies is hardly the den of sexual assault that it's being painted as. On the night in question, a member of staff apparently blocked a girl's way down from the upstairs area and refused to move until she kissed him. She alleges that she tried to push past him, 'which he took as an invitation to put his hands on me'. The girl then 'panicked' and did kiss him. Then, racked with guilt for 'cheating on her boyfriend' – who by the way had naffed off earlier in the night, leaving his girlfriend drunk and alone – she started to feel as though she had been 'violated' by the man.
Who knows what actually happened? Of course, the young woman involved could have made a complaint directly to the manager. If she really felt threatened, she could have called the police. Instead, she took to the blogosphere to write about her experience.
Contrary to the wild hysteria of his persecutors, the owner of Gardies has acted with remarkable dignity. If I was faced with this mob of pitchfork-wielding feminist toffs making 'demands' of the business I had strived to establish, I doubt I would show such restraint. Whereas the politest riposte I could muster would be to tell these little authoritarians to go fuck themselves and their Facebook page, the owner has calmly reminded the students, through an intermediary, that he has spent 26 years dealing with petty criminality on behalf of drunk students, from cleaning up their vomit to splitting up continuous fights between every Little Lord Cuntleroy who stumbles into his café after guzzling wine with his chums at the college formal. He even had his tip box stolen. Remarkably, he has not once complained to the police in case it would place the perpetrators' education at risk. As a thank you, the student mob went straight – without apparently having the guts to raise the issue with him directly – to an internet-based campaign to deny him of his livelihood. Those making allegations have still not come forward with the dates of any incidents, as has been requested by the owner, so he can make investigations.
There is precedent for this brainless enactment of summary justice when it comes to rape. As has been argued before on spiked, the Ku Klux Klan used the unproven, un-investigated word of rape complainants to justify lynching young black men. KKK members, knowing that their allegations would not stand up to any degree of objective inquiry, chose to enact their justice in the absence of any due process. Today, the same tactics are used to punish the accused without having to bother with the burdensome processes of traditional justice. In the US, unproven and discredited allegations of sexual assault are often the launchpad for campaigns to have accused students suspended from their courses. The campaign against Gardies might not be racist, but, given the public shaming of the restaurant and its staff, it has adopted precisely those techniques that have been used throughout history to scapegoat and persecute minorities in the name of combating rape. Summary justice has always been the preferred forum for the unjust.
Now, as the ludicrous campaign builds momentum, Gardies appears to be bending over backwards to accommodate the absurd demands of the boycotters. Correspondence on the campaign Facebook page suggests that there could be sackings, and that the café was in the process of drafting a 'code of conduct' for dealing with sexual assault. Bizarrely, the students enacting the boycott are trying simultaneously to present themselves as being on the same side as the owner of Gardies, writing on the campaign page that 'we know how much he gives to the community and how kind as an individual he is to students'. With friends like these, eh?
We should not ignore this campaign. It's a nasty, vindictive attempt to ruin a man's life on the basis of spurious allegations. People of Cambridge, particularly students, I implore you to go and buy a Gardies burger immediately. Show the owners that you support their business and its contribution to Cambridge over and above the narcissistic and vindictive campaigning of entitled students. Gardies needed you before and it needs you now. Show them that you will not tolerate the arbitrary enactment of summary justice by self-obsessed students. If this man's business is damaged any further because of a bunch of uppity poshos, it would be an utterly unforgivable travesty of justice and a deeply problematic victory for mob rule. Let's not let it happen.
Luke Gittos is law editor at spiked, a solicitor practising criminal law and convenor of the London Legal Salon.
Picture by: Wikimedia Commons.
To enquire about republishing spiked's content, a right to reply or to request a correction, please contact the managing editor, Viv Regan.