Things we should be able to say about race
The response to Trevor Phillips' TV doc shows that the real prejudice today is against white UKIP voters.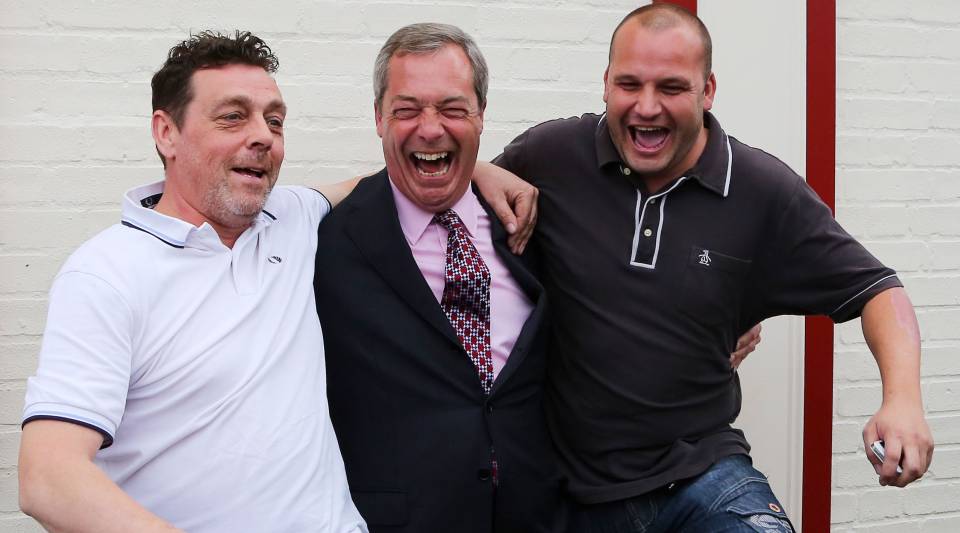 Whatever else UKIP leader Nigel Farage now thinks he did or didn't say in last night's Channel 4 documentary Things We Won't Say About Race That Are True, it was pretty clear what he was asked: 'Do you think we've got too much anti-discrimination law in this country?' Farage replied 'yes', saying that if it was up to him he'd get rid of 'much of it'.
So was that what Lib Dem president Tim Farron called Farage's 'dog whistle' moment? Was that the moment, in other words, Farage sent his high-pitched racist message out to Britain's canine-like populace?
Condemnation of Farage was swift. UK prime minister David Cameron said Farage's comments were 'completely wrong and frankly pretty appalling'. Labour leader Ed Miliband accused Farage of 'stoking up division'. Shadow justice secretary Sadiq Khan said it was 'one of the most shocking things I have ever heard'. Unite general secretary Len McCluskey, echoing Farron, said Farage was indulging in 'dog-whistle politics'.
Yet for all the talk of Farage's racist dog-whistling, last weekend's BBC Radio 4 phone-in Any Answers failed to bring forth a single wagging tail. As producers fed presenter Anita Anand an alternating series of for-and-against callers, those supporting Farage's views singularly failed to live up to racist expectations.
One caller, an Asian woman from Somerset called Sabina, argued that equality laws have 'become an industry that has not done a lot for racial harmony or race relations… A lot of people are fed up with it because I think people create respect for themselves, and if they merit the job they get the job.' She added: 'The younger generation – my children are young adults – are totally colour-blind.'
Another caller, called Tony, with a rich London/estuary accent, said that diversity laws were 'divisive': 'I think [they're] putting a wedge between people… people get their jobs on their merit not on their colour…' Tony continued: 'People under 40 – my grandchildren are the same – they're all colour-blind. My little grandson, he watches football – it doesn't bother him – he's not interested.' Anand spotted her opportunity: 'Tony, you raise football… Football has been in the news time and time again. We've heard some unfortunate chants, I mean we had [a black man] being abused by Chelsea fans [on the Paris Metro]…'. Tony interjected: 'Well, they're a bunch of yobbos. In every walk of life you get yobbos.'
Those who thought Farage's dog-whistling would have summoned up a pack of frothing, purple-rosetted racists have been left very disappointed.
Sabina's call ended with a confident assertion: 'Things are better today – people are very well travelled, very well informed by the global media. People do see others as fellow human beings and the [justifications] for race-relations [laws], when they started in the 1950s and 1960s, no longer exist.' It's a good point. Today, it's the rarity of old-fashioned racism that makes its occurrence so shocking. As the most recent UK Citizenship Survey showed, it is white people who are more likely to imagine that racism is increasing. Most black and minority-ethnic people now say that they would not be discriminated against on the basis of skin-colour by any of the five UK criminal-justice agencies or any of the eight public-service organisations.
Farage has a point, too. In his ideal world, candidate selection would only ever be made 'on merit'. What's wrong with that?
It is the UKIP-hating lynch mob that is most prejudiced in all this. They fear and loathe 'a certain audience'. They worry that the supposedly ignorant masses might suddenly turn racist upon hearing Farage's dog-whistle messages. The advocates of official anti-racism can't see that the anti-discrimination legislation of 40 years ago has largely been rendered redundant. From the UK Equality Act 2010 to the roll-out of a public-sector duty 'to promote good relations between persons of different racial groups', officialdom has become more obsessed with race at the same time as Britain has become more ethnically mixed (both culturally and biologically) and colour-blind. It is high time we stopped the hunt for zombie racism (and got rid of a few laws).
As for Things We Won't Say About Race That Are True, you had to admire the candour of Trevor Phillips, the driving force behind the programme, and the former chair of the Equality and Human Rights Commission. He used to believe that officialdom could regulate and educate bad things out of existence. His gradual realisation that officialdom, the very officialdom he was part of, has made things worse, may be blindingly obvious to some, but he still deserves a couple of cheers. In the circles Phillips moves, these ideas must sound like heresy.
Still, as impressive as his programme was, you couldn't help but feel that Phillips remains wedded to the idea of top-down managerialism. And by sidestepping class and the other socio-cultural factors which influence outcomes as varied as 'black on black crime' or Chinese and Indian academic success, he tumbled into his own version of racial thinking. It's as if Phillips still fears, in a rather old-fashioned way, the consequence of un-managed race-relations.
His focus on the social damage of multiculturalism-as-state-policy is a positive, as is his determination to sweep away 'po-faced political correctness' so as to get everything out in the open and expose it to scrutiny and argument. But he still needs to show greater faith in the public. Only then will officialdom recognise the extraordinary ways in which we are establishing common bonds and, bit by bit, melting 'race' away. What Sabina and Tony effortlessly showed Radio 4 listeners was that the public have no need of a management plan. Far from being a racism-ridden blob, the public are likely to demonstrate that they are becoming increasingly aware of the contempt and prejudice directed at them by the political elite.
Adrian Hart is a writer and researcher. His most recent book, That's Racist!: How the Regulation of Speech and Thought Divides Us All, is published by Societas. (Order this book from Amazon(UK).)
Picture by: PA images.
To enquire about republishing spiked's content, a right to reply or to request a correction, please contact the managing editor, Viv Regan.