A journey into UKIP country
Patrick West reports from South Thanet – Farage's prospective constituency.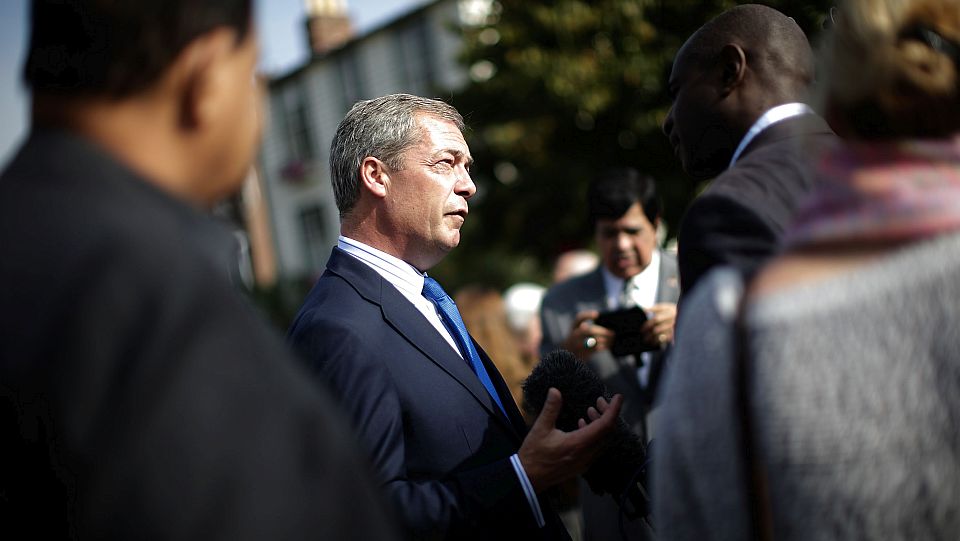 It should be no surprise that the populist, anti-immigration, anti-EU United Kingdom Independence Party (UKIP) commands its greatest support here in Kent. First of all, it is a favoured county for ex-London middle-class families now priced-out of an increasingly globalised capital city and its exorbitant housing market. Secondly, Kent is the first port of call for immigrants to these shores, and consequently the new home for thousands of East Europeans, newcomers who aren't always given a cordial welcome. And thirdly, east Kent has some of the most deprived areas in the country.
UKIP's populist appeal here should also be put into historical context. This is, after all, the corner of England which gave rise to the Peasants' Revolt of 1381, with its leader, Wat Tyler. And UKIP leader Nigel Farage, another Kentish Man and self-styled champion of ordinary folk, aspires to emulate this dissenter.
Last year, UKIP gained its first two seats in the House of Commons, in Clacton in Essex and Rochester and Strood in Kent. Now Farage is favourite to become at least the third to do so in May's General Election, when he stands for the South Thanet constituency.
As in the north of England, UKIP is picking up a lot of support from working-class voters in disadvantaged areas. These are people disillusioned with a Labour Party increasingly perceived as out of touch – run for, and by, the metropolitan elite. The Conservatives retained the seat in 2010, but by 2013, Labour was leading the polls here. Today in South Thanet, UKIP is in the lead (at the 2010 General Election, UKIP captured a meagre six per cent in South Thanet).
Like most towns in east Kent, the High Street in Ramsgate has a slightly shabby air to it, with its discount stores, charity shops, betting outlets and empty retail premises. There are vagrants in doorways and daytime street-drinkers. Its Baltic Branch shop, like similar stores in Canterbury, Folkestone and Dover, is a visible testament to the influx of Eastern Europeans to the county over the past 10 years – an influx that some UKIP types contend correlates with the region's problems.
Although Ramsgate doesn't suffer from the kind of inter-racial hostility found in Cliftonville to the north, Folkestone's Dover Road area or Dover's London Road neighbourhood – or even the tension in these towns between newcomers from Latvia and Poland and those from Slovakia and Bulgaria – there is the all-too-familiar rhetoric here among the working-class and lower-middle class about immigration putting a strain on resources, driving down wages and corroding the sense of community. The Baltic Branch sells European newspapers and, on Monday, pipes in Lithuanian radio: this accurately reflects the mostly parallel lives occupied by natives and incomers in the county.
In Ramsgate, UKIP also garners support from many in the fishing industry whose livelihoods have been devastated by EU fishing regulations – these severely restrict how much stock they may catch. These are all sentiments and resentments that UKIP exploits so well.
Yet South Thanet is also a handsome and prosperous place in parts. Broadstairs to the north, with its golden beaches and Charles Dickens heritage trail, is charming. Whereas you are likely to hear Polish spoken on the streets of Ramsgate, in Broadstairs it's the French and Italian of tourist school parties. Sandwich to the south is a dinky, picture-postcard medieval town that attracts German holiday homeowners, golfers and, increasingly, fans of Channel 4's Gogglebox. Both solidly middle-class towns in the constituency pick up strong Conservative support.
Indeed, east Kent has been on the up since the introduction of High Speed (HS1) trains in 2007. Towns such as Canterbury and Deal have prospered notably and become gentrified, while Ramsgate itself has increasingly become a dormitory town for London and home to young professional commuters. Passenger numbers passing through Ramsgate station increased from less than 800,000 in 2005 to 1,080,000 last year. The town has two sought-after grammar schools and a fine harbour that's even more splendid in the summer. Ellington Road and its affluent environs could easily pass for Crouch End in north London.
Thus Ramsgate is a town divided. There is great opposition among the town's respectable middle class to Farage and UKIP, and much embarrassment at the prospect of him becoming their local MP. 'Stand up to UKIP. NO TO RACISM. NO TO BIGOTRY. NO TO UKIP', reads one poster in a window in Ellington Road. Likeminded stickers foreboding the 'RACISTS and BIGOTS' of UKIP can be found adorning lamposts in Wilfred Road nearby. This is in contrast to the St George's Cross seen in Effingham Street, near the High Street. As was infamously discovered by the London 'liberal metropolitan elite' during the Rochester and Strood by-election, flying the English flag from one's home is a common custom among the working class in and around Kent. Pro-UKIP sentiment is more explicitly expressed in The Goose on Harbour Street, a Wetherspoons-type pub with prices and clientele to match. 'I met Farage last week', declares one ruddy-faced man to his friend, referring to the UKIP leader's recent visit to the town for a pint and a chat. 'Are you going to vote for UKIP?', I interject. 'Of course', he replies. 'I've always voted for them.' I ask him what he thinks of the comedian Al Murray, the 'Pub Landlord', who is standing in South Thanet for the anti-Farage Free United Kingdom Party (FUKP). 'He can stick his pipe where the sun don't shine', he replies, grinning, before slapping me on the shoulder and bidding me farewell.
If anything, the polarised opinions and voting intentions here reveal as much about class divisions in Kent and the UK as they do about views on immigration or the EU. While UKIP unsophisticates complain of Kent being 'full up', the party's middle-class detractors make the equally familiar argument that immigrants are far more industrious than the indolent and drink-sodden natives.
In a bric-a-brac shop on the High Street I talked to a middle-aged lady, a former Labour voter and convert to UKIP. The conversation strayed towards the subject of Ramsgate's empty commercial premises. She articulated with much fury plans by more affluent residents to prevent the historic Edwardian seaside pavilion from becoming a Wetherspoons mega-pub. 'The rich would rather it stayed empty than normal people have somewhere to drink.'
If there is middle-class indignation at Farage landing on Ramsgate's doorstep, not everyone finds Murray's entrance into the contest amusing, either. More than one letter to the local Isle of Thanet Gazette has asked why this interloper from Buckinghamshire has decided to meddle with Kentish affairs. The Pub Landlord only visited Thanet for the first time a few weeks ago, and there's been the (perhaps unfair) accusation that he's exploiting a serious situation to further his career. A man outside HSBC on the High Street put it more starkly, referring to 'that tosser comedian'. The situation hasn't been helped by the arrival of a second joke candidate, the Prophet Zebadiah Abu-Obadiah, one of those desperately unfunny 'zany' political types.
'It's an absolute joke, a media circus. I'm completely sick of it', says a lady in her 50s at the Royal National Lifeboat Association centre by the seafront, referring to the recent attention heaped upon South Thanet. She explained how sad she felt about the conscientious incumbent, the Conservative Laura Sandys, standing down. Farage, who hails from the other side of Kent, may be familiar with South Thanet, but he is a career politician nonetheless, MEP and leader of a party, she protests.
Commenting that the Labour candidate was too young and inexperienced, she sighed that there was no real option, no sensible candidate with genuine sympathy or affection for the area. It's an impression that spans the political spectrum. 'Election Race Heats Up!', reads the front cover of the left-wing agitprop magazine Thanet Watch, with a photograph of Farage, Murray and Abu-Obadiah and the collective speech bubble: 'I'm the JOKE candidate.'
Returning to the town centre, I popped into Ladbrokes. UKIP, the woman behind the counter told me, had odds of 4-7 to take South Thanet (when I was here last month it was 8-13). The Conservatives are at 2-1, Labour 8-1, the Pub Landlord 66-1 and Liberal Democrats at 100-1.
It's not in the commercial interests of bookmakers to be biased or to skewer odds. My prediction is that UKIP will win South Thanet in the upcoming General Election – but lose it in the one after that. The upturn in the economy – for the first time in years, 'hiring staff' signs can be seen in numerous shops in East Kent – will diminish the need for UKIP. As from last month, HS1 now leaves every hour, all day. Ramsgate's Harbour Street has already seen new businesses open recently – restaurants, a butcher's, a comic shop – and greater connectivity to London can only accelerate this process.
Immigration will cease to be an issue. The children of Eastern European immigrants are assimilating just as the children in Britain born to Poles in the 1970s did (Ramsgate's only devoted Polish deli actually shut down recently). Many English locals can now be seen and heard in Baltic Branch stores, having discovered eight per cent Polish lager. The Latvian woman behind the counter at a newsagent in Ramsgate even addresses me as 'darlin''. And among the first generation of incomers, the distinction between immigrant and native is disappearing. Roll on the good times.
Patrick West is a writer and journalist based in East Kent. Visit his blog here.
Picture by: Getty Images.
To enquire about republishing spiked's content, a right to reply or to request a correction, please contact the managing editor, Viv Regan.