Netanyahu in Washington: how Bibi eclipsed Barack
His speech stood in stark contrast to the relativism of the modern West.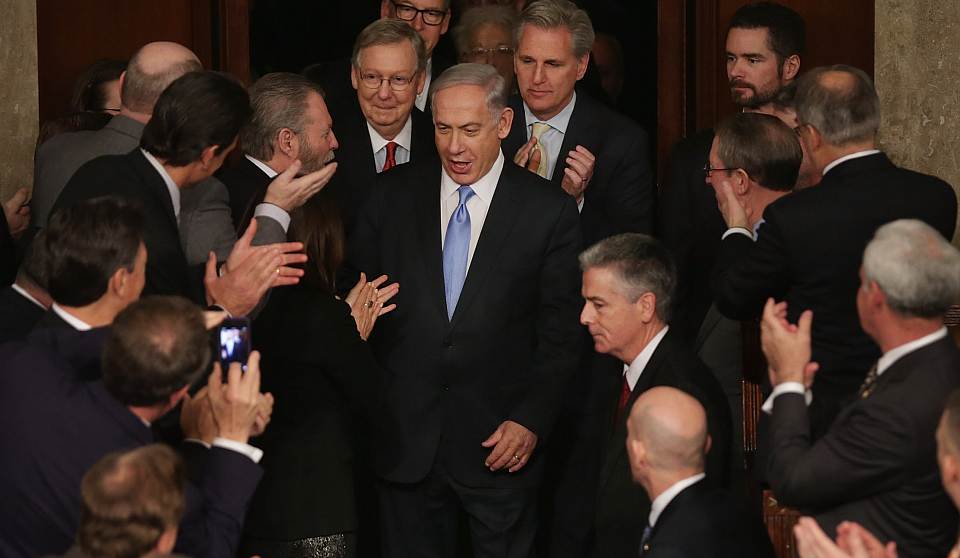 Many foreign leaders have addressed a joint meeting of the United States Congress. Over the past decade, the list includes Silvio Berlusconi, Nicolas Sarkozy, Bertie Ahern, Gordon Brown, Angela Merkel and Julia Gillard. But few have attracted as much attention and controversy as the Israeli prime minister Benjamin Netanyahu did with his speech before Congress on Tuesday.
The fact that Netanyahu was invited by John Boehner, the Republican speaker of the House of Representatives, without arranging it with the White House, fuelled the controversy. So did the fact that Netanyahu's speech in Washington came two weeks before Israel's elections. But what really created a storm was the Obama administration's decision to oppose Netanyahu's appearance in a very outspoken, public way. Obama himself said he would not meet with or listen to Netanyahu, and the White House encouraged Democrats to boycott Netanyahu's address.
In the event, Obama's resistance backfired badly. Three-quarters of Democrats showed up to listen to the Netanyahu. The act of opposing Netanyahu actually created more buzz around the event, and led to a greater number of Americans tuning in. In terms of theatre, it was quite something — he entered to thunderous applause, and his talk was interrupted many times by standing ovations. Even worse for Obama, the controversy elevated Netanyahu — the leader of a nation whose population is just three per cent of America's – to be on a par with the US president.
Such great attention is exactly what Obama could not have wanted, since Netanyahu — as expected — used his speech to challenge the Obama administration's negotiations with Iran. Netanyahu argued that the current deal being discussed would 'all but guarantee' that Iran would secure nuclear weapons, with potentially grave consequences: 'The Middle East would soon be crisscrossed by nuclear tripwires. A region where small skirmishes can trigger big wars would turn into a nuclear tinderbox.'
But beyond the content of the speech, the most striking aspect was how, after Obama had raised Netanyahu's appearance into a confrontation, the Israeli leader emerged on top. Indeed, the set-up invited comparisons between the two — not least because just six weeks ago, Obama himself was standing in the same spot, addressing Congress for his State of the Union address. That speech was noteworthy for its dullness, while the atmosphere during Netanyahu's address was described by the New York Times as 'electric'.
Netanyahu presented a real contrast to Obama (and most American politicians today). Talking in his distinctive baritone voice, he was direct, assertive and spoke with conviction. It was quite a change from Obama, who goes off on academic-style tangents; does 'on one hand, on the other hand' to death; prefers euphemisms to directness (like when he refers to the Islamic State as 'violent extremists' rather than 'Islamic terrorists', or says 'randomly shooting a bunch of folks in a deli in Paris' rather than mentioning Jews being killed by Muslim radicals for being Jews); and indulges in odd historical allusions (like referencing the Crusades and the Inquisition in response to recent Islam-inspired violence).
These differences in speech patterns are not just stylistic — they reflect substantive philosophies and realities today. First, Obama's tortured euphemisms, his refusal to utter the phrase 'Islamic terrorist', echo the politically correct emphasis on language that seeks not to offend particular protected groups. His multiculturalist approach betrays that he is far more concerned about the possibility that the American white masses might engage in Islamophobic acts in the future than he is about the actual violence being carried out in the name of Islam today. And in response to terror attacks, Obama's immediate reaction is always to draw moral equivalence and say that the US and the West are equally guilty, whether he's referencing the Crusades, Jim Crow or Ferguson.
Netanyahu is the opposite. He is no multiculturalist, no moral relativist. He refers to the Iranian regime as consisting of 'religious zealots', who are 'deeply rooted in militant Islam' and who have imposed a 'dark and brutal dictatorship'. He has no qualms referring to Iran as 'the enemy'.
Since the late twentieth century, global criticisms of America and Israel have become less and less about these countries' specific policies, and rather are a way of expressing opposition to what these two nations appear to symbolise: modernity and universal values. However, in more recent years, a section of the US elite, including Obama, has joined in these criticisms, in a defensive and quite self-loathing way. The upshot is that Israel seems to be the only one left willing to stand its ground and defend the West. And for this reason, Israel is often singled out for criticism globally, in a one-sided way that too easily merges with anti-Semitism.
Netanyahu seems to understand that militant Islam poses a broader challenge to the West. 'America's founding document promises life, liberty and the pursuit of happiness. Iran's founding document pledges death, tyranny, and the pursuit of jihad', he said. With statements like this, it's as if Netanyahu is claiming leadership, not just of Israel, but of the West. Of course, as leader of a relatively small country in the Middle East, he cannot really play that role, but his statements do highlight how Obama and other Western leaders have abdicated responsibility for asserting traditional Western values.
The two leaders' differences in style also reflect different understandings of geopolitics. Netanyahu's speech made it plain that Israel first and foremost seeks to pursue its national interests (while at the same time believing the US and the other Western powers share these interests). But US foreign policy, for decades now, has avoided seeking to define its interests or to act upon them.
Instead, the US establishment speaks in abstract concepts like 'human rights' and 'responsibility to protect', which leads it into confused and destructive adventures like the intervention in Libya. Or the American elite will think in simplistic terms, such as taking on 'bullies' (as Putin is discussed these days), rather than understanding countries' competing interests and grasping geopolitical realities.
Whatever you think of the extent of the threat posed by Iran, and Israel's proposals for dealing with it, Netanyahu's address to Congress and the extraordinary response to it was nonetheless striking. It tells us a story of modern Western leadership, or the lack thereof. And one does not need to endorse Israeli foreign policy to agree that it would be better if there was a more honest, interests-based discussion of international relations.
The backdrop to the uproar over Netanyahu in Washington is that popular liberal opinion in the US (and in Europe) has turned against Israel, as can be seen in the emergence of a vocal Boycott, Divestment and Sanctions (BDS) movement. Netanyahu's appearance led to strong criticism, if not outrage, from this quarter. Liberal opponents focused on challenging Netanyahu's right to speak, saying it was an insult to the US president and claiming that he should not be given such a prominent platform (thus echoing No Platform policies on university campuses).
After the address, many Democratic Party politicians denounced the Israeli leader. Democrat house leader Nancy Pelosi said she was 'near tears' during the speech, and 'saddened by the insult to the intelligence' of Americans. Liberal pundits called Netanyahu a 'bully and liar', among other things.
Moreover, another important piece of context is the fact that the US government has clearly moved over time to distance itself from Israel. Relations during the Obama administration have revealed strains, especially over Israel's policy on settlements. In October, an unnamed White House official described Netanyahu as 'chickenshit', and said there was 'red-hot anger' within the Obama administration over Israel's settlements in the West Bank and East Jerusalem.
The standing ovations for Netanyahu in Congress will hide this growing divide. Some will continue to claim that Israel remains 'America's aircraft carrier' in the Middle East. Even worse, others will continue to spread the myth that Israel and its lobby 'dictate' US policy (indeed, after Netanyahu's speech, liberal commentator Chris Matthews went down this route, saying the Israeli leader had attempted to 'take over' US foreign policy).
For a day, the prime minister of Israel appeared to be the equal of the president of the United States. And it may be that his passionate plea will help the Republican-controlled Senate in forcing the White House to obtain congressional approval for any deal with Iran, and ultimately vote it down. But for all of Netanyahu's potential gains from his speech, in the future we may look back and view the Netanyahu address to Congress as an event that highlighted how Israel and the US, in many respects, had grown further apart.
Sean Collins is a writer based in New York. Visit his blog, The American Situation.
Picture by: Getty Images.
To enquire about republishing spiked's content, a right to reply or to request a correction, please contact the managing editor, Viv Regan.