Fees, philistinism and the future of HE
The tuition fees debate shows how philistine our leaders have become.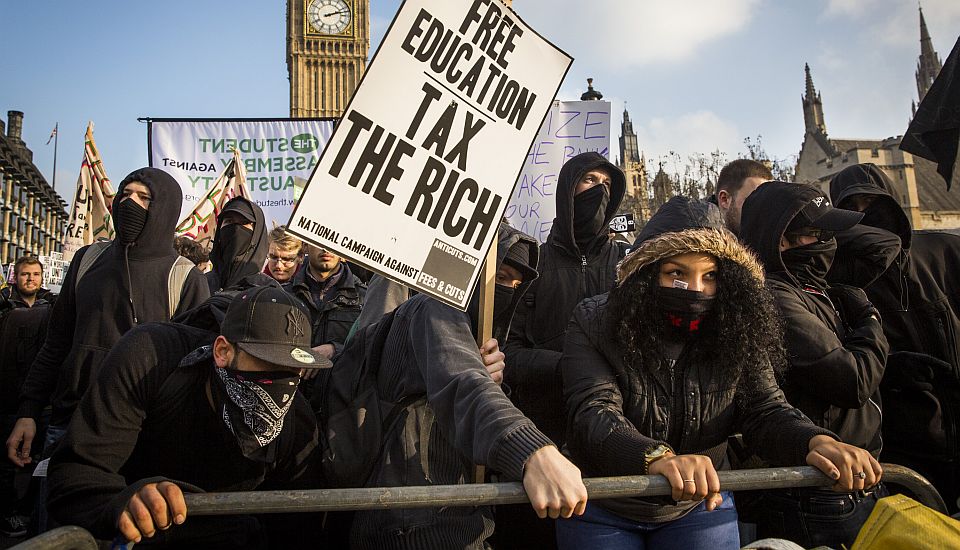 The UK Labour Party put an end to speculation last week and confirmed its much-touted plan to win over the British electorate. The big, bold move, designed to seduce the undecided, inspire the disillusioned, and convince virgin-voters, is to cut university tuition fees by £3,000 per year. Party leader Ed Miliband appeared in awe of his own ambition as he announced the proposal – his grand rhetoric of promises, faith and change only being undercut by the reality of a plan which amounts to a few graduates potentially having a few quid extra at some point in the future.
Many commentators have been quick to point out the flaws in Miliband's pledge. When it comes to loans, it's what you have to pay back that matters, and that's only partly determined by the amount you borrow: interest rates and the duration of the loan can count for far more. Graduates who go on to earn little will never hit the repayment threshold; however much their loans total is immaterial. Even with Labour's proposed price cut, the majority of graduates will continue paying for their 'student experience' throughout their working lives. Only those few who leave university for a highly paid job and pay their loans back extra quickly will gain from a cut in the ticket price. School-leavers have done this maths for themselves and have calculated that taking out a loan on the never-never is worth it. Despite much scaremongering, the 2012 leap in tuition fees heralded neither a collapse in student numbers overall, nor a fall in applicants from the poorest families: both have continued to climb.
Miliband has successfully prompted discussion, albeit a frustratingly narrow one, over the current arrangements for funding higher education. At present, almost half of all students will not pay back their loans, meaning government has had to set aside £2 billion this year to write-down unpaid debt. If this continues, £20 billion of student debt a year will be written off by 2048/49, making fees notionally paid by individuals more expensive to the taxpayer than if university was simply free at the point of entry. There is clearly a need to talk about university funding, and a General Election provides a useful opportunity to do just that. But the current rhetorical bluster over trivial sums of money is a phoney debate played out to create a pretence of difference between the main political parties, while at the same time perpetuating all the same old assumptions that have driven higher-education policy for at least the past three decades.
Politicians of all persuasions seem incapable of moving beyond the philistinism that sees higher education as anything other than a crudely instrumental solution to a range of social and economic problems. The last Labour government, and Peter Mandelson in particular, began in earnest the presentation of education as an individual investment. Students were told to expect a financial return on fees paid (the 'graduate premium'). University was not about the pursuit of knowledge or learning for its own sake: it was about picking up a few transferable skills that could be cashed in with the degree certificate. Far from challenging this degraded view of higher education, the Tories' David Willetts continued to run with the same script. He has gone so far as to suggest that universities whose students go on to better-paid jobs should be able to charge higher fees, thereby making explicit the crude (and in reality only tentative) link between learning and earning.
Last week, the current Conservative universities minister, Greg Clark, took this idea of a financial transaction to its logical conclusion and argued that for young people, going to university was worth it because graduates 'only pay back the price of a posh cup of coffee each day'. Such political grandstanding over trivial amounts of money serves to degrade both higher education and politics. Even in its own terms, the current discussion of student finance is limited: no one is pitching the state funding of universities against a completely free market. Despite the critics' incessant cries of 'neoliberalism', today's higher-education sector is heavily state-subsidised and state-regulated. Limiting financial discussions to comparatively mundane concerns, while taking big issues off the agenda, speaks to a contempt for the electorate and a fear that they might reach the wrong conclusions.
It seems that no prospective universities minister can conceive of engaging with the public over the fundamental question of what higher education should be for. Yet it's only through debating this issue first and foremost that we can track backwards to ask who should go to university and who should pay. Amid all the discussion about fee cuts and cups of coffee, the Office For Fair Access, which monitors university admissions (established by the last Labour government in 2004, since continued and supported by the current coalition government), sets universities the goal of doubling their intake of 'poorer students' to 40,000 in the next five years. The assumption that higher education is primarily an inclusion project concerned with promoting social mobility through credentialising employability skills is not questioned.
Current political debates that focus exclusively on price completely ignore the value of education. This unedifying spectacle sunk to its seediest nadir with Labour's announcement that its cut in tuition fees would be funded through raiding pensions. As Tom Slater pointed out on spiked, this promotion of intergenerational conflict does young people themselves no favours. Just as damaging is the harm such mercenary accounting does to education. As philosophers such as Hannah Arendt and Michael Oakeshott have suggested, education is indeed a contract between the generations; it's about adults assuming sufficient responsibility for the world to want to pass on to young people their intellectual inheritance. That this vitally important intergenerational concern with knowledge can be so easily reduced to a financial transaction tells us everything we need to know about the philistinism of all involved in the education debate in the run-up to the election.
Joanna Williams is education editor at spiked. She is also a lecturer in higher education at the University of Kent and the author of Consuming Higher Education: Why Learning Can't Be Bought. (Buy this book from Amazon(UK).)
To enquire about republishing spiked's content, a right to reply or to request a correction, please contact the managing editor, Viv Regan.