A trip down Chelsea's hooligan lane
There was a time when racist abuse really was a Chelsea-fan staple – it's not now.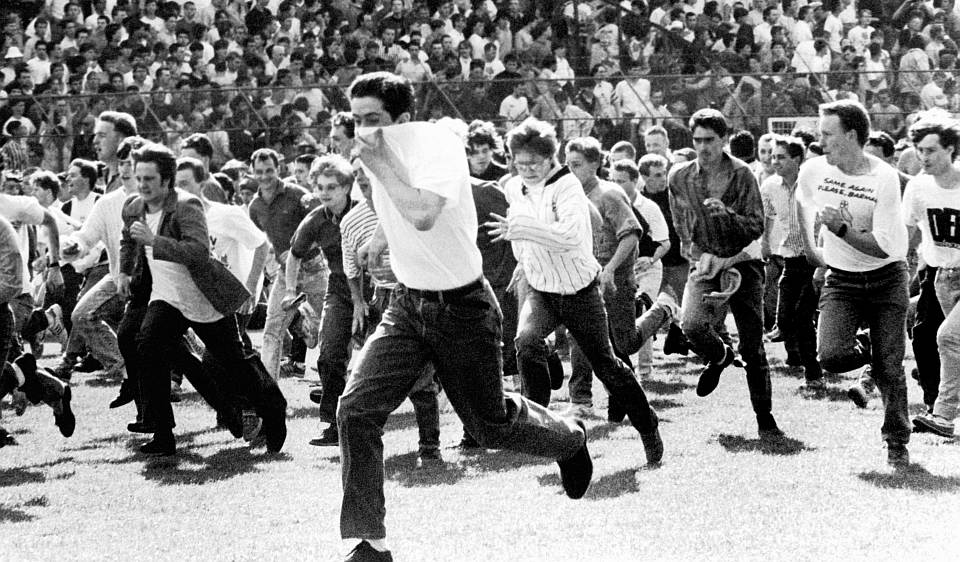 To the tune of 'Guantanamera', they sang: 'One Salman Rushdie / There's only one Salman Rushdie.' It was the spring of 1989, and the Chelsea fans at Stamford Bridge were in full voice, ostensibly lending their support to the The Satanic Verses' author, who had recently received a fatwa from the Ayatollah Khomeini.
They were unlikely defenders of free speech, or aficionados of Rushdie's magical realism, these Chelsea fans. The reason was that Chelsea's opponents that day were Bradford City, and the home supporters had previously taunted opposition fans with the refrain: 'Bradford's full of Pakis / Bradford's full of Pakis / tra-la-la-la.'
Observing the reaction to reputedly racist behaviour by Chelsea supporters in Paris this week – mandatory Twitter condemnation, 17 articles and counting on the Guardian website – I couldn't help reflecting on the Chelsea football club I used to frequent as a youth. Racism and thuggery was far more common back in the 1980s. Yet Chelsea's miscreants only really made the front pages with large-scale displays of misbehaviour – the pitch invasions at Stamford Bridge against Sunderland in 1985 and Middlesbrough in 1988 being examples. Today, schoolboys might understand 'The Battle of Stamford Bridge' to be something that happened in 1066. Back in the Eighties, it was a gift for headline writers.
I didn't go to that game against Middlesbrough. I feared what would happen if Chelsea didn't win and didn't stay up. But I did follow the Blues throughout the following 1988/89 season, both home and away in the original Second Division. By the time Bradford came to visit at the tailend of that campaign, Chelsea were well on their way back to the First Division. I don't remember the score from that day, but that chant firmly imprinted itself on my memory. My dad, no fan of Rushdie, thought it utterly hilarious: Chelsea supporters, of all people.
It's worth recalling what a ghastly lot some of them could be back then. Another favourite chant from the hard men in The Shed, when Tottenham came to visit, was: 'One man went to gas / Went to gas a yiddo.' When Chelsea's first black player made his debut in 1982, he was subjected to boos and abuse… from Chelsea fans.
When I wanted to take my then girlfriend to a game, her mother vetoed it. Queen's Park Rangers, yes. Nice family club in multicultural Shepherd's Bush. That's fine. But Chelsea, with their skinheads and bovver boots? No way. I felt aggrieved, but I could understand. Back in the early Nineties, I used to drink in a pub near Ladbroke Grove with a Chelsea fan called 'Spike', a kind of Peter Ustinov with menace, who used to chuckle about the heyday of hooliganism. His favourite anecdote was how he and his mates set fire to a train carrying Leeds fans back in 1972. 'Great days!', he would enthuse.
As late as 1994, as I travelled on the Metropolitan Line to watch Chelsea play Luton Town in the FA Cup semi-final at Wembley, I had to endure neo-Nazi Chelsea fans singing laudatory songs about Hitler. But even then, football had started to become more respectable, tolerant and less racist (like British society). I had to do a double take when I saw a black face a few rows down in the West Stand in 1996. This wasn't because he was black per se (I grew up in west London), but because this was Stamford Bridge, home of Chelsea FC.
The influx of foreign players, and later a foreign owner, has rendered racism improbable, as well as unpalatable to most Chelsea fans today. The west London club now has a global fan base, unlike the 1980s, when they regularly struggled even to stay in the top tier of English football. Judging by the crowds at Stamford Bridge today, their domestic support is genuinely multiracial.
So why all the fuss and hoo-ha over the incident in Paris? It's because such racist behaviour is so rare these days. That incident was literally exceptional. It became news for the same reason that plane crashes do but car crashes don't: it is so unusual.
Patrick West is a columnist for spiked.
Picture by: PA images.
To enquire about republishing spiked's content, a right to reply or to request a correction, please contact the managing editor, Viv Regan.