Pro-choice and pro-free speech: say no to buffer zones
Wendy Kaminer on why she opposes restrictions on anti-abortion protests.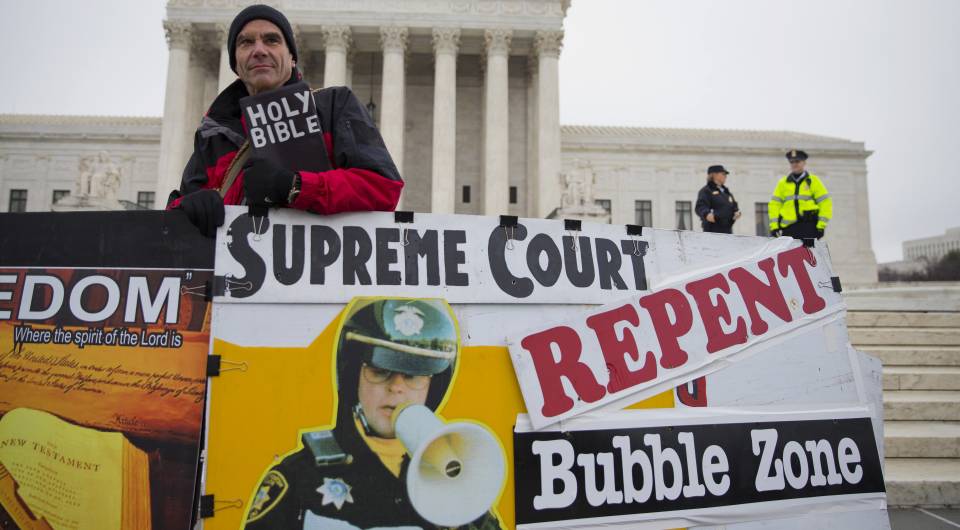 Do anti-abortion protesters have a right to congregate outside the entrances to abortion clinics and express strident opposition to abortion? Do women seeking abortion have a right to unimpeded clinic access? If you answer yes to both of these questions, as I do, should you support or oppose buffer zones banning protests outside clinic entrances? That depends on how you define unimpeded access.
According to the Back Off campaign launched by the British Pregnancy Advisory Service (bpas), access includes a right to enter a clinic without being 'intimidated' or 'distressed' by protesters. As Ann Furedi states, in defence of this campaign, 'Women attending an abortion clinic should not have to face anyone whose intention is to interfere with them or engage with them. They should not need to face people on the street asking about their circumstances or decisions.'
I disagree, at least in part. Protesters and picketers – 'people on the street' – have a right to 'engage' us, whether we're seeking access to abortion clinics, businesses employing scabs while their workers are on strike, or financial institutions targeted by members of an Occupy movement. Furedi differentiates an inviolable right to self-expression from a contingent right to protest (relying on John Stuart Mill.) 'The freedom is your self-expression, not to determine to whom you express yourself', she states. But the line between engaging in protest and self-expression is not so easily drawn. The assertion that freedom of speech is inviolable only when it encompasses your right to speak, excluding a right to choose the people to whom you speak, makes no sense to me.
Your freedom of speech isn't contingent on my willingness to listen. It's not a privilege I afford you; it's a right you can demand. I'm not intrigued and I'm sometimes annoyed or inconvenienced by the protesters, performers and panhandlers I encounter on the street, but that doesn't give me the right to silence them. If a speaker has no right to choose her audience, then the audience has an effective right to choose its speakers, to hear only what it wants to hear and avoid exposure to upsetting ideas.
The freedom to speak uninvited and engage in unwanted speech on public streets and sidewalks is particularly valuable, the US Supreme Court observed in unanimously striking down a buffer-zone law in my home state of Massachusetts, precisely because it limited the right to address people who'd rather not listen, on public streets and sidewalks:
'[T]hey remain one of the few places where a speaker can be confident that he is not simply preaching to the choir. With respect to other means of communication, an individual confronted with an uncomfortable message can always turn the page, change the channel, or leave the website. Not so on public streets and sidewalks. There, a listener often encounters speech he might otherwise tune out.'
But while protesters have a right to speak to us, whether or not we welcome their questions or views, they lack a right to 'interfere' with us – if interference means physically blocking our path or barricading entrances, to clinics and other places. What does interference comprise? Unlike Furedi, I do not equate efforts to 'engage' women in conversation, 'asking about their circumstances or decisions', with efforts to interfere with their rights of access.
Women seeking abortion, or other healthcare services, have an unassailable right to be safe but not to feel safe, as I argued in opposition to the recently invalidated Massachusetts buffer zone. Feeling intimidated, being confronted and 'stressed' by people who oppose abortion rights, is sometimes the price of free speech. An asserted right not to be intimidated, much less 'stressed', is apt to be only a bit less censorious, and no less subjective, than a right not to be offended.
This doesn't mean that protesters can't be barred from blockading clinic entrances. Federal law in the US criminalises the use or threat of force and physical obstruction to 'injure, intimidate, or interfere' with someone seeking access to reproductive healthcare (or a place of worship.) This law reaches as far as possible to protect access without denying the right to protest. While it references efforts to 'intimidate' people seeking access, it isn't triggered by their feelings of intimidation: it's triggered by the use or threat of force. Carefully drawn and carefully enforced laws like this can preserve unimpeded access, without violating the right of protesters to try 'engaging' women entering clinics.
Harassment may also be regulated, consistent with free-speech guarantees, as long as it is clearly and narrowly defined, without reliance on the subjective emotional states of any individual complainant. In Massachusetts, for example, criminal harassment is a willful, malicious and knowing 'pattern of conduct or series of acts over a period of time directed at a specific person, which seriously alarms that person and would cause a reasonable person to suffer substantial emotional distress'.
This means that criminal harassment consists of more than one obnoxious act; it consist of a malicious, intentional, repeated effort to cause significant distress, according to a reasonable-person standard – the standard by which law incorporates relative objectivity. It means that the conduct at issue must be intended and likely to cause distress in a reasonable person: the harm must be reasonably predictable.
It's possible that some of protesters that bpas is targeting are engaging in conduct that would qualify as actionable harassment under a statute and standard like this. It's also possible that protesters who photograph clinic patients may be guilty of privacy violations. If so, they should be individually prosecuted, after the fact. The trouble with a buffer zone is that it operates as an automatic prior restraint on speech: it assumes that all people protesting outside abortion clinics (and within designated buffer zones) will blockade entrances or engage in criminal harassment, or other offences. It effectively establishes a presumption of guilt, but free speech is speech presumed innocent.
Over-inclusiveness – the prior restraint of anti-abortion speakers who did not harass patients or block clinic entrances – was a fatal flaw in the Massachusetts buffer zone. It 'burdened substantially more speech than necessary', the Supreme Court rightly observed, stressing the availability of less restrictive laws ensuring access and public safety, including 'generic' criminal laws against harassment and particular laws against forcibly blocking clinic access. To the Commonwealth's claim that buffer zones made the policing of potentially illegal protests 'easier', the court retorted, 'Of course they would. But that is not enough to satisfy the First Amendment. A painted line on the sidewalk is easy to enforce, but the prime objective of the First Amendment is not efficiency.'
Britain lacks a First Amendment, but the principles that derive from it can be universally applied. The buffer zone demanded by bpas would be effective and efficient in curtailing anti-abortion protests, but it seems likely to curtail more protests than necessary to preserve access and safety. Indeed, from my perspective, as a pro-choice advocate in Boston, a city that suffered fatal attacks on abortion clinics and still endures routine clinic protests, the bpas campaign is particularly unconvincing. 'The number of protesters at bpas clinics is vanishingly tiny in comparison with the type of demonstrations faced by our colleagues in the US', Furedi acknowledges. Yet here in Boston, women continued to enjoy access to abortion, even as the Supreme Court struck down the 35-foot buffer zone. Confronting clinic protesters is not easy. It demands stamina, stoicism and the courage required for citizenship in a free society.
Wendy Kaminer is an author, lawyer, and civil libertarian.
To enquire about republishing spiked's content, a right to reply or to request a correction, please contact the managing editor, Viv Regan.