Charlie Hebdo: more security isn't the solution
We don't need new anti-terror laws – we need more open political debate.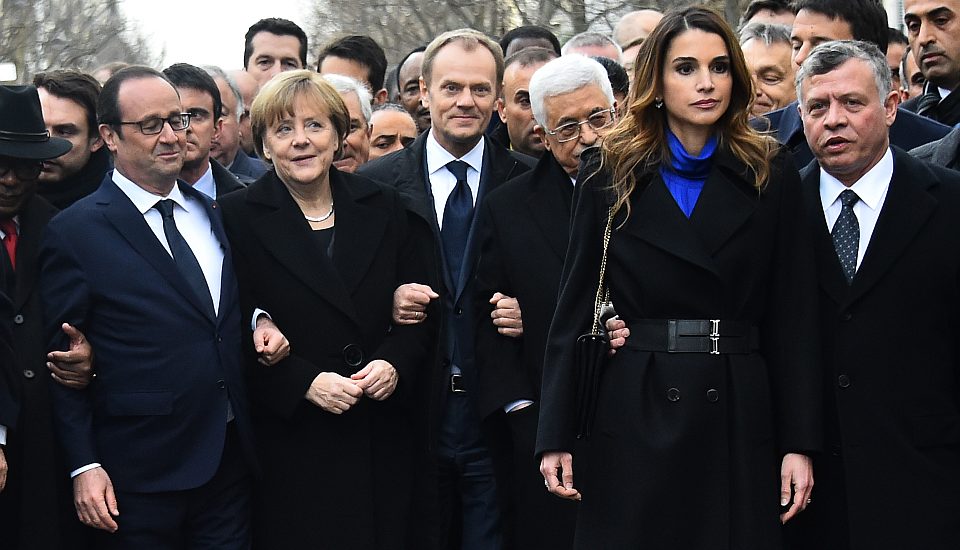 Predictably, in the aftermath of the atrocities in Paris last week, many commentators have emphasised a presumed need for more security. The UK chancellor, George Osborne, was quick off the mark, asserting that tackling terrorism is now Britain's 'national priority'. Really? The number-one focus for some 64million people is to handle the extreme actions of vexatious malcontents? What does that suggest about the malcontents' presumed power? And what does it say about ours?
The problem revealed here, and in the talk of fighting a 'war' against extremists, is a complete loss of proportionality and perspective. We are no less safe today than we were a week ago. We have known for some time that random terrorist acts might strike anyone, anywhere and at any time. And yet now, in the wake of the Charlie Hebdo massacre, politicians are acting as if they had the solution to this threat all along.
UK prime minister David Cameron's visit to Washington this week, in which he will discuss collaborating with President Obama against the threat of cyber attacks, reflects how lacking in ambition and thought this perceived solution is. In short, all Western leaders feel they can do to tackle the threat posed by terrorism is to intercept the perpetrators before they get a chance to commit their destructive acts. This leaves the central question of why these terrorist attacks are taking place unanswered.
So, billions are to be spent monitoring our movements and communications, while next to no energy is directed at trying to appreciate why it is that the nihilistic rhetoric of a tiny minority is resonating with some people in the West. But tighter security offers only a technical fix and affirms an elite narrative in which we are said to live in uncertain times and among capricious people in need of control. Thinking about what causes the new nihilism, by contrast, would open up a political debate about values and principles that could truly get to the heart of the matter. This, however, is a debate our political leaders would prefer to avoid.
What's worse, ramping up security in response to terror attacks simply doesn't work. It is an approach that confuses information with intelligence. What matters most is not how much evidence you can amass but how that evidence is interpreted. Drowning in data, security agents are often unable to see the wood for the trees. As the numbers of people now under surveillance run into the many thousands, the authorities ought to recognise that what they face is not a security problem, but rather a social problem that they have yet to address.
While world leaders marched in solidarity with Charlie Hebdo this weekend, the authorities continue to erode our liberties. Last November, the UK home secretary, Theresa May, tabled yet another counterterrorism bill – the seventh such piece of legislation to be introduced since 9/11. Among other stipulations, this bill will place new requirements on schools and universities to prevent those in their charge from becoming 'radicalised' – whatever that means – with severe sanctions for those who fail to do so. Most university officials, including security staff, view these new measures as both unworkable and unnecessary. Yet most universities will implement new procedures so as to be seen to be in accordance with the law. Ministers appear blind to the fact that they now act, and expect others to act, in bad faith.
So, authorities no longer say what they think, while not really believing what they say, either. Few, if any, government officials believe their anti-terror initiatives will work. These measures are purely for show. Politicians and officials have to be seen to be going through the motions.
Crises, such as the one we are facing today, often provoke a race to find meaning in society. Former British prime minister Tony Blair noted after the London riots that there is a danger at such times of crisis to reach for the 'wrong analysis, leading to the wrong diagnosis, leading to the wrong prescription'. It is imperative, therefore, that we oppose the predictable post-Charlie Hebdo calls for more security and instead kickstart a more rooted social analysis of the issues at hand.
Rather than accepting the supposed need for more protection, we ought to be asking why it is that that our contemporary culture has so thoroughly failed to inspire and engage a generation of young people – to impart in them a sense of meaning, purpose and vision – that some of them are searching for meaning on jihadi internet forums or in the teachings of arcane religious belief systems.
Over the past week, many have repeated the mantra that the first duty of the state is to protect its citizens. That, too, is open to debate. The state itself is the creation of people who were prepared to risk everything, including their lives, to be free. Sadly, the US, in recent years, has seemed determined to make itself the land of the safe rather than the land of the free. It would be a very sad day if the French Republic was to go the same way.
What has most been missing in the so-called war on terror has been a vision for society beyond terror. That is the essence of real resilience: a projection of purpose and a sense of what we are in the absence of all adversities. If we were to achieve this, fewer people would look for purpose elsewhere, and the few that did decide to commit barbaric acts would be framed in the proper context: as mindless criminals.
Bill Durodié is chair of international relations at the University of Bath.
To show solidarity with Charlie Hebdo, sign our freedom manifesto – for free speech, no ifs or buts.
Picture by: PA images.
To enquire about republishing spiked's content, a right to reply or to request a correction, please contact the managing editor, Viv Regan.