Our cultural highs and lows of 2014
spiked writers on the culture that enthralled and appalled them.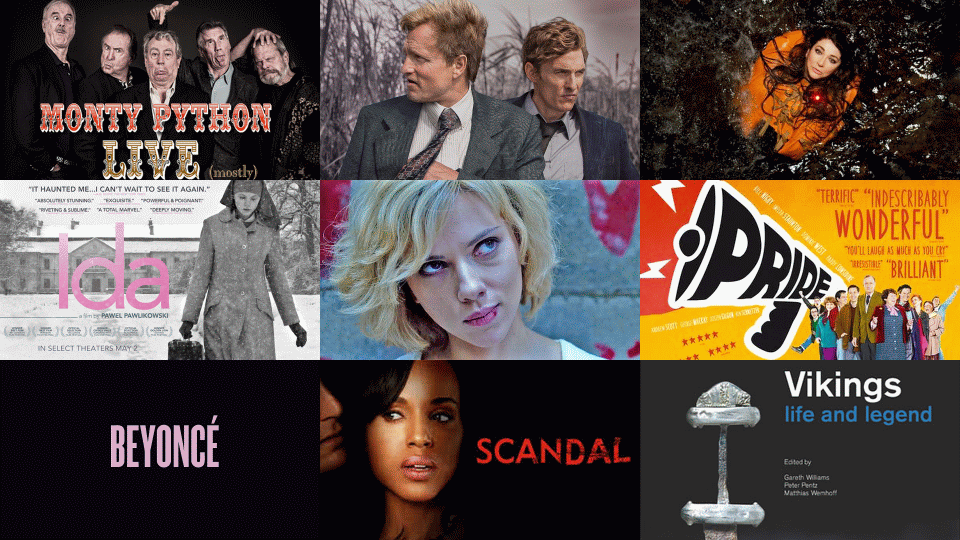 Brendan O'Neill chooses…
High: Whiplash, a film by Damien Chazelle
A movie about a student who wants to be a jazz drummer — sounds dreadful, right? Nope, it's the best film I saw this year (in NYC; it's released in Britain in January). JK Simmons, criminally bit-parted by Hollywood until now, was born to play the part of the nutty, bellowing band leader and teacher who demands blood, sweat and tears of his students (literally blood). His refusal to flatter his students, on the basis that 'there are no two words in the English language more harmful than "good job"', sees him accused of bullying. The film delivers a sucker punch to the cult of low expectations. And it has one of the most exhilarating endings I can remember seeing in a cinema. Trailer here.
Low: Britain Isn't Eating, a play by Amelia Gentleman and Laura Wade
'Economic crisis may have intensified obesity crisis', said the Guardian in May. In November it was producing a poverty-porn micro-play with the Royal Court Theatre called Britain Isn't Eating. Make your minds up, people. Having caricatured the rich as evil gluttons in Posh, Wade now defames the poor as empty-bellied victims in need of some broadsheet benevolence in this piece of sixth-form eejitprop. In the Fifties, the RCT staged plays showing working men and women as angry and ambitious — now they're all hungry and helpless, eating cold sardines to survive, all the better to make Guardianistas blub.
Brendan O'Neill is editor of spiked.
---
Mick Hume chooses…
High: True Detective, a TV drama
Television is the bright cultural light of a dark age – American television, anyway. If that's not weird enough, the bleakest new show of 2014 was also the best; True Detective is misanthropy as entertainment (but remember, 'the light's winning'). Peaky Blinders also deserves special mention, for being the only thing worth watching across the entire BBC empire.
Low: The death of Joan Rivers
Frankly, there were too many cultural lows this year to mention. But the sudden death of Joan Rivers, the plasticated iconoclast, left me with the feeling that a certain kind of comedy had died with her, in an era where too many things are considered beyond a joke.
Mick Hume is spiked's editor-at-large.
---
Viv Regan chooses…
High: Beyoncé
Beyoncé had me when she sang 'bow down, bitches' to a great beat on her blockbuster self-titled album last year. And the release this year of a deluxe edition of Beyoncé, complete with new tracks, secured her place in my heart. Beyoncé tells her fans to 'never be a victim and never make excuses'. She also sings and produces videos that shout about having sex with her man, which prudish feminists still find hard to handle. As Beyoncé says: 'I'm a grown woman, I can do whatever I want.' Too right.
Low: Feminist YouTube vloggers
Sadly, I move from Beyoncé to banal YouTube feminists – women who are neither talented nor political. While their to-camera vlogs might seem like fiery feminist agitprop, it's just pity-me victimhood. They spout the ridiculous idea that 'rape culture' is rife, that sexism is at an all-time high, and that, above all, women are victims in need of protection. Just take a look at this handy video about how to secure sexual consent. Yuck.
Viv Regan is managing editor of spiked.
---
Tom Slater chooses…
High: Singles, an album by Future Islands
It's been a good year for 30+ pop. Dan Snaith's disco-pop project, Caribou, continued its campaign of hipster-dancefloor domination with the soulful Our Love. Mark Kozelek penned one of the most spine-tingling singer-songwriter LPs of the last decade with Benji. But Singles, the fourth studio album by Maryland art-poppers Future Islands, tops my list. Combining nostalgic synth melodies with frontman Samuel 'man-monster' Herring's crooning-cum-growling, it's a jaunty, mournful, widow-peaked masterpiece. Plus, those dance moves…
Low: Pride, a film by Matthew Warchus
Telling the story of a little-known alliance between striking Welsh miners and LGBT activists in the Eighties, Pride comes in a long line of crayola-coloured Brit flicks that presents the Miner's Strike as a covert exercise in working-class self-improvement. (Sure the miners lost, but at least they were able to team up with some gay lads and learn not to be so darned prejudiced!) In the end, Pride manages to traduce the struggle of both groups. The politics is breezed over, dildo gags abound, and you're left rooting for the police.
Tom Slater is assistant editor at spiked.
---
Luke Gittos chooses…
High: Before the Dawn, Kate Bush's live comeback
Anyone who is not unrelentingly worshiping at the altar of Bush by now should be taken outside and shot. By skeletal fish in ballet gear. While Kate herself plays a haunting solo rendition of Among Angels (Before the Dawn's second encore). The set list of Kate's comeback gig was carefully planned to visuals which swung from bollocks to brilliance, making it great to watch. Haters gonna hate, but if you think she should have played 'Wuthering Heights', then I am afraid you really are a moron.
Low: Land of Our Fathers, a play by Chris Urch
This is a bit harsh, as this was young playwright Chris Urch's first play, but it was lauded, and he's set for a dazzling career, so I am sure no one will mind or care. The play is set in the Eighties, some miners are trapped down a mine, so they are forced to confront their feelings and emotions. What else do you do? Presumably, because the writer was born in the Eighties and has clearly only ever been to Wales on a research trip, this meant muted homosexuality, quashed creative ambitions and father/son conflicts – all feeling as if they came straight outta Hollyoaks. Frankly, I was glad when (spoiler alert) the mine was inexplicably flooded, killing everyone inside. Sadly, death did not stop them singing.
Luke Gittos is law editor at spiked.
---
Joanna Williams chooses…
High: King Lear, a broadcast play
This year I was won over to the idea of going to the cinema to see a live broadcast of a play. Once you've overcome the embarrassment of being the only person to clap in a silent auditorium, you basically get to see world-class theatre on the cheap, and in your hometown. I saw Antony Sher give a stunning performance as Falstaff in the RSC's production of Henry IV, but my highlight of the year was the National Theatre Live's King Lear. Directed by Sam Mendes and starring Simon Russell Beale as the king without a kingdom, this was Lear in all its passionate, bloodthirsty, tragic glory.
Low: Romeo and Juliet, a broadcast play
Unlike Lear, seeing Romeo and Juliet beamed in from Broadway was a big mistake. At the showing I attended, Orlando Bloom's mum introduced the screening (I live in Canterbury, Bloom's hometown) and told everyone in the cinema how proud she was of her boy for learning all those lines. Despite his mother's best efforts to convince us, Bloom was simply too old and too famous to cut it as Romeo. I was never able to forget there was a celeb up on the stage.
Joanna Williams is education editor at spiked.
---
Neil Ross chooses…
High: The Pulitzer Prize Photographs at The Newseum, Washington DC
I've never experienced such a humanising and compelling series of images as I experienced at this exhibition. The emotions evoked by the photographs in this collection of Pulitzer-winning photographs ranged from horror to overwhelming joy. While many of the more famous images were on display (such as the 'napalm girl' from the Vietnam War), it was some of the lesser-known images that proved the most powerful.
Low: The Hundred-Foot Journey, a film by Lasse Hallström
As a self-avowed lover of good food, and a closet Great British Bake Off fan, I can handle my fair share of screen-based culinary treats. Food porn reached its nadir, however, in this Helen Mirren vehicle. There were lots of colourful, vibrant market scenes; there were slow, panning shots of artfully crafted plates of food; there was a multicultural blend of ethnic fusion food and Michelin stars. But, unfortunately, head chef Hassan (Manish Dayal) increasingly reminded me of a culinary version of Ben Stiller in Zoolander – just without any comedic intent. And that's enough to put anyone off their food.
Neil Ross is spiked's US programme director.
---
Wendy Earle chooses…
High: Sleeping Beauty, an opera
The Royal Opera House's February production of Sleeping Beauty was superb. The exquisite dancing, Tchaikovsky's gorgeous music and the lavish staging created a production that was out of this world.
Low: Bob and Roberta Smith deciding to run for parliament
The announcement that Bob and Roberta Smith, the pseudonym of artist Patrick Brill, plans to stand in the General Election next year to campaign for more arts education was my cultural low. Is this silly gesture politics or an extravagant art installation? Perhaps it's just another instance of culturati narcissism – elevating the arts as society's saviour. In any case, I'd rather bring back the Monster Raving Loony Party.
Wendy Earle is convenor of the Institute of Ideas Arts and Society Forum.
---
David Bowden chooses…
High: The e-cigarette
There was not a cultural event in 2014 that was not, for me, enhanced by my ability to inhale sweet nicotine vapour at every available opportunity – freeing my neurons up for more important matters. Just as every censor frets over art that could make us think or feel sinful things, the joyless public-health brigade responded to the modern marvel of the e-cig with the sort of pearl-clutching anxiety the cultural worriers of old would have reserved for exposed genitalia on statues or Elvis's shaking hips. Yet with every arts organisation under the sun constantly fretting about 'digital engagement', the e-cigarette could be the solution they've been looking for.
Low: The closure of the Vibe Bar
The closure of Brick Lane's Vibe Bar, alongside Madame JoJo's in Soho and the Joiner's Arms in Shoreditch, continued the depressing story this year of London's health-and-safety-obsessed bureaucrats throttling the capital's more interesting nightlife. The Vibe was where I attended my first genuinely interesting political meeting, and it is where I have hosted many more debates down the years. It was a messy and chaotic venue that was always great fun and was run with a real passion: all things which are increasingly viewed with suspicion in our sanitised city. So long, old friend.
David Bowden works at the Institute of Ideas.
---
Patrick Hayes chooses…
High: Painting Set Free, an exhibition at Tate Britain
'I did not paint it to be understood, but I wished to show what such a scene was like.' So said JMW Turner of his majestic 'Snow Storm', the preparation for which saw the ageing artist being tied to a mast of a ship in order to witness, and capture, the heart of a winter sea storm. This masterpiece is on display at this carefully curated selection of Turner's works – finished and unfinished – which draws from beyond the Tate's formidable collection, giving a fascinating insight into the man and his peerless attempts to 'show us what it was like'.
Low: Ruin Lust, an exhibition at Tate Britain
Conceived with a view to explore man's timeless fascination with ruins – for which the Germans have a word, Ruinenlust – this exhibition could have shed light on a rarely examined, albeit minor, aspect of the human condition. But the 'transhistorical' approach of the curators led to a mish-mash of poorly labelled works that saw Constable's 'Hadleigh Castle' mashed up with John Martin's 'The Destruction of Pompeii and Herculaneum' and a (striking) photograph of the ruins of a Second World War gun emplacement by Jane and Louise Wilson. Deliberately eschewing historical specificity, the curators appeared to expect the universal threads that bind the works to somehow leap out at the audience. Instead, the curators' efforts came across as confused and, frankly, lazy. This was a wasted – some might say ruined – opportunity.
Patrick Hayes is a spiked columnist.
---
Alka Sehgal Cuthbert chooses…
High: Ida, a film by Pawel Pawlikowski
Ida, a 2013 Polish film that finally came to our shores this September, is simply and purely beautiful – to look at, to think about, to wonder about. Telling the story of a would-be nun whose world is turned upside down when she unearths a family secret, it evokes sadness and loss and, in the end, uplifting beauty. This is film as visual art.
Low: Beyond Books, a report by the Carnegie UK Trust
This report into the future of Britain's libraries represents the depth of anti-intellectual thinking that exists among so many of today's cultural custodians. The report aims to justify the existence of public libraries today by refashioning them into little more than citizens' advice centres, aimed at promoting entrepreneurship and self-employment. The establishment of public libraries in Britain invited ordinary people to conceive of themselves as enlightened, thinking beings. That the Carnegie Trust, an organisation once committed to setting up public libraries, should propose that books now be tossed out in favour of entrepreneurial projects is tragic.
Alka Sehgal Cuthbert is a PhD student in education.
---
Patrick Marmion chooses…
High: Teh Internet Is Serious Business, a play by Tim Price
There weren't too many shows I really cared for in what was a pretty conservative year in the theatre. Tim Price's play Teh Internet Is Serious Business, at the Royal Court Theatre, stood out as genuinely radical: it was a carnival-esque hymn to internet hacktivism, a phenomena which, for better or worse, continues to rise and rise. Chloe Lamford's design was superb – if the internet ever goes 3D, this is what it might look like. Actors in animal costumes, signifying a hacker's avatar, climbed in and out of portals around the stage; tearing around like the unlicensed Lone Rangers of cyberspace, jockeying on their laptops. Wild and wonderful stuff.
Low: Birdland, a play by Simon Stephens
My cultural low point of 2014 was a new play by the darling of the theatrical bourgeoisie, Simon Stephens – best known for his sentimental stage adaptation of Mark Haddon's novel The Curious Incident of the Dog In The Night-Time. His new play, Birdland, is a witless yarn in which a deluded, sex-addicted rock star gets fitted up in an underage sex sting. His story may have been meant as an indictment of our self-obsessed society, but it was as artless as its predatory hero.
Patrick Marmion is a freelance journalist and playwright.
---
Neil Davenport chooses…
High: Royal Festival Hall's screening of Under the Skin, a film by Jonathan Glazer, with a live orchestra
The brilliance of Jonathan Glazer's Under the Skin rests on a rare and successful unity of fantasy and realism, glamour and earthiness, and, above all, sound and vision. Rarely has a soundtrack so intuitively captured and enhanced a film as unsettling, sexy and mindboggling as this. Hearing Mica Levi's frosty, electronica-inspired soundtrack played by classical musicians at the Royal Festival Hall elevated the film even further – taking the audience, appropriately, into another world.
Low: Monty Python Live (Mostly), at the O2
The 're' era (revival, reissue, re-release) reached a heart-sinking nadir when the Monty Python boys performed their best sketches and grating songs at a string of shows at London's O2 this year. Monty Python's lasting appeal rests on the group's timing, unhinged velocity and daring. Given their advanced ages, none of that gimlet-eyed spirit was present. Add to that the West End dance routines, and all of Python's original, subversive energy and edge were completely blunted. Unforgivably, the Python team seemed more bored even than the rest of us.
Neil Davenport is a writer and teacher based in London.
---
Elsa Makouezi chooses…
High: Scandal, a TV drama
In the third season of US political drama series Scandal, we saw more failed attempts by Olivia, a White House crisis-management guru, to 'fix' burgeoning political quagmires. This gripping and stylish new season continued to offer a scintillating take on political spin and the sacrifice of the few for the 'greater good'.
Low: Lucy, a film by Luc Besson
I'm a big fan of Morgan Freeman's movies, my favourite being the classic Shawshank Redemption, and I was expecting something spectacular with the headline duo of Freeman and Scarlett Johansson in Luc Besson's Lucy. But when the titular Lucy (Johansson) started morphing into a black substance and eventually became a computer, it was clear this was no longer a winning combo. A strange and bemusing film — and not in a good way.
Elsa Makouezi is editorial assistant at spiked.
---
Russell McCarthy chooses…
High: Viking: Life and Legend, an exhibition
The British Museum's Viking: Life and Legend showcased an extraordinary array of Viking artefacts, gathered from museums around the world. But the clear show-stopper was the remains of Roskilde 6, the largest Viking ship ever discovered. The exhibition managed to be even more impressive than the BM's 2013 highlight, Life and Death in Pompeii and Herculaneum.
Low: BP or Not BP?
BP or Not BP?, a group of failed thespians with a right-on message, continued their (self-)righteous cultural campaign against the 'evil' BP this year. It seemed I couldn't escape from the amateur dramatics of these pompous, talentless loons this year. They seemed to pop up everywhere, from the aforementioned Viking exhibition to the Tate Britain to every demo going. At each stunt, they perform rewritten versions of Shakespeare plays to protest the fuel company's supposedly corrupting sponsorship of Britain's cultural sector. 'Is this a BP logo I see before me?' Get a life.
Russell McCarthy is staff writer at spiked.
---
Christian Butler chooses…
High: Before the Dawn, Kate Bush's live comeback
Before the Dawn, Kate Bush's first series of concerts in 35 years, saw the singer return to live performance in a maelstrom of hype. But from her first entrance on stage, where a drowning Kate sings 'And Dream of Sheep', to an encore crowd sing-along of 'Cloudbusting', this show was filled with enough spine-tingling moments to make the wait worthwhile. One of the greatest gigs of my life.
Low: Stephen Ward, a musical by Andrew Lloyd Webber
From the start, Stephen Ward, Lloyd Webber's new musical, wanted so desperately to be taken seriously. Eschewing the spectacle and bombast that made Lloyd Webber famous, this was a shallow and tedious portrayal of the Profumo affair. In the end, it turned out to be about as stimulating as a Wikipedia article. Stephen Bored, more like.
Christian Butler is a writer based in London.
---
To enquire about republishing spiked's content, a right to reply or to request a correction, please contact the managing editor, Viv Regan.