Rape culture? There's no such thing
A young feminist tells her sisters to quit the scaremongering.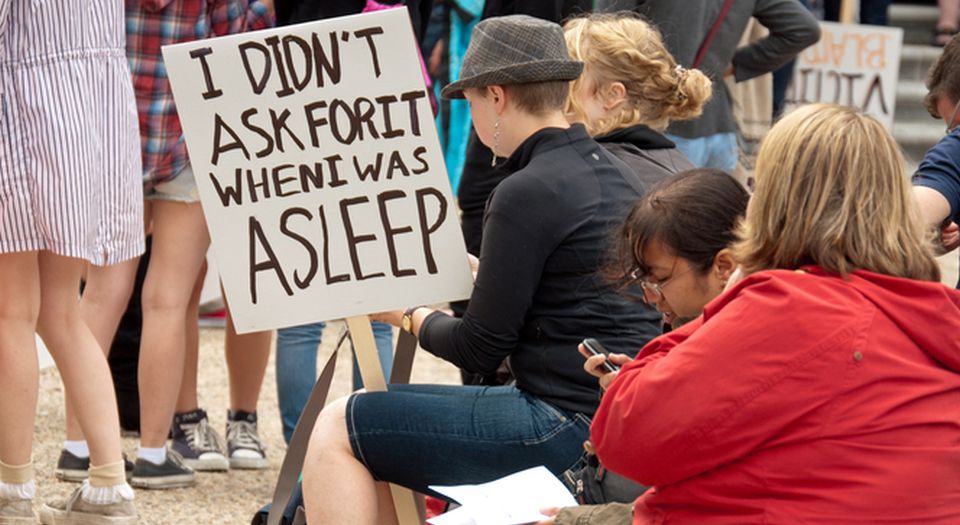 Rape culture. It is a phrase that has slipped into public discourse with barely a peep of criticism, and it is referred to in feminist missives as if it were an objective, observable phenomenon. For the uninitiated, rape culture is the idea that modern culture – from pop songs to pornography to catcalling – is normalising sexual violence. But contemporary feminists are wrong: there is no such thing as rape culture, and the current obsession with this deeply misanthropic idea is doing more harm then good.
The suggestion that young men in particular can be slowly brainwashed into thinking rape is acceptable diminishes the seriousness of rape. Rape is a specific act of violent assault in which someone is forced into an act against their will or without their knowledge. Aside from murder, it is the ultimate burglary of individual freedom and, most commonly, an expression of the attacker's desire for power rather than sexual satisfaction.
Let's get this clear: one does not slide down a slippery slope towards rape. Yes, we live in a society that withholds total freedom and, furthermore, limits freedom for women. But this does not mean that we live in a society of rapists. No individual is entirely a product of their environment. Therefore, the contemporary argument that all men are potential rapists as a result of a society that sexualises women is inherently wrong. Rape is not something that can happen in ignorance; a man cannot rape a woman because he watches too much porn or because he isn't sure if she's up for it.
Underpinning the rape-culture hysteria is another wrongheaded idea: namely, that unwanted attention from men – from catcalling to arse-groping – is on the spectrum of sexual violence. This charge is bolstered by the worthless, anecdotal evidence that modern feminists rely on to make their case. Women and girls across the world are encouraged to share their experiences of unwanted male attention on social media – a superficial new women's movement unified only by a hashtag and a pressurised need to declare oneself a victim of the evils of men. It's like watching a modern feminist interpretation of Monty Python's 'Four Yorkshiremen' sketch. Women are choosing to portray themselves as vulnerable, victimised and helpless.
It's easy to see why the dodgy ideas of modern feminism aren't being challenged. If you even try to unpick the idea of rape culture, you're instantly called a rape apologist – or, worse still, a mens' rights activist. Criticising this new orthodoxy is met with almost the same level of vitriol as expressing a dislike of feminism. But this belligerence only reveals how hollow the new feminism is. In the past year, support for feminism has boomed, but only in the manner of a Live Aid campaign, manifesting itself in the form of hashtags and t-shirt slogans. This new wave of feminism everyone is talking about has not furthered any coherent demands or ideas. All that binds it is a shared image of women as put-upon victims in need of one another's fist-pumping Twitter solidarity.
The assertion that all young people are in thrall to a culture beyond their control underestimates their ability to exercise their human agency and negotiate sexual relationships. And, in the process, the severity of rape is diminished. Feminists who describe themselves as being 'mentally raped', as victims of rape culture and 'rapey' behaviour, undermine the specific act of rape as an isolated and distinct thing. While unwanted sexual attention towards women is a problem in society, there is a fundamental difference between an idiot grabbing your behind and being raped.
If we want to challenge the existing inequalities in society, then young women need to start answering back. This means demanding total freedom of expression, and using it – not seeking to limit the supposedly 'rapey' speech of others. Asking for protection from the nasty patriarchy through tear-brimmed tweets only wins you feminist-blogger brownie points. It's no substitute for the uncompromising political battle that is really needed to achieve women's liberation.
Ella Whelan is a writer based in London.
Picture: PA
To enquire about republishing spiked's content, a right to reply or to request a correction, please contact the managing editor, Viv Regan.