The Democrats are running on empty
The US midterms exposed the Obama administration's utter exhaustion.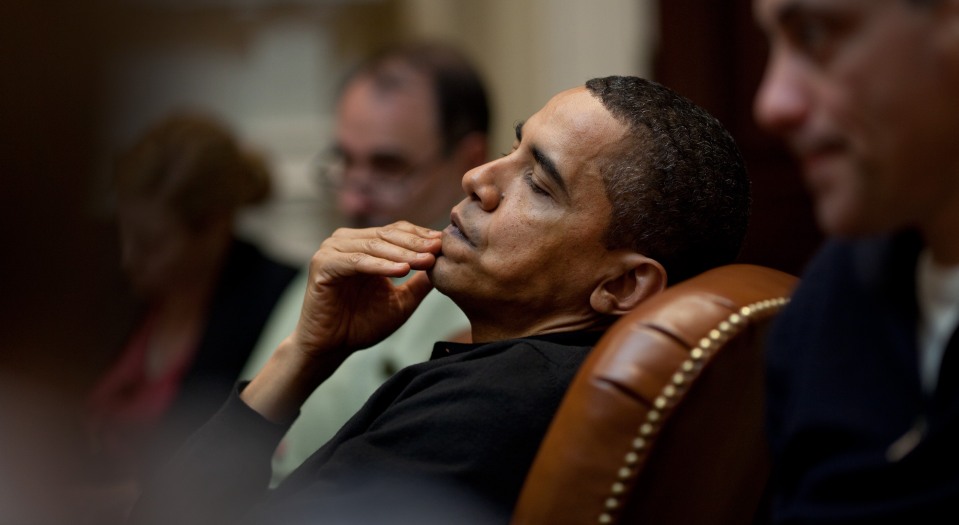 The Republican Party won a sweeping victory in Tuesday's midterm elections in the US. Most notably, the Republicans wrested control of the Senate from the Democrats, giving them majorities in both Houses of Congress.
In the colour scheme of American politics, the Republicans are red and the Democrats are blue, and after the midterms the political map looks like a sea of red. The Republicans extended their majority in the House of Representatives, and now have their highest number of seats since 1929. At the level of state government, the Republicans have 31 of 50 governors and control 69 of 99 state legislatures.
For sure, the Republican Party did have the wind at its back going into the midterms. Historically, voters have used the midterms to express displeasure with the president's party. Turnout is highest among older voters during midterm elections, and the Republicans do better with older voters. And many of the states up for the Senate were ones that Republican presidential candidate Mitt Romney won in 2012.
But few expected these favorable conditions to translate into such a landslide. The typical midterm sees the opposition pick up three Senate seats; this year the Republicans are likely to gain nine. The Republicans expanded the map to win in traditionally blue states (governors in Illinois, Massachusetts and Maryland) and purple states (senators in Colorado, Iowa and North Carolina). Clearly, these results expressed something more than a traditional turn to the opposition party.
For a start, the latest polls represented a negative verdict on President Obama and his administration. Republicans 'nationalised' the election, and pounded a consistent message: a vote for us is a vote against Obama. At the same time, Democratic candidates distanced themselves from Obama, telling the White House to stay away (the Democratic candidate for the Senate in Kentucky wouldn't even admit she voted for Obama in 2012). The Republicans ran more advertisements against Obama's signature health reform – Obamacare – than on any other issue, while Democrats barely defended it.
With an approval rating at a low 42 per cent, Obama's standing in the eyes of the public has fallen mightily since his promise of 'hope and change' at the 2008 presidential election. The political scientist David Leege captured Obama's change in fortunes well: 'The immediate aftermath of 2008 was that Americans had finally conquered their racial aversions. The election of Obama was a victory both for renewed national hope and long-awaited democracy. Obama was big, a star, a voice to be reckoned with, a mind to be taken seriously. By 2014 Obama was small, a punching bag, easily bullied, the one to whom small politicians could talk tough, abusively, the one whose ideas were ignored, the one whom his fellow partisans would avoid at all cost. How could this happen in six short years?'
The midterms revealed Obama and the Democrats looking exhausted. Not only did their ground campaign look unenergetic, and their whiz-bang data-mining operation seem non-existent, their ideas also appeared to be past their sell-by date.
The economy has improved, but voters are unimpressed: exit polls found nearly 70 per cent have negative feelings about the economy. Unemployment has fallen, but in large part because many workers are no longer searching for jobs. GDP is growing, but slowly (two per cent a year). Democrats lack a sense of urgency to address economic growth, perhaps because they believe slow growth is more 'sustainable'. Their main economic policies – an increase in the minimum wage, green energy and infrastructure spending – are old and uninspiring.
Over the past year, the Obama administration's lack of forward momentum has led to a series of mini-scandals and screw-ups that have raised questions about its competence. The wheels started to fall off the bus with the disastrous roll-out of Obamacare in autumn 2013. From then on, it seemed there was a new flare-up every week: domestic-surveillance revelations; scandal at the Department of Veterans Affairs; unaccompanied children crossing the border with Mexico; intruders entering the White House; panic over ebola. And from Syria and Ukraine to ISIS and Iraq, the world appeared more out of control, with the White House flailing in response.
While the midterms have brought the Democrats' exhaustion into greater relief, there were already signs of it in Obama's re-election run in 2012. Having no ambitious and unifying program to present, the Obama campaign sought to build a multicultural coalition of certain groups (blacks, Latinos, single women), and appeal to them by promoting socially liberal issues (what's known as the Culture Wars). In the event, they were able to eke out a victory with 51 per cent of the vote.
Fast forward to the 2014 midterms, and once again the Democrats sought to utilise the Culture Wars for electoral advantage, but this time it didn't work. Democrat candidates once again charged the Republicans with waging a 'war on women', but it didn't stick. In Texas, abortion-choice campaigner and media darling Wendy Davis lost her bid for governor by a big margin. In Colorado, Democrat Senator Mark Udall talked about contraception and nothing else in the hope of putting his Republican challenger on the defensive. This backfired: the Denver Post accused him of running 'an obnoxious one-issue campaign' and he lost, too.
Democrats called for easing immigration restrictions, but Republicans increased their share of the Hispanic vote. The party's supporters tried to use the protests in Ferguson, Missouri, to motivate black turnout, but it never caught on. Liberal billionaire Tom Steyer, an environmentalist and former hedge-fund manager, spent $74million in donations to the Democrats in an effort to get politicians who share his views on climate change into office, but to little effect.
There were a number of factors that led to the Culture Wars losing their magic. For one, Democrats like Udall overplayed their hand; many now see through attempts to deploy Culture War issues for narrow political purposes. Furthermore, in promoting right-on social causes, liberals claim to be supporting disadvantaged groups, but they can simultaneously appear to be looking down on those in 'middle America' who don't share their values. When Bruce Braley, the Democratic candidate for the Senate from Iowa, was caught disparaging farmers in a closed-door meeting with lawyers, it was seen by many as revealing an elitist outlook among liberals (similar to the reaction when Obama spoke dismissively of people who 'cling to guns or religion' on the 2008 campaign trail).
But probably the most important reason why the Culture Wars approach didn't work in this election is because Republican candidates largely avoided getting sucked in – even if it meant conceding the issue at hand. In Colorado, the Republican challenger Cory Gardner trumped Udall by calling for legalising the sale of over-the-counter oral contraceptives. He also downplayed his previous stances on abortion and immigration. In Wisconsin, Republican governor Scott Walker came out in favour of women's equal-pay legislation. The Republicans' image was also helped by prominent women candidates, including Joni Ernst, the new Senator from Iowa, and Mia Love, the party's first black female representative, who was elected to Congress in Utah.
As one commentator noted: 'On social issues, Republicans are mumbling, cringing, and ducking. They don't want the election to be about these issues, even in red states.' This approach did not seem to turn off conservatives, who still came to the polls to vote Republican.
The midterm election results are an indication of dissatisfaction with Obama and the Democrats. But on the flip side, the vote does not signal a ringing endorsement of the Republicans. Making the election a referendum on Obama meant that the Republicans got something of a free pass. Their inability to offer a coherent set of policies means that we can't really talk about a Republican mandate for change. By all means, it would be great if the Keystone XL oil pipeline was finally built, as the Republicans promise to do, but that one proposal does not constitute an economic-growth agenda.
Washington politics is widely referred to as dysfunctional, best symbolised by the shutdown of the government for a period in 2013. Approval ratings for congress are at an abysmally low 14 per cent (even more unpopular than Obama). It is hard to see how the outcome of the midterm elections will change this situation. If anything, there is a risk that each party will continue to labour under certain delusions: giddy Republicans may believe that they are suddenly popular, while the Democrats may sit tight in the hope that Hillary will excite the electorate in 2016. Both parties seem so consumed by the electoral process, by who 'wins' or 'loses', that they forget that what really matters is what is accomplished in office. It remains to be seen whether the American political class can fully appreciate the depth of its legitimacy crisis and do something about it.
To enquire about republishing spiked's content, a right to reply or to request a correction, please contact the managing editor, Viv Regan.