'A venal political attack on the press'
The Australian's Chris Mitchell on the illiberal liberals threatening press freedom.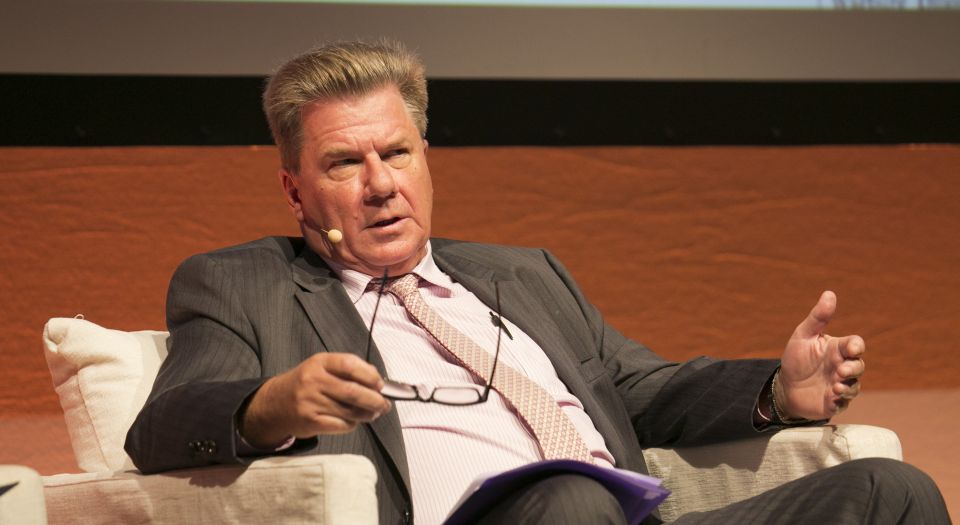 It's fair to say that the engagingly gruff, gravel-voiced Chris Mitchell, editor-in-chief of the Australian and a journalist of some 40 years standing, is concerned about the state of press freedom in Australia.
'The two recent Labor governments, under prime ministers Kevin Rudd and Julia Gillard, posed quite a serious threat to press freedom', he tells me. 'As those two governments got themselves into increasing trouble – internally, too, given two prime ministers were overthrown in internal coups – they became increasingly determined to hold inquiries into media freedoms, to try to limit them. And they did so for pretty venal political reasons.'
These 'pretty venal political reasons' are not difficult to fathom. An increasingly embattled government wanted to have a pop back at its press-based critics. It wanted to blunt the barbs, curb the criticisms, and, ultimately, exert a greater degree of control over its public image. That seems to have been the familiarly authoritarian motivation behind the Convergence Review, launched in 2010 to explore the regulation of the media as a whole, from broadcast to newer online media.
But here's the surprising thing, the development that makes the Convergence Review look positively principled. In 2011, Gillard's Labor government launched a second review, the Independent Media Inquiry (IMI) led by a retired judge Ray Finkelstein – think Lord Justice Leveson, but without charisma. And what was the prompt for this second inquiry, which, like the Convergence Review, was effectively exploring press regulation? It must have been something big, something that implicated Australian journalism, right? Wrong. Incredibly, it was the phone-hacking scandal in, er, the UK, which prompted Gillard to launch an inquiry into the Australian press. Yes, Rupert Murdoch's News Corp, which owned the News of the World, the paper at the centre UK phone-hacking scandal, also owns several Aussie papers, including the Australian, but they are still completely different staffs in completely different countries, with completely different readerships. Mitchell still sounds angry about what amounted to naked opportunism on the part of Gillard's administration: '[The government] wanted to harness ill feeling towards News Corp after the phone-hacking inquiry in the UK. They wanted to gain some sort of public sympathy for media regulation in Australia on the pretext that phone hacking could be happening down here, too.'
And was it? Mitchell is dismissive. 'Of course there never was phone hacking here for very easy technical reasons – the telephony regime is very different in Australia to that of the UK.' In other words, it just wouldn't be feasible.
Mitchell is in no doubt of the government's motives: 'The Finkelstein Inquiry and the subsequent regulatory system was a naked political grab for more power over the media.' And here's the irony: the Finkelstein Inquiry proved far more effective than the Leveson Inquiry in securing a new, more restrictive system of press regulation, complete with a revamped, souped-up Australian Press Council. According to one commentator, the Chinese Communist Party looked on with envy when Finkelstein released his recommendations. 'So even though there was phone hacking in the UK, you guys didn't end up with as tough a regulatory regime as we did', says Mitchell.
So what has been the result of the Labor-sponsored spate of inquiries into the media? 'We ended up with an unsatisfactory regime of third-party complaints against newspaper companies. It's opened the doors to activist groups who don't like certain kinds of stories but are not directly affected by those stories to lodge complaints which will be adjudicated upon – complaints which wouldn't be heard under the British regime.'
This system of snitching to the state, or rather its press-council proxy, is especially evident on the issue of climate change. As Mitchell and his paper, the Australian, discovered to their cost in July, it is now possible for a group of climate-change alarmists to use the Australian Press Council to challenge the Australian over its coverage of the Intergovernmental Panel on Climate Change's assessment of global temperature rise. Even more absurdly, the Press Council also reprimanded the Australian for not giving an environmentalist's retort due prominence on its letter pages. As Mitchell puts it, 'There's a view in Australia that this newspaper in particular shouldn't report on climate change in any sceptical way. We tend to run a lot of stories on climate change, most of them fairly conventional, but we also open our pages to those who take a different view. And there's a lot of people on the conventional side who would censor us on that.'
The result of the steady onslaught against the press Down Under seems to be increasing conformism, a case of tell the 'right' story, or else. And what's interesting is that this conformist push is coming not from right-wing autocrats, but from those who tend to think of themselves as liberal and progressive. Think for example of the case of Andrew Bolt, the columnist-cum-provocateur. In September 2010, nine people complained about three columns Bolt wrote criticising the phenomenon of white people bigging up their ethnic ancestry, or 'blacking up', to further their political careers. In September the following year, a court decided that Bolt had contravened Section 18C of the Racial Discrimination Act. That is, Bolt was found guilty of expressing the wrong opinion.
Things did look up for a while following Labor's election defeat at the hands of the Liberals in 2013, and the subsequent appointment of the seemingly principled George Brandis as new prime minister Tony Abbott's attorney general. Brandis not only promised to reform the Racial Discrimination Act, but, in conversation with spiked editor Brendan O'Neill in April, spoke of his love of Voltaire and John Stuart Mill and the true measure of free-speech credentials: 'Defend the right of people to say things you would devote your political life to opposing. That's the test.'
And yet now, with the federal government's decision to ditch its plans to reform the Racial Discrimination Act, even that flicker of promise has been extinguished. The conformist net of liberal-progressive opinion is being drawn ever tighter. It is this that seems to undergird the drive for greater state controls on the press, the sense that the media must espouse the right-thinkers' worldview – or at least that of the Guardian. 'Yeah', says Mitchell, 'there is a general tendency among those people who are at home with public broadcasters or traditionally progressive newspapers to think of themselves as having higher moral values than the rest of society. And they have tended to use the push for press regulation to impose judgements upon the media that are contestable.'
But conformism backed up by a tougher regulatory regime is not the only threat to press freedom as Mitchell sees it. There is also the growth of the PR industry, which 'exerts control over what journalists can and can't write'.
'I think that this manifests itself across science reporting, across reporting on the share market, and so on', he says. 'For example there's a very strong regime now to stop company directors from talking to journalists on the grounds they might influence the share prices of their companies, etc. So this gives the corporate spindoctor a great deal of power over the investigative journalist in the financial sector. And in government, it's far worse than it is in the sciences or the financial sector. In government we now have a situation where the number of people involved in federal bureaucracy – they're not civil servants, they're people attached to political staff – is about 700 while the number of journalists working in that area is probably less than a third of that. So for every working journalist reporting on federal politics there's about three spindoctors trying to hide the truth from that person.'
Mitchell is clear-sighted about what is really at stake in the debates and arguments over press freedom. That is, when a campaigner for press-regulation complains about the influence of a section of the media, what they are really complaining about is a section of the public. 'What's happened in the UK and here is that there is a left-liberal revulsion against the ordinary man or woman in the street. There's a sort of morally self-satisfied view that our media is better than your media, and that there is nothing quite so shocking as a popular newspaper. I would say that the view that has emerged in our country and in the UK during the phone-hacking furore has allowed the progressive left to espouse policies that are quite draconian and anti-free speech under the guise of having better and more acceptable values.'
So the liberal suspicion of the press is underpinned by a liberal suspicion of the public, I suggest. 'I think that's right. It is inherently anti-democratic', Mitchell says. 'A long time ago, one of most successful Labor prime ministers in history, Bob Hawke, used to say that the electorate never gets it wrong and that the electorate always works you out. And I think that's pretty much right. In my 42 years as a newspaper journalist, I've only rarely seen an election where I've thought they'll turn harshly next time because it's gone a bit wrong. Generally, the wisdom of crowds works well and it's something elite opinion isn't comfortable with. Elite opinion isn't comfortable with the wisdom of the crowds — it's comfortable with elite opinion.'
Trust in the wisdom of crowds is one very good reason for a more raucous press, not a more regulated one.
Tim Black is deputy editor of spiked.
On Wednesday, 5 November, spiked is hosting 'Press Freedom in the 21st Century' in Washington, DC, as part of Free Speech Now!'s US event series. Book your free tickets here.
Picture by: News Corp Australia
To enquire about republishing spiked's content, a right to reply or to request a correction, please contact the managing editor, Viv Regan.