'The best answer to bad speech? More speech'
Nick Gillespie on Fox News, press freedom, and our new media utopia.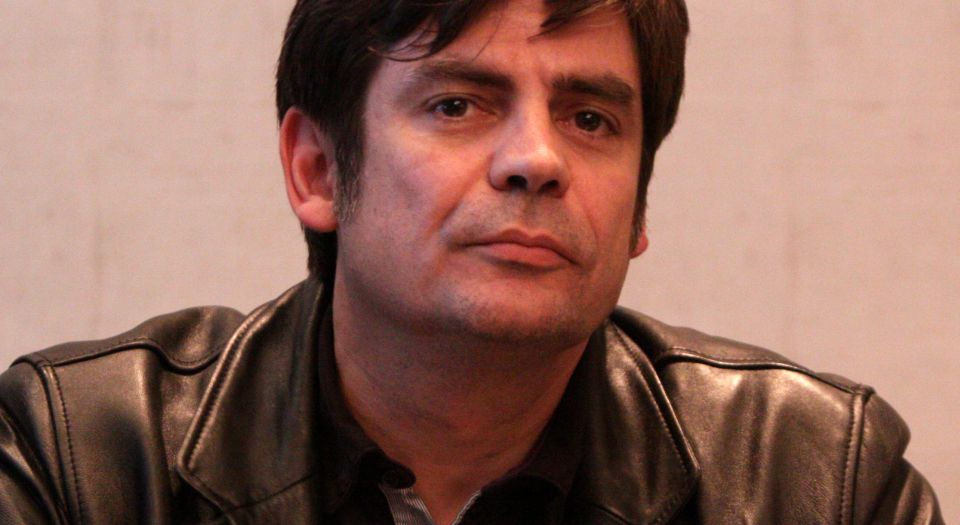 Ahead of the spiked/Newseum conference on press freedom in Washington DC on 5 November, where he is speaking, Nick Gillespie of Reason explains why he feels 'almost utopian' about the future of the media.
'I think press freedom is important because human freedom is important. I don't make a distinction between freedoms that should be enshrined for the press or the media and those for other people. The idea of free expression, which also includes other types of behaviour and other gestures that might not be covered under a more strict definition of press, all of that is vitally important. It's our means of communication, which is the most fundamental act of humanity.'
So says Nick Gillespie, in his distinctive, effortless drawl. For those that know of the editor-in-chief of Reason.com and Reason TV, his commitment to free speech will not be a surprise. This, after all, is someone the Daily Beast described as 'clear-headed, brainy… [and] among the foremost libertarians in America'. He is not concerned with advocating a particular press-specific liberty; he is concerned with liberty in general.
'In a good way', he tells me, 'the press in America is not licensed or regulated, nor does it have to seek certification from the state before it's allowed to do what it does. I think that's extremely important because one of the pressing issues in the US, and I think elsewhere, is that the press has a seemingly different relationship to government, to state power, to corporate power, than mere citizens. And a lot of people push this as a positive thing. As a result we have press-shield laws so that reporters won't be put in jail for refusing to name their sources. They have been given certain exemptions from legal process. And I think that's very disturbing.'
Given the post-Leveson interest in press regulation and the possibility of licensing the press in the UK, Gillespie's point is worth listening to. His problem is not with protecting press freedom. 'The idea that individuals and press organisations are allowed maximum ability to criticise or to lavish praise on people in power or out of power or whatever is really rare and unique', he says. 'And a lot of American journalists do not understand the situation they've inherited.'
His problem, rather, is with making press freedom an exception to free-speech laws as a whole. 'The exceptionalism in America, which is great and predates the founding of the country – it started in the colonial era – is that people have a right to free expression, and they have a right to free speech and free assembly. And that is what undergirds our press freedom. The press should have no rights that the average citizen does not have.'
Unfortunately, many in the US and the UK seem to think that the press should have fewer rights than the average citizen. It needs to be pulled up and reined in; it is corrupting public debate, and determining the way too many people think. I ask Gillespie what he makes of this argument: 'In the US, it's conservatives and Republicans who tend to say that the press is distorted and biased in favour of left-leaning liberal Democrats. As they see it, the liberal media won't talk about Benghazi; and they won't talk about Hillary Clinton's private life in the way they do about Sarah Palin. Rather, they'll go on and on about fantasy scandals of the right. What's interesting in the US context is that when the conversation turns to culture, the positions flip and it is the left that will say that the media – music, movies and television and other forms of entertainment – tend to reinforce really negative stereotypes towards women, towards gays, towards blacks.'
Gillespite continues: 'I think what unites the right and the left in stupidity and error when it comes to this broad-based understanding of the media, which is really the sum of the press as well as the entertainment industries, is that they're wedded to an old model, which grew out of the Frankfurt School, whereby the audience is assumed not really to have a mind of its own. It just kind of gets pushed along by whatever it reads and sees. And this argument is wrong, because everyone who watches a TV programme, or goes to a play, is an active participant, a person who processes information, who makes decisions every second about what things mean.'
I ask Gillespie about the perceived influence of Fox News, a familiar bête noir not just of American liberals, but of right-thinking left-ish types in the UK, too. 'Yeah, liberals will say Fox News, or "Faux News", as they call it, is programming people and inflaming passions among Tea Party wingnuts who bring their guns to church and shoot people on the way home from church before they watch the football. On the flipside, right-wingers will say that places like CNN stand for the "Clinton News Network", or they used to in the 1990s. Or they'll say that NPR is a state-funded bastion of liberal and left-wing ideology. So there is a common widespread transpartisan complaint that the other side did not win whatever position they have fairly, but that they did it through mass brainwashing. And I guess, for me, the big take-away is that the whole idea that the culture industry and the media brainwashes people is not only offensive – it's also deeply, deeply wrong and dismissive of the way that people actually make decisions about their politics and their ideology and about their everyday life.'
Still, if particular influential media outlets are misinforming people, isn't that a problem? 'There's a longstanding cliché in America that the best answer to bad speech is more speech or better speech', he says. 'And I think that's what we have. If a particular news organisation or a particular university or a particular corporation is a font of stupid, misinformed, erroneous dissembling ideas or discourse, the best thing to do is to really speak back to it, and to really engage and to force its errors into the full light of day.'
It's at this point, in the tech-enabled ability of people to speak back to 'erroneous discourse', that Gillespie comes over as positively happy. 'I'm nearly utopian about the new media', he tells me. 'I started with Reason in 1993. At that time – we're based in Los Angeles, but we're virtually around the country – we could only get easy access to about half-a-dozen newspapers housed at the UCLA library. That was our basic source for reporting on contemporary news. And then, very quickly, we got access to things like Lexus Nexus, which is a newspaper database, then the worldwide web, where we could read so much more and then of course express ourselves. The internet made it easier and easier to do whatever we wanted.
'So you look at Reason Foundation, which is the non-profit which publishes Reason. You take a non-profit that doesn't have a lot of money, that doesn't have a lot of power or insider connection. And we have come from publishing a monthly magazine and occasionally writing op-eds in newspapers to now, 20 years later, when we have a complete media operation, where we're online everyday and we reach over four million people every month. We have the ability to reach out and engage an audience as well as the people we disagree with that was virtually unthinkable when I joined the staff in 1993. And that's why I'm nearly utopian. And every day, there are new sites of information and expression that were simply not able to exist in any meaningful way a quarter of a century ago.'
His optimism even extends to Wikileaks, Anonymous, and Edward Snowden. 'I think that Wikileaks, and Anonymous, and later Snowden – but even more than Snowden, the platform that the founder of eBay and the journalists Glenn Greenwald and Laura Poitras and other people created at the intercept – I think the platform is more important than the individuals… I think it's another reason for optimism, even giddiness. What organisations like Wikileaks and Edward Snowden did is establish a way you could work with mainstream media as well as non-mainstream media and get information out in a way that was virtually impossible before. And it doesn't rely on the cooperation of established media, or legacy media, in the way that something like the Pentagon Papers did. That was a stolen government history of the Vietnam War and its folly which really only could be distributed by major media in the later 1960s and 1970s. So Wikileaks, Edward Snowden, the intercept, the people like Glenn Greenwald and Laura Poitras, and the people who fund them and create a platform… this means you have journalists taking on stories that would not be taken on otherwise.
'And what's fascinating about a document dump is that you don't have to wait for an established journalist or a certified journalist to come through and tell you what is important. Rather, you can sift through it yourself as a citizen journalist. That is immensely powerful and it's great and we're going to see more of it. And it won't end the state, nor even necessarily make the state act better, or corporations act better – but it will constantly give us remedies for the worst things that the powerful in our society do.'
I might not share all of Gillespie's enthusiasm for the new culture of leaking and document-dumping. But in his commitment to press freedom and freedom of expression, in his optimism about the potential of the internet, and in his refusal to bow to the 'blame the media' brigade, I can see some of the very things we lack in the UK right now. It's high time we Brits rectified this.
Nick Gillespie is speaking in the debate, 'Press freedom in the twenty-first century', at Free Speech Now! and Newseum's conference on press freedom at Newseum, Pennsylvania Ave, Washington, DC on 5 November. Click here to book a place.
Tim Black is deputy editor at spiked.
To enquire about republishing spiked's content, a right to reply or to request a correction, please contact the managing editor, Viv Regan.