The moral McCarthyism of the war on lads
The cultural cleansing of lad culture on campus reeks of intolerance.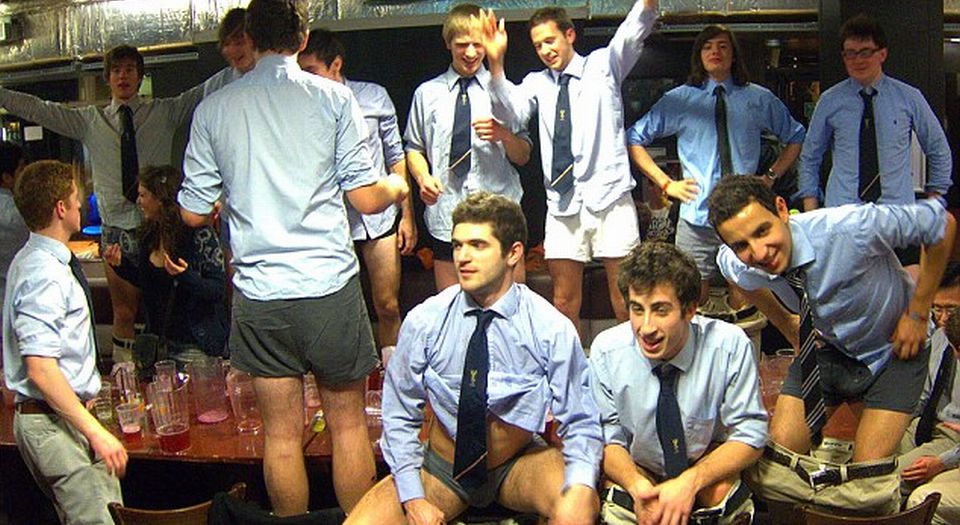 Today, 50 years on, we could do with another free speech movement on campuses. For once again, one particular form of speech is being attacked, cleansed, censored and punished in universities. Only this time it isn't Bolsheviks who are being silenced – it's blokes. The new McCarthyism aims its fire not at Communism, but at laddism.
The refusal to tolerate jokey, blokey, laddish speech on campus has reached epic proportions. This week something truly shocking happened at the London School of Economics, that supposedly liberal school that allows all sorts of ideas to be aired and discussed: a student rugby club was banned, physically disbanded, after distributing what some considered to be an offensive leaflet at the freshers' fair.
The leaflet, highlighting the rugby club's social events for the forthcoming year, referred to the 'beast-like' nature of female rugby players and advised social-event attendees to avoid women who are 'mingers'. It also made a joke about gays. Silly, juvenile stuff. But ban-worthy? Seriously? For the rugby club to have been disciplined, broken up, hurled into disgrace and banned from representing the LSE for a whole year simply for handing out a leaflet with some offensive terms on it is outrageous. No matter how the LSE tries to spin this – it is describing its disbanding of the rugby club as an attempt to 'safeguard and enhance inclusivity' – this is a pretty clear-cut case of students being silenced simply for holding views that offend against mainstream sentiment. The exact same thing that was done to Communist and other radical students at Berkeley 50 years ago: they, too, were silenced for holding what were decreed to be foul and dangerous views.
Across campuses in Britain, a shrill and censorious war is being pursued against laddish speech and terminology. In more than 20 universities the laddish pop song Blurred Lines has been banned by student union officials. The Sun has been banned on many campuses, too, on the basis that its Page 3 might inflame laddish attitudes and behaviour. Earlier this year the National Union of Students held a Lad Culture Summit – seriously – to devise a 'national strategy' for tackling 'lad culture' on campus. Its targets include 'banter' and 'misogynistic jokes' among young male students, which are apparently especially prominent in 'the social side of university life'.
Banter, jokes – this is speech. Just words. Commentary and discussion among students. What earthly right do student-union officials or university authorities have to devise strategies to eradicate certain forms of speech among students or to ban things that certain students like reading or listening to? No matter how many PC words get attached to these lad-cleansing initiatives – with phrases like 'improving inclusivity' and 'fostering diversity' being bandied about – there is no escaping the fact that this is intolerance. Intolerance of the speech, and fundamentally the thoughts, of a particular section of the student body.
The comparisons with what happened in early 1960s America are striking. Yes, back then it was radical hotheads who were targeted with censure, whereas now it is blokeish hotheads, but in both cases the speech of certain students is depicted as so depraved, so potentially polluting, so likely to inflame instability and violent behaviour, that it must be squished out of existence.
We must challenge this cultural cleansing of lad culture on campus, this all-out moral assault on the speech and ideas of certain young men. No, not because their ideas are particularly enlightened or interesting – many of them are in fact daft – but for the simple reason that individuals' speech should never be the business of officialdom, whether government officialdom or university officialdom. Universities urgently need to rediscover the basic premise of a liberal, democratic society – which is that individuals may be legitimately punished if they harm another individual or damage someone's property, but they should never, ever be punished simply for what they think, say or write.
Brendan O'Neill is editor of spiked. He will be speaking at the debate Should we fear democracy? at the Battle of Ideas festival, held at the Barbican in London on 18-19 October. Get tickets here.
To enquire about republishing spiked's content, a right to reply or to request a correction, please contact the managing editor, Viv Regan.