'The gay movement is full of staid conformists'
Julie Bindel talks to spiked about the death of gay radicalism.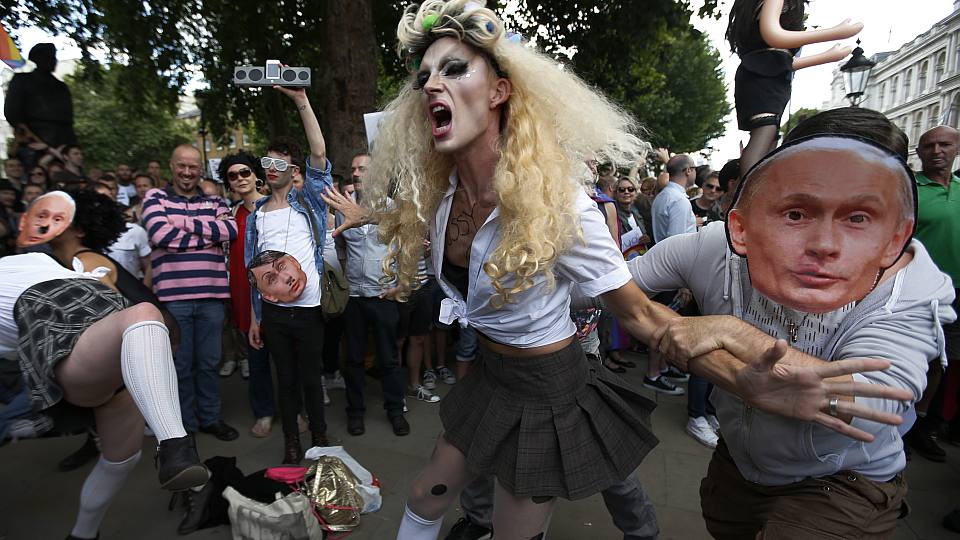 'The gay movement has become very traditional and cowardly', says Julie Bindel.
This is a sentiment rarely expressed in British political circles today. At a time when gay activism has become an established force in the political sphere, when even gays' old foes in the Tory Party feel they have to give interviews to Gay Times and sport pink cowboy hats for photo-ops, and when many are rejoicing in the recent institution of gay marriage, the gay movement is portrayed as thriving, breaking down boundaries and heralding a new era of liberation and equality.
But Bindel, journalist and firebrand feminist and lesbian activist, begs to differ. Her new book, Straight Expectations, offers a strident critique of the modern gay movement. Talking to me down the line from her home in north London, she traces the decline of the gay movement back to the establishment-led attack on gay people in the 1980s. After the AIDS panic and the Thatcher government's grotesque Clause 28, which banned local authorities, and in particular state-run schools, from 'promoting homosexuality' in education, Bindel feels there was a gradual shift to a more conciliatory agenda: 'The language became one of acceptance and tolerance rather than liberation and "fuck you". There was a desperate desire for a quiet life, to be left alone. The more radical voices of lesbian feminism, and the few gay men that were more radical, were drowned out.'
Bindel isolates gay marriage as one of the key manifestations of this shift towards conservatism. Gay marriage doesn't only spring from a desire to be 'left alone', she says – it also speaks to a quest for validation from the state. 'It's the desire to be in a traditional couple that's sanctioned by the state, rather than punished by the state', she says. 'I personally don't want the state to interfere in my relationships at all.'
Reinvigorating the anti-police, anti-state drive of the old gay-rights movement would indeed be very welcome. But I can't help wondering how consistent is Bindel's rejection of state intrusion into matters of personal life and conscience. After all, Bindel has long campaigned for hate-speech legislation to be extended to cover expressions of sexism and she is one of the leading voices calling for the criminalisation of buying, rather than selling, sex. Nevertheless, she is unquestionably a keen observer of the long-term, malevolent trends in gay and left-wing politics, including the increasingly staid notions of equality that have come to the fore over the past 30 years.
In the Eighties and Nineties, she says, 'the politics of equality developed, [and it was] looking at how to recognise a Sikh from a Muslim, how to argue that men should be midwives, how to look at whether or not white people were negatively affected by positive discrimination – a completely de-politicised agenda. So the language of equality, which was "let us be the same as you", "leave us alone and we won't hurt anyone", became the mantra of the lesbian and gay liberation movement.'
Of all the preoccupations of the contemporary gay-rights movement, the search for a so-called gay gene is easily the most de-politicised: it's an attempt to use 'the science' to naturalise homosexuality rather than fight for tolerance in the realm of politics and argument, says Bindel. 'Well-meaning gay men like Qazi Rahman, and the other gay scientists looking to isolate the gay gene, are looking to explain to those that are full of self-hatred why they are like they are', she says. Not only are many of these studies based on a sexist, paternalistic idea that male and female brains are somehow different, says Bindel, but they are also breathing life back into some of the oldest homophobic arguments in the book: 'Back in the Seventies the bigots used to say that we had a kink in our genes, that we were innately, weirdly different… People like [journalist] Patrick Strudwick, Stonewall and others who say "we've got to say we're born this way or they might try and change us" are being shortsighted.'
Since getting involved in politics in the late Seventies Bindel has been ruffling feathers, and her stances on gay marriage and the gay-gene debate have once again cut against the grain of the established agenda. But, she says, the gay movement has become particularly belligerent in recent years: 'There are plenty of younger gay men who are now saying we're sick of these staid, middle-class conformists and we now want to be more radical – ditto lesbians, older generations as well as younger. They actually believe that we've been kowtowing for too long to this "we can't help it, we're born this way" idea and they don't want this any longer, but there's been a culture of bullying [in response to that].'
For Bindel, there is no better example of this culture of bullying than the virtual lynch mob of enraged tweeters and fuming lefty commentators who set upon Sex and the City star Cynthia Nixon when she said in 2011 that, after a living a happy, straight life, she had chosen to become a lesbian. 'She was bullied into making a partial retraction when she said one of the most positive things I've ever heard a public lesbian say. It was political, it was proud, but she had the stuffing knocked out of her', says Bindel.
There's one group in particular that seems to have been in a permanent war with Bindel – the trans movement. Bindel has been pushed off Twitter and public platforms by a slew of insults and death threats from online trans activists who brand her transphobic and a 'TERF' (trans-exclusionary radical feminist) for once writing an article likening gender reassignment treatment for adolescents to child abuse. As the trans movement has become more and more entwined in the gay-rights movement, has she softened her position at all? It seems not.
'There's no question that the diagnosis of transgenderism is one of gender essentialism. It flies in the face of radical feminism. And the "born this way" mantra is coming at its most strongest from the trans community. That's all I want to say about it.'
Talking to Bindel, it becomes clear that the gay-rights movement is, in many ways, little different to many areas of political discourse today – blighted by debatephobia and too keen to offer up evidence and science in place of political or moral arguments. As rabble-rousing, controversial and sometimes questionable as her arguments can be, it is surely only through being willing to take a stand and to allow differing opinions to fight it out, rather than seeking to snuff out dissent, that the gay-rights movement will have any chance of regaining some of its erstwhile radical spirit.
On that, Bindel sets out her stall: 'I think we need to have a look at the here and now. We're not in the Seventies anymore. Obviously, there are loads more of us than before, we're not a counterculture anymore. Things have moved on, rightly so. We need to accept and embrace those young lesbians and gay men who just want ordinariness; fine if they want to get married, fine if they want to have children, fine if they don't want to do political activism. But at the same time, we need to recognise that there is so much left to do.
'We're a global political movement. We need to look where we can support other lesbians and gay men who are suffering more than we are.'
Tom Slater is assistant editor at spiked.
Straight Expectations: What Does it Mean to be Gay Today?, by Julie Bindel, is published by Guardian Books. (Buy this book from Amazon(UK).)
To enquire about republishing spiked's content, a right to reply or to request a correction, please contact the managing editor, Viv Regan.