Al Murray: 'My audience isn't thick'
The Pub Landlord talks to spiked about snobbery on the comedy scene.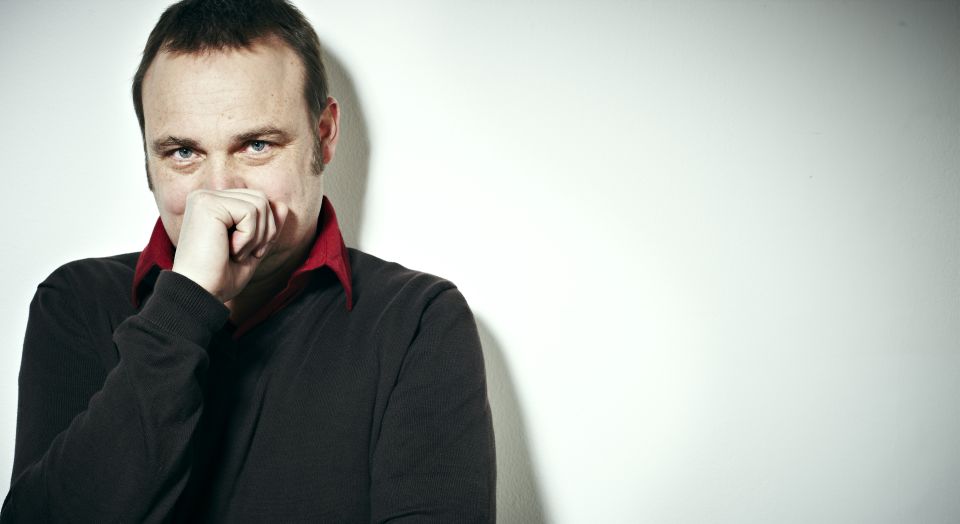 George Square, Edinburgh. For acerbic critics and spurned performers, this is ground zero for the rank commercialisation that has cleansed the Edinburgh Fringe of its once down-at-heel beauty over the past decade. Occupied by Assembly, one of the Fringe's biggest chain of theatres, George Square is where overpriced Deuchars (the Fringe's beer sponsor) flows from the outdoor bar taps and the 10-foot fly-poster space is plastered with off-the-telly comedians, hogging the limelight and hoovering up the starry-eyed patrons' hard-earned lucre.
Among the biggest names under the Assembly banner this year is Al Murray, whose lager-sloshing, Little England send-up, the Pub Landlord, is appearing in no less than three productions – a preview of his new stand-up show, One Man, One Guvnor; a variety evening called Summer Saloon; and a one-off recreation of Al's first solo Edinburgh show as his infamous alter ego 20 years ago.
I snatched half an hour of Al's time before the debut of Summer Saloon. So, what does this comedy profiteer have to say for himself? Talking to me in his shed-cum-dressing room, backstage at the Assembly Palazzo, he's clearly bemused by those who moan about the Fringe's explosion in popularity.
'There's this peculiar doublethink about the Edinburgh Fringe, which is that it has got too big and too commercial, at the same time.' While he admits the Fringe has become another point on the trail for big-time comedians sounding out their Mock The Week one-liners, he also points out that 'you can still cross the street and see something that's completely fucking amazing that there wouldn't be room for if the Fringe wasn't so big. Its expansion has also broadened your possibilities.'
The Fringe's newfound glitz is a clear product of the recent explosion in UK stand-up. Once banished to late-night clubs and three-minute slots on Saturday-night variety TV, the wave of comics who rose in the late Eighties and through the Nineties established stand-up as a fixture of mainstream entertainment. Comic-stuffed TV panel shows, stand-up TV showcases, best-selling DVDs and sellout nights at the O2 are now the marker of a stand-up's success.
Murray is well-placed to reflect on how far the scene has come. He honed his craft in sticky-floored boozers with Oxbridge buds Stewart Lee and Richard Herring in the early Nineties before going on to become one of stand-up's crossover megastars. In response to those in his peer group who bemoan the dilution of stand-up by Michael McIntyre-esque observational comedy, aimed at reeling in the 'WKD crowd', he's quick to call out their snobbery.
'That's kind of like saying, "Well, you shouldn't be watching that, it's not good for you"', he says, in a put-on sixth-former whine. 'Everyone is going to laugh at whatever they fucking well like… The mainstream audience wasn't being served before. I don't know why, it just hadn't happened. It's being served now, and what's wrong with that?'
He continues: 'What's happened is that everything has been magnified. The wide variety is still there, and there appears to be a fault-line between an alternative sensibility and a mainstream sensibility that maybe wasn't as blatantly on-show as before. There were always people in clubs who did observational stuff…'
Today's suspicion of the popular audience has become particularly intensified around Murray's own fanbase. His audience seems to split neatly into two camps – one made up of liberal comedy fans who find the Pub Landlord's casual xenophobia and profound discomfort with women drinking pints to be the perfect pisstake of blinkered British parochialism, and the other made up of normal people who seem to in-part enjoy the character for his un-PC polemics. 'You sometimes worry that the audience is laughing with rather than at him', wrote one Guardian critic, voicing a common concern that if someone laughs at a farcical anti-German rant then they must be a frothing-at-the-mouth bigot.
'Sometimes the Pub Landlord will say something that you agree with completely, or something that seems reasonable, until he completely drives it into the ground', says Murray. 'I think the people who are sympathetic to him may well be enjoying laughing at themselves, which is a thing people are allowed to do as well. When people say "you shouldn't be doing this act because you're encouraging a certain way of thinking", I think: fuck off, don't be daft, everyone's a grown-up around here.'
As well as having a finely tuned bullshit detector, Murray is a devoted student of comedy and offers some keen insights into the snobby treatment of comics who cater to working-class audiences. 'I've always thought the idea that there was a satire boom in the Sixties was really interesting. Because Spike Milligan had been satirising postwar Britain – rationing, the military, the war – for decades, but because he did it with silly voices, on radio, with people falling over, and because he was blue collar, he's never described as a satirist', Murray notes, reflecting on one of his biggest heroes.
'I love [Sixties satirists] Peter Cook and Dudley Moore, but they were seen as legit, because they were from the establishment, in a way [Milligan's] The Goon Show wasn't. I always think, could we sort our labels out or just admit that what we mean is that satire is white collar and piss-taking is blue collar?'
While Murray makes no bones about his own white-collar background, the seeming disdain that some comedy reviewers have for his audience has always marked him out as a piss-taker rather than a satirist. And yet, in every show, no one seems to be safe from being given a good Carling-fuelled rinsing by the Landlord. The front few rows – whether they be gay, straight, male, female, posh or poor – are always set upon with his razor-sharp barbs; Murray is emphatic about comedians ignoring their own political opinions in order to clown on all persuasions, whether they be left, right or loony.
'I mean that from a plague-on-all-their-houses point of view. When I first came out with that' – he's reflecting on an interview he gave to the Independent last year – 'it got thrown back at me as me saying I think comedians shouldn't have opinions. That's the exact opposite of what I meant – we should entertain all opinions and run them all down, because otherwise you're not doing your job properly.'
In an age of ideas-lite politicians and waning voter turnouts, Murray's plague-on-all-their-houses approach seems fitting. But that's not to say politics is off the agenda. The Pub Landlord has always reserved ire for all politicans, past and present – apart from Winston Churchill, of course – and One Man, One Guvnor sees him attempt to create a 'Guvnorment', creating a people's manifesto with his audience and co-opting the front few rows as his front bench.
'Politics is very hip in comedy at the moment, so I thought I'd have the Pub Landlord try and do it. We've got Russell Brand going around telling everyone not to vote, which, I think, isn't far off a fascist idea. That's not his intention, obviously. He's trying to show the powers-that-be. But fascists are very keen on people not voting. I'm not calling him a fascist there, by the way.'
'So, each night we'll have one election and then we won't need any more because the problem with elections is that they fuck things up in the long term', he laughs, in a seeming retort to Brand's campaign for a boycott of the ballot.
Another hilarious moment in One Man, One Guvnor is when the Pub Landlord premiers the 'noble face' he has been practising in anticipation of the First World War centenary. It's a send-up, Murray tells me, of the inability of politicians to find an appropriate way to commemorate the war.
'It seemed to be a noble face-off on 4 August [at the commemoration ceremony at Glasgow Cathedral] – people trying to act as nobly as they possibly could. And you think: fuck off, the lot of you.' Murray, a keen historian, questions the prevailing narrative that the First World War was simply a hellish slaughter: 'If everyone hated the First World War, how did it carry on for four years? Why did people keep joining up if they all hated the experience and knew it was pointless? So the explanation that it was pointless doesn't answer the question it immediately raises. And that sets my curiosity off. Not piously intoning that it was just ghastly.'
However, it is the Second World War which is Murray's most enduring obsession. His new book, Watching War Films with My Dad, is a memoir-cum-potted-history of the conflict, filled with anecdotes about his army-officer dad pointing out historical inaccuracies in war films. He's become so engrossed in the subject that he's now planning a second book that explores why, unlike the war that preceded it, the Second World War is clung to as a rare bastion of meaning and purpose in the West's recent history. 'The Second World War exists in our cultural memory as supposedly the last good thing we did, and everything we've done since then is up for grabs, critically. It was the last time we did something right. And, wow, that's an interesting idea, isn't it?'
'The Second World War was only 25 years after the First World War, but we know exactly how to deal with it. Thank fuck there were bad guys involved – and proper ones with black uniforms. What a relief!', he laughs.
Before Al has to dash off to pour a pint and don the maroon blazer, he lets me know what he's up to next. 'We're going on tour until June next year, I've got to finish this book, and there are various bits of TV and odds and sods. The usual. Someone once said to Jimmy Carr "Well, what next?", and he said "The same thing I've been doing for the last 10 years". What's next? The same. The same stuff.'
Here's to plenty more sellout tours, DVD sales and Al reeling in an audience who are a lot more intelligent than some like to think.
Tom Slater is assistant editor at spiked.
One Man, One Guvnor is at Assembly George Square Gardens from 18 to 21 August, and the 24 August, before touring nationwide.
Watching War Films with My Dad, by Al Murray, is published by Century. (Buy this book from Amazon(UK).)
To enquire about republishing spiked's content, a right to reply or to request a correction, please contact the managing editor, Viv Regan.