One year on: how the West green-lighted Sisi's massacres
The assault on Morsi supporters marked the end of the Arab Spring.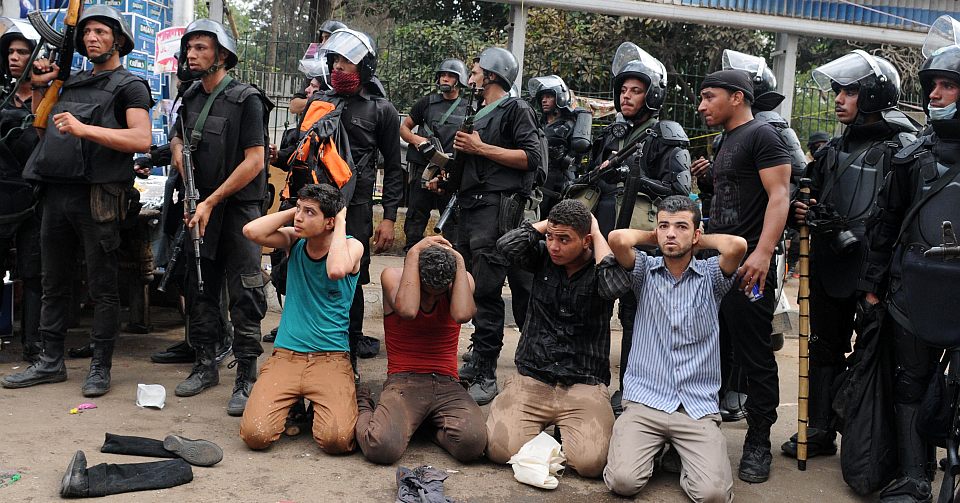 A year ago this week, Egyptian security forces launched the most brutal phase of their weeks-long crackdown on supporters of the then recently deposed president and leading Muslim Brotherhood figure, Mohammed Morsi. Pro-Morsi protesters, having been battling Egpyt's then interim leader, General Sisi, for weeks, had retreated to Rab'a al-Adawiya square. There, with makeshift medical facilities available, they sought respite. But on 14 August this all came to a bloody end. Personnel carriers, bulldozers, ground troops and snipers entered the square from each of the four main entrances, launched tear gas and opened fire. At least 1,000 pro-Morsi supporters were killed over the following few hours.
All the grisly details of the Egyptian state's brutal suppression of pro-Morsi supporters in the few weeks following the Sisi-led coup d'etat can be found in a new Human Rights Watch report, All According to Plan: The Rab'a Massacre and Mass Killings of Protesters in Egypt. That a report about Sisi's year-old crackdown has caused such a stir now, with some seemingly surprised to learn about the extent of the massacre, is testament to what spiked identified at the time as Western commentators' and politicians' silence on the tyranny in Egypt. Still, HRW presents a damning picture of the actions of the Egyptian security apparatus. In the words of HRW director Kenneth Roth: 'The legacy of the Rab'a massacre continues to cast a dark shadow over Egypt. Egypt will not move forward until it comes to terms with this bloody stain on its history.'
In an obvious sense, Roth is right. The systematic and widespread killing of those opposed to Sisi's coup d'etat does cast a shadow over Sisi's continued leadership of Egypt. (Although the very fact that he gained power by force ought to have been enough to set most democratic alarm bells ringing even before he began massacring opponents.) Yet there's something almost wilfully myopic about HRW's tale. It seems to treat the murderous brutality of the Egyptian army and police force in isolation. It's as if the massacres of those dispiriting few weeks are being packaged up as something malign but separate from the broader context in which they took place. This perhaps explains why HRW can be so blissfully disingenuous when proferring its recommendations: the perpetrators should be punished by Egyptian prosecutors; and the international community should ensure this happens by threatening Egypt's government with the withdrawal of aid and assistance and a trip to the International Criminal Court. That is, as HRW sees it, there is no problem with Egypt that cannot be fixed by a bit of international meddling. And then the bloody stain on Egypt's history will be wiped clean away.
All of which determinedly misses the meaning of the massacres. They weren't unfortunate moments of brutality ruining an otherwise well-functioning social-political arrangement. Rather, they were the consequence of a coup in which the military seized power, and, faced with thousands of supporters of the deposed but elected Morsi, sought to consolidate its incipient rule using the only real means it had at its illegitimate disposal: military might. The massacres cannot be separated from Sisi's regime like an appendix from a HRW report; rather, they were essential to what is a military dictatorship.
And more disingenuous still, the so-called international community, really consisting of a few Western states, was not an oblivious bystander which, now it has been alerted to wrongdoing, will exercise its do-gooding will. Rather, it was complicit in the coup from the start. Fearful of the potential freedom and the democratic choices of Arab peoples, concerned that they would choose what the West deems to be the wrong leaders, and anxious in particular about Islamists, too many in the West were keen to see the downfall of Morsi, a figure who came to represent the democratic folly of the Arab Spring. The US or the UK might not have given Sisi the nod to depose Egypt's first democratically elected leader, but they certainly smiled inwardly as the tanks rolled through Cairo.
Remember at the time the Western press, from the Washington Post to the New Statesman, was brimful with editorials warning of how Morsi, with his Islamist credentials, was 'betraying' the 'Egyptian revolution'. The overwhelming impression in the Western media was that the Egpytian people had made a bad choice when electing a representative of the Muslim Brotherhood. And now they were reaping the Islamist consequences. Hence when anti-Morsi protesters swarmed into Tahrir Square in June 2013, many in the West cheered them on. And more striking still, when the army moved in last July finally to remove Morsi from power, many commentators, no doubt convinced of their own democratic leanings, could barely supress their ambivalence. 'I confess that although I deplore the murder of protesters and the suspension of democracy', wrote one, 'I cannot feel any gut identification with reactionary men and women in the Muslim Brotherhood'. Or elsewhere: 'Of course, it's hard not to root for the crowds in Tahrir Square, thrilled to be rid of a man apparently bent on becoming a theocratic tyrant.'
Throughout right-thinking circles in the West, there was a sense that it was right that Morsi was deposed. And, although none would admit it, it was perhaps not such a bad thing that there was then a violent crackdown on Morsi supporters. If Sisi needed any encouragement to deal with the Muslim Brotherhood, there was plenty on offer from overseas.
Little wonder that while Sisi was shooting and arresting political opponents in July and August of last year, international leaders were not looking on aghast – they were too busy slapping his back. US secretary of state John Kerry called Sisi's coup an opportunity for 'restoring democracy', and the EU's Baroness Ashton encouraged Egypt's 'journey [towards] a stable, prosperous and democratic [future]'.
Since then, Sisi has, if anything, strengthened and deepened his grip on Egyptian society. Senior Muslim Brotherhood members were arrested; civic freedoms, which emerged briefly during Morsi's reign, were shut down; and Egyptian courts began issuing industrial-scale death sentences against Sisi's opponents – in March, in April, and in June this year. (Indeed, according to Daily News Egypt, since July 2013, over 40,000 Egyptians have been arrested on 'political, terrorist, sectarian-strife, protesting and military charges'.) In June, Sisi delivered the coup de grace to follow up his coup d'etat: he won Egypt's presidential elections. Which was hardly a surprise given he'd banned all effective opposition.
And the response this June from those whom HRW thinks should hold Sisi to account? 'The UK congratulates president-elect Sisi on his victory and looks forward to working with his government to strengthen the broad and productive relationship between both our peoples', said Britain's foreign secretary, William Hague. 'The United States looks forward to working with Abdel Fattah Sisi, the winner of Egypt's presidential election, to advance our strategic partnership and the many interests shared by the United States and Egypt', announced the White House. If it sounds like Western leaders, such as they are, are glad that Egypt is once more in the hands of the military devil they know, then that's because they are. So fearful were they of Egypt under the Muslim Brotherhood, despite the fact that that is what the Egyptian people themselves had voted for, that they gave the moral green light to Sisi's coup.
And yet, because it has abstracted the massacres from the broader narrative of Western anxiety over the Arab Spring, Human Rights Watch thinks that international powers not only have the inclination but also the moral authority to reprimand Egypt's leaders. Western powers may not have bloodied their hands this time, and many may have found the images of blood and death in Cairo distasteful. But in their hypocritical hearts, too many in the West are glad that the military status quo was restored in Egypt. Too many are delighted that the Egyptians' unpalatable democratic choices were reversed. Too many, in short, are in no position to judge Sisi.
Tim Black is deputy editor of spiked.
To enquire about republishing spiked's content, a right to reply or to request a correction, please contact the managing editor, Viv Regan.