'The Edinburgh Fringe has failed us – and failed freedom'
The Israeli theatre group shut down by an anti-Israel mob talks to spiked.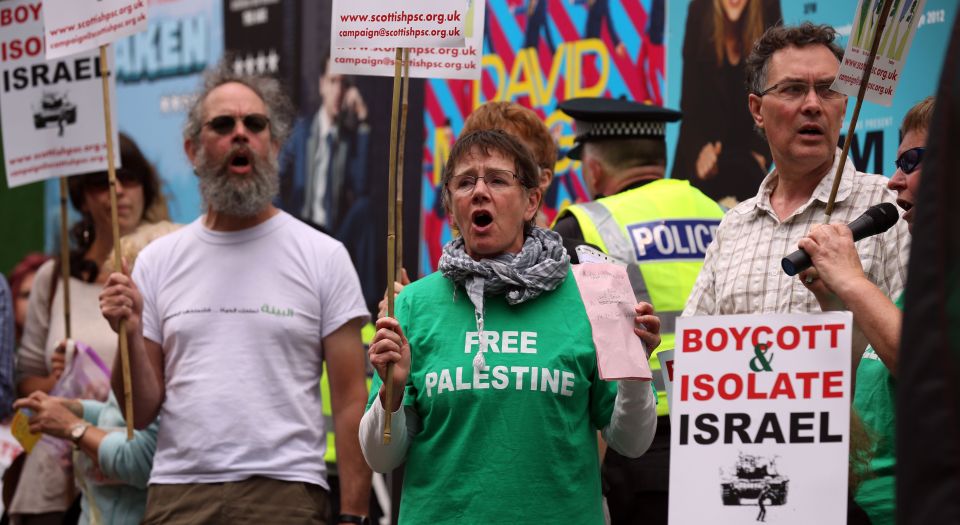 As another temporary ceasefire between Israel and Hamas gives some respite from the tumult of recent weeks, another battle for Gaza continues to rumble on. There are no winners in war, goes the old, trite pacifist line, but if anyone is going from strength to strength at the moment, it's Britain's luvvies.
Emboldened by the current crisis and the growing Boycott, Divestment and Sanction (BDS) movement against Israel, they're whipping themselves into pious fury. Old calls for the boycotting of Israeli artists, academics and produce – not too long ago seen as somewhat dubious, if not downright anti-Semitic – have led to a string of artists being shut down, cultural events being cancelled, and John Lewis shop assistants being grimaced at in the name of sending a message to Israel.
'They demonstrated against us because we are Israeli, okay? Anything else is an excuse.' These are the words of Arik Eshet, artistic director of the Jerusalem-based Incubator Theatre. He's outraged, and he's got a right to be. Incubator was due to bring its latest production, The City, to perform at the Edinburgh Fringe festival this month, but after pickets from pro-Palestine activists and pressure from handwringing British artists the show was cancelled. In between their tireless search for a new venue, I spoke to Eshet and two of the cast in the bar of the Gilded Balloon in Bristo Square – the heart of what, up to now, could be considered a thriving, liberal arts festival.
This sad story began in the weeks before the festival. The Incubator crew was preparing for its first preview at the Underbelly when 50 Scottish artists signed an open letter calling for the play to be cancelled because Incubator received a small proportion of their funding from the Israeli cultural ministry. The Scottish Palestine Solidarity Campaign picketed the preview, and insisted it would return every day until the show was cancelled. Due to apparent concerns over safety and disruptions to venues, Underbelly announced that it was looking for an alternative venue for The City, but, with the threat of further pickets still looming, this proved a near impossible task – Incubator is now going it alone.
'I was very proud of the theatre, the Underbelly, that said there is freedom of speech, we are not cancelling the show. What saddens me is that they didn't go further', Eshet says. 'All the institutions of the Fringe festival have failed. They failed, and the outcome is that we are shut down.'
A day after Underbelly issued a press release stating it had given up the search for a new venue for The City, the Tricycle Theatre in London made a similarly shocking announcement. Having hosted the UK Jewish Film Festival (UKJFF) for eight years, the partnership was now over, it said. The reason? The UKJFF received some support from the Israeli Embassy. After a tense back-and-forth in which the Tricycle, at one point, requested to pre-screen all entries to the festival, the UKJFF decided to withdraw.
It doesn't take much investigation to see that the Tricycle's decision is rank with hypocrisy. Just as Israel seems to have become a unique pariah on the world stage, despite the ongoing atrocities committed or spawned by other states – not least those in the Western, Israel-bashing world – it seems Israeli funding is similarly unique in its corrupting power. So much so that the Tricycle can slam UKJFF for receiving a small amount of money from the Israeli Embassy while itself taking £720,000 from the UK Arts Council – a wing of the British state, which is hardly known for its pacifism.
Back at the Fringe, a closer inspection of any number of flyers that are thrust into your hand on the Royal Mile reveals a small-print thankyou to the English or Scottish Arts Council. 'Those British people or Scottish people are not seen as representatives of their government. And, as with us, they are probably not funded because of their political views, so how can you cancel them or blame them for anything?', Eshet says, noting the irony of it all. 'This is discrimination in the way they're thinking.'
To nominally liberal-minded people, the idea of shutting down cultural events should sit badly. In a feeble attempt to defend itself against charges of censoriousness, or worse, anti-Semitism, the Tricycle offered to make up the funds that the UKJFF had received from the Israeli Embassy, and, in a similarly patronising move, David Greig, a Scottish playwright and one of the signatories to the original open letter against Incubator, has launched a Kickstarter fund that would help Israeli theatre companies make it to the Fringe without needing to touch Netanyahu's grubby cash.
The UKJFF quite rightly declined the Tricycle's offer, and Omer Mor, one of the writers and cast members of The City, is similarly unimpressed by Greig's new funding idea. 'As far as I'm concerned, you can't do anything in Israel without [government] funding', he says. 'All [Greig] is saying is "but, hey, you can come to Edinburgh and perform with us!". That's disturbing.' Eshet interjects: 'He's a hypocrite. He says "I'm for free speech", but not for everybody. Not people from Israel, [not] people who get funding. [This fund] is like bribing somebody to hold his opinions and not other opinions.'
One thing that has been obscured by the boycotters' caterwauling about Israel trying to 'whitewash its crimes with art' is the actual opinions expressed in the art that has been silenced. The UKJFF has always prided itself on offering a diverse range of opinions on the ongoing Israel-Palestine crisis, and The City, a 'hip hop whodunit' about a detective performed entirely in rhyme, is completely apolitical – rather whimsical, in fact. Eshet explains that Israeli funding has no political strings attached: 'I have worked in this world for many years and I have never signed something like that… It's not that we are anti-government, but we started doing satire performances in pubs. We have many people, many ideas. Because, you know, it was satire, a lot of it was against the government policies.'
I raise the also breezed-over fact that Incubator receives funding from a variety of sources, some of which include pro-integrationist groups. Eshet can see where I'm going with this, and is having none of it: 'That really doesn't matter. Even if we were fully funded [by the Israeli government], so what?' Mor chimes in: 'Even if we were political, it doesn't mean that we can't be heard.'
The Incubator guys offer a keen insight into how inherently censorious and illiberal the anti-Israel movement has become. If the Fringe, the Tricycle or any other cultural body wants truly to uphold free speech and free cultural exchange, then they need to defend the right of all opinions, no matter how dubious or state-sanctioned, to be expressed. But, as Mor explains, there is a keen double standard at play in relation to who does and doesn't have the right to share space at the Edinburgh Fringe: 'The protesters' right to demonstrate was respected fully, even more than fully. But they did not respect the public's right to choose what they want to watch or not watch.' Eshet nods: 'That's why boycotts are wrong, because if boycotts are going on, that means their side is heard [but] the other side is not.'
Omer Havron, another of The City's writers and stars, has been quiet up to now. As we unpick the arguments of the boycotters he pipes up, seeming to wonder why any of this happened in the first place: 'It's a hip-hop opera about a detective! A damn good show if you ask me.' His exasperation speaks volumes.
In the end, beneath all the bluster of the BDS lobby, touting the self-serving Western myth that it was in-the-know Hampsteadites shunning South African oranges that really brought down Apartheid, and that a slew of cultural blockades will actually make Netanyahu think twice, is the bare truth: boycotts make absolutely no different to the crises they posture against. If they achieve anything, it is to silence those, like those from Incubator, who hold on to the idea that art and culture can transcend political divides.
Before I leave, Havron has the last word: 'I want to call on every venue at the Fringe who has enough courage to say "I'm against it, and I'm up for freedom of speech" to take our show. We're still here, we could have gone back home to give up, but we still believe in the festival.' Here's hoping his call is answered, lest Incubator becomes another ridiculous but depressing footnote to the luvvies' war on everything Israeli.
Tom Slater is assistant editor at spiked.
To enquire about republishing spiked's content, a right to reply or to request a correction, please contact the managing editor, Viv Regan.