Twin Peaks: this revolution was televised
A new edition of the TV series and its movie prequel reminds us just what a game-changer David Lynch's opus was.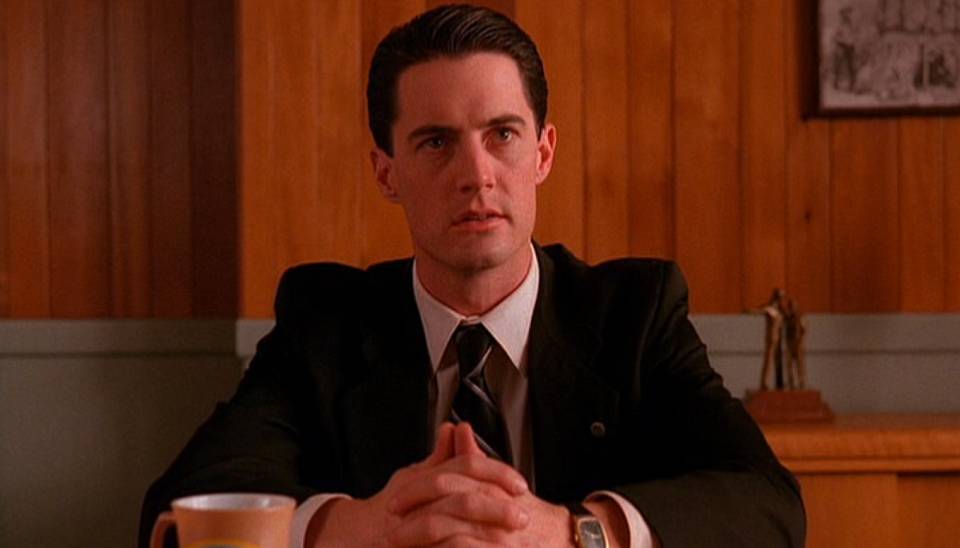 The release of television series Twin Peaks (1990-1) and the related movie, Fire Walk With Me (1992), in Blu-Ray finally brings the story of Laura Palmer's murder to a conclusion. Although the last original material in the story was filmed over 20 years ago, previous releases lacked crucial scenes, which are now released for the first time.
In the late 1980s, Mark Frost (creator of Hill Street Blues) and David Lynch (director of Eraserhead and Dune) pitched to ABC a murder mystery set in Twin Peaks, a fictional town in the Pacific Northwest. Much to the pair's surprise, the project was given the go-ahead. Lynch cast established actors (Piper Laurie, Richard Beymer) and new faces (Sherilyn Fenn, Mädchen Amick) alongside regular collaborators, including Kyle MacLachlan in the central role of Special Agent Dale Cooper. The use of the mountainous, heavily wooded scenery on the Canadian border and a memorable original score by Angelo Badalamenti contributed to Twin Peaks' distinctiveness. Other nice touches, such as incidental shots of windblown pine trees and stoplights swinging in the night sky, added an underlying eeriness.
A series of six episodes was commissioned to follow the pilot. The opening episode aired in April 1990 and caused a sensation, drawing huge ratings and widespread media coverage. The mystery of who killed Laura Palmer made it on to front covers of national publications. Fans started a tradition of having coffee and cherry pie while watching the show, in honour of Cooper's enthusiasms. The blend of murder mystery and soap-opera drama, with elements of cornball humour and arthouse surrealism, marked Twin Peaks as special in an American television landscape grown stale.
Twin Peaks is still important now because not only was it good television – it revolutionised how television was made. The ambition and scope of Twin Peaks – technically and artistically – changed American network television. Each episode had the budget of a TV movie and the production values of a feature film. Lynch's attention to detail, understanding of sound design and innovative editing raised the standard of what was considered possible in television. Lynch and Frost co-wrote the pilot, directed some early episodes and oversaw the production and script decisions, selecting directors for episodes and encouraging them to be creative. The modern American television series as we know it today would not exist in its current form without Twin Peaks.
ABC was nervous about allowing a creative team so much freedom, but it didn't interfere with the first season. However, as the second season went into production, executives warned Frost and Lynch that if the identity of Laura Palmer's killer were not revealed soon, viewers would start to drift away. Reluctantly they agreed and the killer was revealed in episode seven of the season. Unfortunately, because writing and filming took place so close to broadcast, the writers did not have enough time to prepare a compelling alternative storyline for the remaining 15 episodes. Narrative tension inevitably ebbed.
Despite an already large cast, high-profile stars such as Billy Zane and Heather Graham were added in a vain attempt to boost ratings, which changed the show's character, as did the introduction of flippant storylines. Actors felt that Frost and Lynch's temporary departures to work on other projects had left the show in the lurch. There was a sense that Twin Peaks had changed from a unique cultural phenomenon to being just another TV show. ABC shuffled the broadcast time slot, which frustrated viewers and further depressed ratings. By the time the second season finale aired, casual viewers were baffled or bored, and the patience of fans had been stretched to breaking point. Despite a cliffhanger ending, a third season was not commissioned by ABC.
When Lynch, cast and crew reconvened to shoot a feature film (without Frost), there was an air of uncertainty. A number of series regulars declined to participate, disappointed by Twin Peaks' cancellation and concerned about the new script. MacLachlan initially refused to reprise the role of Cooper and was only at the last minute persuaded to put in a short appearance.
Fire Walk With Me was much darker in tone than the series. At the heart of the film is Laura's drug- and drink-fuelled descent into self-abusive oblivion and death, a far cry from the quirky characters and humour of the series. The nudity, sex, violence, drug-taking and sequences of Lynchian surrealism irked critics, and the absence of popular characters alienated Twin Peaks fans. At the premiere in Cannes, the audience booed and critics were savage. Critical mauling and poor box-office returns meant that two further planned films had to be abandoned.
However, the movie has been reassessed more favourably in recent years. It may be that, along with Blue Velvet, Fire Walk With Me will turn out to be Lynch's most compelling film. Driven by Sheryl Lee's ferocious and brave performance as Laura Palmer, the film is essentially a character study of a person both abused and abusing. Laura is a victim who is ultimately unable to save herself or escape her fate. The weird beauty of Lynch's visuals and the power of Lee's performance make Fire Walk With Me exciting and gruelling viewing. The film's major weakness is that knowledge of the series is a prerequisite for understanding it. The series (at least season one and the first part of season two) needs to be viewed before the movie, although chronologically the movie is a prequel.
Numerous scenes involving popular series characters were filmed but not included in the final cut of Fire Walk With Me. For years fans lobbied for the release of the deleted scenes, circulating petitions and writing letters to studio executives. Rights issues and the reluctance of financiers to back the expensive post-production to Lynch's exacting standards meant that the deleted scenes had seemed destined to remain in limbo. Until now.
The release of Twin Peaks: The Entire Mystery brings series and movie together in one set for the first time. The 10-disc set includes the television series, movie, trailers, documentaries, interviews and those scenes missing from the movie. The deleted scenes have not been edited into the theatrical cut and stand alone as a 90-minute sequence, nearly a movie in itself. The remastered transfer of 35mm original footage looks as crisp and colour-dense as a feature film and the sound mixes will satisfy audiophiles.
This release could be seen as an example of a tendency in the entertainment industry to cash in on fans' loyalty by releasing and repackaging classics in box sets, augmenting them with extras, fancy artwork and collectibles. Following not too far behind the 'gold set' of Twin Peaks DVDs, which was promoted at the time as 'the ultimate edition', The Entire Mystery seems to conform to that practice. However, this set does include the deleted scenes which needed costly post-production and makes Twin Peaks available in Blu-Ray format for the first time. The release of the movie's deleted scenes will bring closure to diehard fans, who can see their favourite characters again and bid them farewell. For others, this set makes the ideal way to appreciate the haunting depiction of personal disintegration committed to film in Fire Walk With Me.
Alexander Adams is a writer and art critic based in Berlin. He writes for Apollo, the Art Newspaper and the Jackdaw. His book The Crows of Berlin is published by Pig Ear Press. (Order this book from Pig Ear Press bookshop.)
To enquire about republishing spiked's content, a right to reply or to request a correction, please contact the managing editor, Viv Regan.