The barbarism of liberal intervention
In Libya, the consequences of PR-driven, feel-good foreign policy are writ large.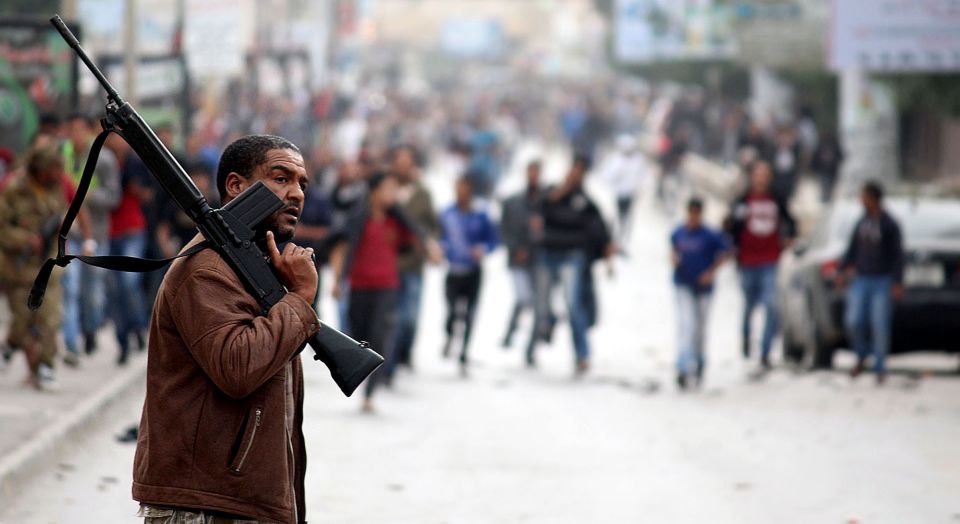 Libya is in chaos. Its capital, Tripoli, and second largest city, Benghazi, have been turned into battlegrounds for rival militias. Meanwhile, the government, fresh off the back of yet more elections in June, is as impotent as it has ever been. There is no central source of authority, and no prospect of order, in this fragmenting territory. Libyans with the means to do so are fleeing the country. Many are not so fortunate.
And what of the Western states so implicated in this rulerless, lawless mess? What are Britain, France and the US doing? After all, it was thanks to their aerial intervention three years ago that Libya found itself without the brutalising force of Colonel Gaddafi, which had maintained order for so long. Surely the likes of UK prime minister David Cameron or US president Barack Obama are taking some responsibility for the nightmare now unfolding in Libya? Well, no, they're not; they're steadfastly ignoring it. The British and American military have been back to Libya, but that was just to aid the exodus of British and American citizens. Western leaders have almost completely withdrawn from Libya – diplomatically, militarily and emotionally. As far as they're concerned, it is no longer their problem. 'The outside world has thrown in the towel on Libya', notes one reporter.
But of course it is their problem. Back in 2011, Cameron, Obama and then French President Nikolas Sarkozy were all too keen to be seen as responsible for Gaddafi's collapse. It was their moment in the sun, their chance to bask in the glory of a tyrant's overthrow. After bombing Gaddafi's forces into submission in March 2011, Obama was all too keen to trumpet America's role. 'We have intervened to stop a massacre', he announced to the American nation, 'and we will work with our allies and partners to maintain the safety of civilians'.
If Obama enjoyed the reflected glory of Gaddafi's defeat, Cameron and Sarkozy revelled in it. In a joint trip to Tripoli in September 2011, a grinning, pink-faced Cameron told the assembled press ranks 'what an honour it is to be here in Tripoli with you to see how the Libyan people are taking their country back and taking it forward to a new era'. It's a wonder Cameron's pride didn't burst its banks. 'I am hugely impressed by what I have seen', he continued, 'and I am very proud to be standing here'.
But this was the first flush of post-Gaddafi Libya. This was Cameron's, Sarkozy's and Obama's chance to play up a success, to rake in the domestic plaudits for an ethical, foreign-policy intervention well done. This was their George W Bush moment, their chance to stand up and declare 'mission accomplished'.
It's just that, like Bush junior's infamous 2003 verdict on Iraq, the mission was far from accomplished. Since the overthrow and killing of Gaddafi in September 2011, Libya has descended into a bloody, lawless nightmare. There have been assorted transitional governments, and there have been assorted elections. But with the politicians, many returning from years in exile, having little support among a populace showing an ever-diminishing interest in voting (fewer than half of those eligible voted in June), the governments, such as they are, have no authority. As one observer noted last November: 'Libya's government has money, but no ability to spend it. The General National Congress, a constitutional assembly which has neither made advances on the constitution nor advanced legislation, mostly gets in the way of [the prime minister's] initiatives. Central ministries are helpless.'
In the absence of the central, cohering force of anything like a Libyan state, regional and tribal factions, some Islamist, others not, but each with their own militias, have emerged to fill the vacuum. Indeed, the Libyan government is largely in thrall to these militias. As one analyst put it: 'The [fighting] is the product of the central government appeasing the militias and caving in to all their demands, such that the militias have all the power and central government is essentially non-existent.'
Be in no doubt: Libya today, three years on from its 'liberation', is in a ruinous position. Infrastructure is broken. Oil exports, the key to Libya's economy, are down from 1.4million barrels a day in 2011 to 235,000 barrels a day. Militia-run prisons are overflowing with inmates, many on trumped-up charges. And whole townships, such as the 40,000 people driven from Tawergha near Misrata, have been displaced. And as Libya unravels, its problems spill out and over into neighbouring countries, with ex-Gaddafi fighters from Mali returning home to embolden rebels in the region, turning the area into 'safe haven for radical Islamists' (See Quit your crying, Cameron – you boosted Boko Haram, by Brendan O'Neill).
But what is most unsettling about the chaos unleashed in Libya by clueless Western intervention is that it was entirely predictable. From Iraq to Afghanistan, the road to Libya was littered with the results of the West's 'good intentions'. And yet still the desire to posture, to demonstrate moral authority in far-off places, ideally over the dead body of a Really Bad Man, was too strong. There was never a good material, geopolitical reason for getting stuck into Libya. It was all about looking and feeling morally good, all about bolstering politicians' domestic esteem. Hence, intervention-friendly commentators cheered the heroic stopping of the 'Butcher of Benghazi', and praised Cameron for 'salvaging the principle of liberal interventionism'. And the politicians, in turn, puffed themselves up as liberators, heroes, good guys. That is, despite the lessons on offer in Iraq or Afghanistan, despite the clear evidence that you can't bomb people to freedom and can't simply give people democracy or liberty, despite the fact that people need to win their own freedom and need to constitute themselves as a people, with shared interests and aims, Cameron et al still decided that the chance to look good, to be seen on BBC News to be doing the right thing, was more important. Once again, Western states piled in, thoughtlessly and aimlessly, and once again they created a mess, the devastating effects of which will be felt for years.
Criticism of the Libyan intervention is not a question of being wise after the event: it should have been easy to be wise before the event. As Brendan O'Neill wrote on spiked in March 2011, while Western fighter planes were still dropping freedom from on high, it was obvious that this 'barbarism of buffoons' was going to end in disaster: 'Driven more by short-term desperation than the "long view", more by a desire for quick and painless political pay-offs than by a careful weighing up of interests and consequences, Western governments have turned Libya into a stage for a politically shallow yet deeply destructive form of moral posturing.'
Now that we can see just how deeply destructive this moral posturing is, there needs to be a reckoning, a meaningful debate about the dangers of Western intervention in other people's affairs.
Tim Black is deputy editor at spiked.
To enquire about republishing spiked's content, a right to reply or to request a correction, please contact the managing editor, Viv Regan.