Sisi: groping for Western approval
The real target of the Egyptian dictator's clampdown on sexual harassment is political dissent.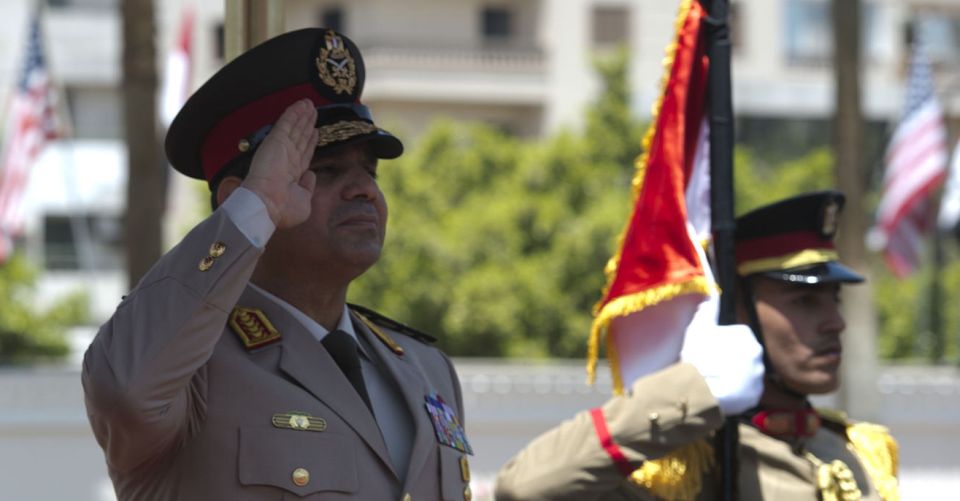 In recent weeks, Egyptian dictator-cum-president Abdel Fattah al-Sisi has been receiving praise from some unlikely quarters. His introduction of Egypt's first laws against sexual harassment have been greeted by feminists and liberal, Western observers as a bold and progressive move to stem the endemic sexual harassment that is apparently plaguing Egyptian society. Egypt, we are told by Western NGOs, has a deeply rooted disdain for women, one that has a propensity to manifest itself in the groping of women in crowded public places. Such assaults have been particularly rife during the mass protests that have taken place since the Arab Spring.
The new legislation was rushed through by Sisi's regime after his inauguration, when it emerged that there had been several assaults on women in the crowd that gathered to watch the ceremony. Sisi was quick to act: the following day, at a staged photo-op, he brought flowers to a woman who had been hospitalised after being attacked in Tahrir Square during his inauguration. By the woman's bedside he announced to the gathered press that his government would be setting up a task force to tackle such assaults, and instructed police to prioritise enforcing them. The new law would replace legislation which criminalised 'indecent assault' with the broader and ill-defined crime of 'sexual harassment'.
Sisi's sudden concern for the bodily integrity of Egypt's women seems strange in light of comments he made in 2012. Then a high-ranking general in the Egyptian army, he defended the practice of soldiers administering forced virginity tests to women in custody in order to protect his men from rape accusations.
Western newspapers, including the Guardian, welcomed the news of the new legislation, but expressed concern that Sisi may just be paying lip-service to the issue and said he would fail to enforce the new laws. They need not have worried: in the weeks since his inauguration, seven men have been sentenced to life in prison for the assault on the woman he visited in hospital.
Sisi is no doubt courting Western favour with these new laws. After sweeping to power in a bloody military coup against the democratically elected, albeit religiously conservative, Muslim Brotherhood government, Sisi received immediate support from the United States and the EU, among others. However, after heralding him as the restorer of freedom to Egypt, the Western powers were put in a somewhat awkward position when he promptly began massacring thousands of opposition protesters on the streets of Cairo, locking up unknown thousands of political rivals and sentencing many of them to death in mass show trials.
The US, assuming this was just a momentary lapse in judgement by an otherwise smashing bloke, chose to continue supporting Sisi's coup over the deposed democratic government. US officials must have felt vindicated when Sisi won the subsequent presidential election by the suspiciously high margin of 97 per cent. In a statement after the election, the White House said President Obama was looking forward to working with Sisi and that 'Egypt's Presidential Electoral Commission administered the election professionally and in line with Egyptian laws'. However, the statement also contained a thinly veiled warning to Sisi: 'We urge the president-elect and the government to adopt the reforms that are needed to govern with accountability and transparency, ensure justice for every individual and demonstrate a commitment to the protection of the universal rights of all Egyptians.'
And what better way to appease Western liberals, worried about having cosied up to a mass-murdering tyrant, than to champion that favourite cause of Western elites: the victimhood of women. The characterisation of assaults as being in crowded public places also gives Sisi a legitimate reason in the eyes of the West to brutally crack down on any public gatherings. The fact that many of his political rivals are angry, bearded, Muslim men means that few in the West will be likely to challenge such repression. Sexual-harassment laws in the West are becoming ever more authoritarian in nature, allowing the state to encroach further and further into the realms of the workplace and our private relationships; why would we expect such laws to have a progressive effect in Egypt?
Far from being an out-of-character policy for Sisi's otherwise brutal regime, the new laws chime perfectly with his totalitarianism. He can both present himself to the West as having made liberal reforms, while simultaneously using the issue of women's safety as a smokescreen for any future crackdown on dissent.
To enquire about republishing spiked's content, a right to reply or to request a correction, please contact the managing editor, Viv Regan.