Neymargeddon: Brazil's Messiah forsakes them
It wasn't Neymar wot lost it; it was Brazil's spiritual reliance on him.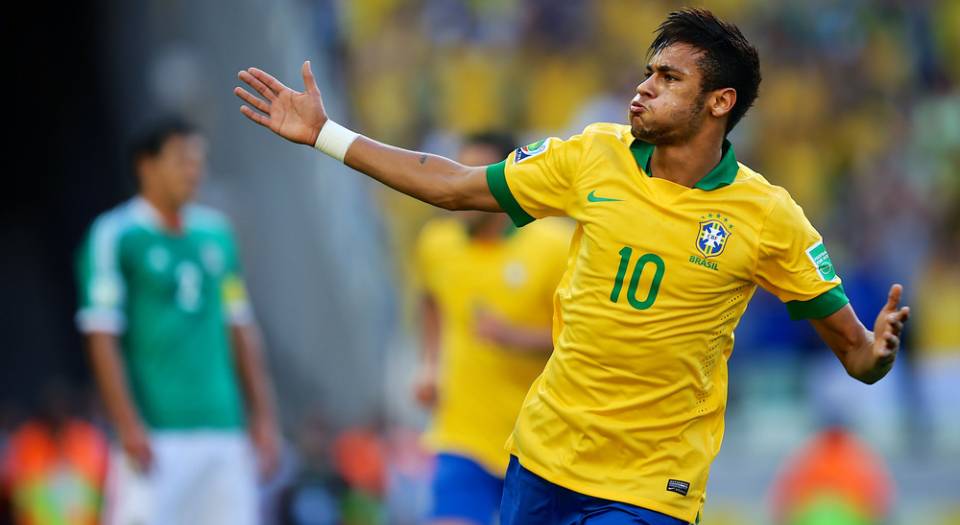 Watching Brazil's gutless capitulation to Germany, I couldn't help but thinking that Neymar was to blame. Or, to be more precise, the myth of Neymar. The nation itself had been in a state of mourning ever since the player was stretchered off in the game against Colombia. Although he was physically absent from the semi-final, Neymar was also omnipresent. His spectre haunted the Mineirão stadium in Belo Horizonte. Thousands of fans sported Neymar masks and chanted his name. Some clutched Neymar replica shirts as though they were rosary beads. The players wore 'Forca Neymar' baseball caps and held up his shirt during the anthems. Neymar wasn't just a talented footballer, he was idolised and mythologised. By indulging in the cult of Neymar, the players persuaded themselves that, without him, they were nothing; that they were destined to lose. Is it any surprise that this became a self-fulfilling prophesy? It was a funeral waiting to happen. Or to put it in tabloidese, it was Neymargeddon.
The fetishisation of Neymar is perhaps understandable given that this is possibly the most functional Brazil squad we've ever seen. Neymar was elevated into an übermensch who was somehow expected to transform an unexceptional group of players into World Cup winners. But to invest so much faith in a 22-year-old is to undervalue and, I would argue, undermine the collective ethos. Clearly Neymar is an outstanding talent, a player capable of moments of game-changing brilliance. But he isn't Brazil's only player. His absence doesn't excuse the most astonishing display of defensive ill-discipline, disorganisation and incompetence I've seen at a World Cup semi-final. Before the match, Jose Mourinho quite rightly highlighted the absence of the suspended Thiago Silva as crucial. 'I would say that Thiago Silva in this moment is so more important than Neymar in the team', said the Special One. 'His absence is an important absence because Brazil's game is based on their defensive structure where Thiago Silva gives great stability to the team.'
Brazilians are still struggling to come to terms with what they witnessed. The game was lost in a crazy six-minute spell in the first half during which Germany scored 4 goals. Felipe Scolari, Brazil's coach, said that his team had 'blacked out' during those fateful few minutes. In other words, they panicked, choked, bottled it. The team had struggled to control their emotions all through the tournament. On Tuesday night they suffered a full-blown psychological meltdown. I don't know how Scolari prepared his troops, but it's clear that, whatever he said, the absence of Neymar fuelled their fear and self-doubt.
Compare the outpouring of Brazilian grief at Neymar's absence with the stoic German reaction to the ankle injury to Marco Reus, the Bundesliga's player of the season, which ruled him out of the tournament. 'We have a great deal of quality in that position behind the forwards', coach Joachim Löew told journalists. 'We've got enough alternatives with Lukas Podolski, André Schürrle, Mario Göetze, Thomas Müller, Mesut Özil, Julian Draxler and Toni Kroos.' Of course, Germany are far less reliant on Reus than Brazil are on Neymar, but if you look at Scolari's squad, it's full of experienced players who ply their trade at elite European clubs. They really ought not to have performed like a pub team. If Brazil had put their faith in the ethos of the team, instead of mawkishly grieving over their injured talisman, they might have fared better. But instead the players paraded his shirt like a religious relic. They bought into the Neymar myth. And when their composure deserted them, there was no Messiah to save them.
Mind games
Did Louis Van Gaal's decision to bring on goalkeeper Tim Krul for the penalty shootout win the quarter-final for the Netherlands? Krul saved two penalties and the Dutch went through, so you'd have to conclude that the substitution was a tactical masterstroke. Van Gaal claims that the tactic was premeditated, that the Dutch coaching team had decided on the keeper swap because Krul had a 'longer reach'. Maybe Krul's reach did make the difference. It's all about marginal gains, as British cycling supremo Dave Brailsford might say. But I suspect that the substitution gave the Dutch more of a psychological advantage than a physical one. In short, the introduction of Krul spooked the Costa Rican players.
The Newcastle keeper's antics during the shootout were clearly designed to unsettle the Costa Rican players. He told each player that he knew which side they were going to put their spot kicks. And it did the trick. The composure they had displayed in their shootout against Greece evaporated. Krul was widely criticised for 'unsporting behaviour', but the player has defended his actions. 'I don't think I did anything wrong', he told a press conference. 'I did nothing crazy. I didn't shout in an aggressive manner. I told them I knew where they were going because I had analysed it. I was trying to get in their heads and it worked.' Personally, I can't see what all the fuss is about. Penalty shootouts are the ultimate test of mental strength, and I think it's perfectly legitimate to attempt to psyche out your opponent. Remember Bruce Grobbelaar's wobbly leg routine in the 1984 European Cup Final shootout? Liverpool won the shootout. Jerzy Dudek repeated the trick in the 2005 Champions League final and the Reds once again triumphed. I don't remember anyone complaining about unsporting behaviour at the time.
But even if Krul hadn't indulged in mind games, the very act of substituting the keeper in the last minute must have played on the Costa Rican players' minds. It brings back painful memories of the 1996 First Division play-off final between Crystal Palace and Leicester. In the dying minutes of extra time, with the score at 1-1 and penalties looming, Martin O'Neill replaced his first choice goalkeeper, Kevin Poole, with the six-foot seven-inches Aussie keeper Zlatko Kalac. It was surreal, like a scene from a David Lynch film in which a freakishly tall man suddenly appears. As the towering Kalac strode onto the pitch the Palace fans started booing, as if to say: 'It's not fair, you can't bring on a giant.' I'm no mind reader, but I reckon it was the substitution wot won it. The Palace players must have been distracted as, seconds later, the ball looped off of Steve Claridge's shin and into the net. Game over. The man nicknamed the Spider had spooked the Palace players. Just like Van Gaal's bold move to bring on Krul, O'Neill's decision to throw on a giant was a managerial masterstroke. Maybe there's an international future for Peter Crouch after all.
Duleep Allirajah is spiked's sports columnist. Follow him on Twitter @DuleepOffside.
To enquire about republishing spiked's content, a right to reply or to request a correction, please contact the managing editor, Viv Regan.