Lana Del Rey: pretender to the pop throne?
The main problem with Lana Del Rey is that her music's just a bit crap.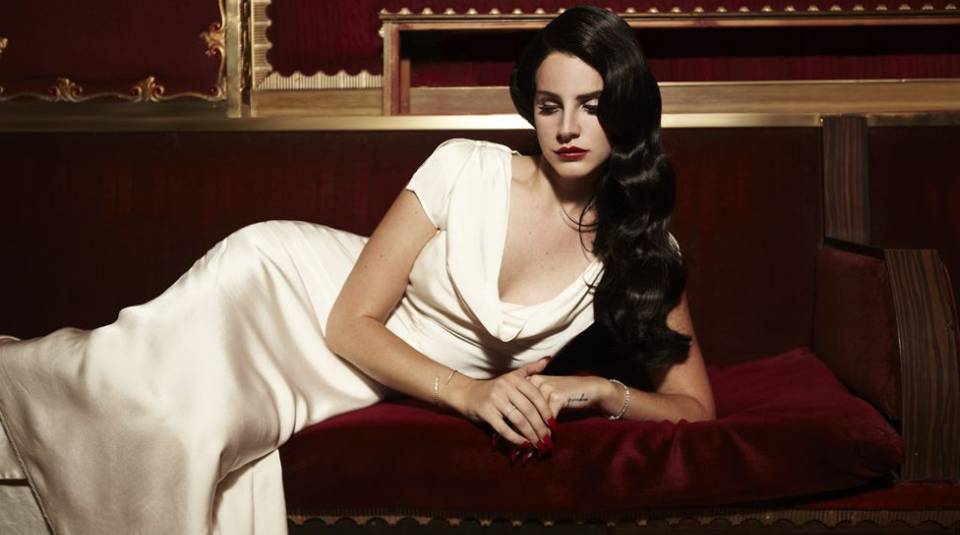 You know pop music is in a strange place when someone as mediocre as Lana Del Rey becomes genuinely divisive. Since emerging in 2011, fully formed with a DIY-style video for her Baroque-pop smash 'Video Games', she's been treasured and then trashed. Born To Die, her debut album as Del Rey, sold seven million copies. Her rise to fame was flawless, in spite of constant probing about her authenticity, her penchant for being choked in her music videos and the strength of her voice.
In 2010, she released one bland album under her own name, Lizzie Grant, before she wiped the slate clean, deleted her old material from iTunes and relaunched herself as a 'gangsta Nancy Sinatra' – a heartland bad girl in Daisy Duke shorts with a taste for bourbon and older men. Her music was cinematic, melancholic yet pretty catchy, propelled by 808 drumbeats and glossed with vintage Bond theme strings. She appeared a new cross-over force in pop: glamorous, artsy and 'real'.
But when music hacks sniffed out her previous material, found out she was the daughter of a dot-com New York millionaire, clearly had major label backing, and, with one crushing Saturday Night Live performance, realised she was seemingly incapable of carrying a tune outside of the recording booth, they smelt a rat.
Del Rey went from blogosphere darling to heretic in a matter of weeks, her rise recast as a rouse to lure hapless musos into liking another manufactured pop princess. But does any of that really matter? From Motown to Madonna, some of the best pop music has been made by committee. And some of the greatest pop icons have built their legends on complete lies. Bob Dylan used to claim he ran away from the circus – he, in fact, dropped out of college. No one believed for a second that Michael Jackson really was 'bad'. Whether or not Del Rey really did ride around in the back of an Al Camino with drug dealers is beside the point.
In truth, her only crime was not living up to the hype. She presented herself as the next consummate pop star; the next MJ, Madge, Kate Bush or Prince – someone who could mix style with substance, be pleasing, and yet challenging, on the ear. As her new album, Ultraviolence, proves, she's easily one of the most distinct voices in chart pop today, but one that still, like that teeth-grinding SNL debut, falls flat.
Like Born To Die, Ultraviolence sees Lana rinse her own well-worn lyrical clichés to the point of self-parody. The opener, Cruel World, gives you all you need to know about this album, or any Lana Del Rey song for that matter. There's a party going on. She's slipped into her 'little red party dress'. Her boyfriend's a wrong 'un, but she's even worse. There's booze, there's even some heroin(!), and a lot of other suitably damaged women cavorting about. The end. After nearly seven minutes.
Del Rey persists to trot out the same 2D character for another 10 tracks. The title cut is the most overdone, painting a picture of woman so lost in a tempestuous relationship that violence has become a display of affection: 'He hit me and it felt like a kiss', she breathily sings over the ghostly chorus. Some have taken issue with Del Rey's 'message', the fact that she doesn't think feminism is an 'interesting concept' and revels in a vision of womanhood helplessly beholden to male passions. But it's all too cartoonish, too synthetically 'deep' to be convincing – let alone troubling.
Dan Auerbach, one half of US garage duo The Black Keys, produced most of the album. He drops the lush arrangements and the hip-hop rhythms for reverb-soaked guitars, swelling organ and muffled drums. It's an elegant, hypnotic mix, but it becomes about as potent as a double-dose of Nytol when combined with Del Rey's repetitive lyrical sketches and purring, breathy vocals, so washed out in reverb they slowly mush into the instrumentation. As the album plods on, you find yourself longing for a good, sharp kick drum to force you out of the candy-coated haze of it all.
There are points where it all comes together. The brooding verse of 'West Coast' plods to a stop before it explodes into the chorus, by means of a twanging quotation of the riff from Blondie's 'Atomic'. Lana's layered vocals soar alongside surging tremolo chords. But the best is saved till last, with a cover of 'The Other Woman'. Penned by Jessie May Robinson and performed by one of Del Rey's heroes, Nina Simone, it's a devastating ode to the glamour and heartbreak of an affair, offering a melancholic yet humane look at a complex situation that Del Rey is elsewhere unable to achieve.
It's hardly surprising that Ultraviolence is another trying dirge. Even in her blog-darling days, Del Rey was all melodrama and no heart, a Kerouac muse, as interpreted by a 14-year-old. But one has to wonder if it's all her fault. Her music's beset by some of the trends that have sucked a lot of the fun out of pop music. Nowadays, with binge-drinking and mental-health panics going hand in hand, and the increasing portrayal of young love as something potentially dangerous, youthful hedonism has become something troublesome, wont to leave a trail of heartbreak and destruction. Lana's shallow 'we're all a bit damaged and crazy' shtick is sadly all too familiar. Perhaps, in the end, she's more a pop star for this age than we'd like to think.
Tom Slater is assistant editor at spiked.
To enquire about republishing spiked's content, a right to reply or to request a correction, please contact the managing editor, Viv Regan.