Scout Willis: is the nipple political?
#FreeTheNipple exposes how vain online activism has become.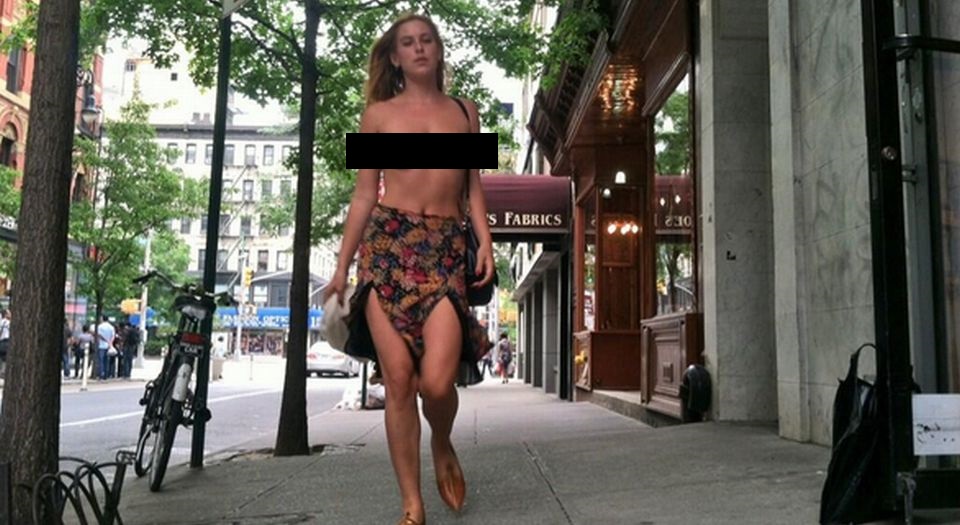 On Twitter, a day can feel like an age. With so much bullshit flying around, if you stay off it for a few hours you may well miss 10 different non-scandals that have enraged the Twittersphere before fading away again without a trace. It's strange, then, that more than a week after Scout Willis, the 22-year-old actress and eldest daughter of Bruce Willis and Demi Moore, posted pictures of herself walking topless around Manhattan, in protest at Instagram blocking her account for posting similarly risqué snaps, she's still sparking debate across the web.
It all started when Ms Willis posted on Instagram a shot of a jacket she designed, which had an image of two bare-chested women on the back. Falling foul of Instagram's stringent no-nudity policy, presumably aimed at stopping the social network from being reduced to another soft-porn hub, the image was deleted and Willis's account was suspended. In protest, she took off her top and took to the streets, tweeting the pictures with the hashtag #FreeTheNipple, to make the point that while it is perfectly legal for women to walk down the streets of New York with their nips on show, it is forbidden by the prudish gatekeepers at Instagram.
Bringing together the two best ingredients for a bit of sidebar-of-shame shine – nudity and vapid celeb self-obsession – Willis's protest quickly set the internet on fire. But there was something more to this story – a grain of almost-substance that has meant that Scout has stayed on the trend list for much longer than expected. For this was not one bratty sleb's fight against a social-networking site; no, it was apparently the start of a gender-politics revolution.
On Monday, Willis wrote a blog post defending herself against those who took her stunt to be sheer exhibitionism. She insisted that, even without realising it herself, she was taking on something bigger. 'What began as a challenge to Instagram and its prejudiced community guidelines became an opportunity for dialogue', she wrote. 'What I am arguing for is a woman's right to choose how she represents her body.'
As Willis concedes, #FreeTheNipple is a campaign, both online and off, that has been raging quietly for a few years now. Through a series of stunts, it has called for the bans which still exist in 37 US states on women going topless in public to be lifted. Willis's intervention has given the campaign a new lease of life: Rihanna has pledged her support, after almost being kicked off Instagram herself for posting pictures from a raunchy French cover shoot; scores of supporters have got their baps out for the cause on Twitter; and a topless protest in solidarity with Scout was mounted in New York over the weekend.
The spectacle has left feminist commentators on uncertain ground. In a strange way, Willis's intervention cuts right to the heart of the contradictions of modern feminism. While feminists today pay lip service to female physical and sexual autonomy, they have also become increasingly prudish.
Campaigns against lads' mags and the topless Page 3 feature in a UK tabloid, the Sun, have been propagated under the idea that female nudity is always, inevitably, another tentacle of patriarchal control. Meanwhile, Miley Cyrus's transformation from heiress-next-door to a half-naked wrecking-ball-straddling hot mess was treated by many feminists as the inevitable outcome of a pimp-like entertainment industry.
Well-read feminist blogs such as Feministing.com came out in support of Willis, while others suggested her stunt only highlighted her shallow understanding of gender politics. In the end, the tone seemed to be 'good job, but try harder', as best summed by Jamie Peck in the Guardian: 'There's nothing wrong with nipples, but they're hardly the only entities that need freeing.'
Putting the merits of Scout Willis's accidental stand against patriarchy to one side for a moment, the accusation that she is being either attention-seeking or simply superficial in her protest seems a little rich. Indeed, most online campaigning, e-petitioning and hashtagtivism is mired in selfie-snapping narcissism. Recent right-on Twitter phenomena like the #BringBackOurGirls campaign against Islamist group Boko Haram's kidnap of schoolgirls in Nigeria, or the #NoMakeUpSelfie campaign for cancer research, were also pretty shallow – an exercise in flaunting one's awareness of 'the issues' in place of doing anything about them. By today's standards, Willis is a bona fide revolutionary, in the sense that she at least ventured outside and took her top off.
It's astonishing how exhibitionist people have become online: the nude shots, the after-sex selfies (yep, that's a thing), not to mention the constant parade of snaps from a sozzled night out that serve only to broadcast how bloody mental someone has been while blighting their future employment prospects. And much online activism stems from the same narcissistic place – it's a waggling of one's political bits in a desperate plea for 'likes', retweets and validation. If Willis's 'protest' is to be credited with anything, it should be that it has brought the self-obsessed vacuity of most hashtag warriors to light – something we should bear in mind when the next Twitter campaign inevitably rolls along.
Tom Slater is assistant editor at spiked.
To enquire about republishing spiked's content, a right to reply or to request a correction, please contact the managing editor, Viv Regan.