Godzilla: a monster of Mother Nature
Gareth Edwards' monstrous reboot takes the green-leaning sentiment of Godzilla to new heights.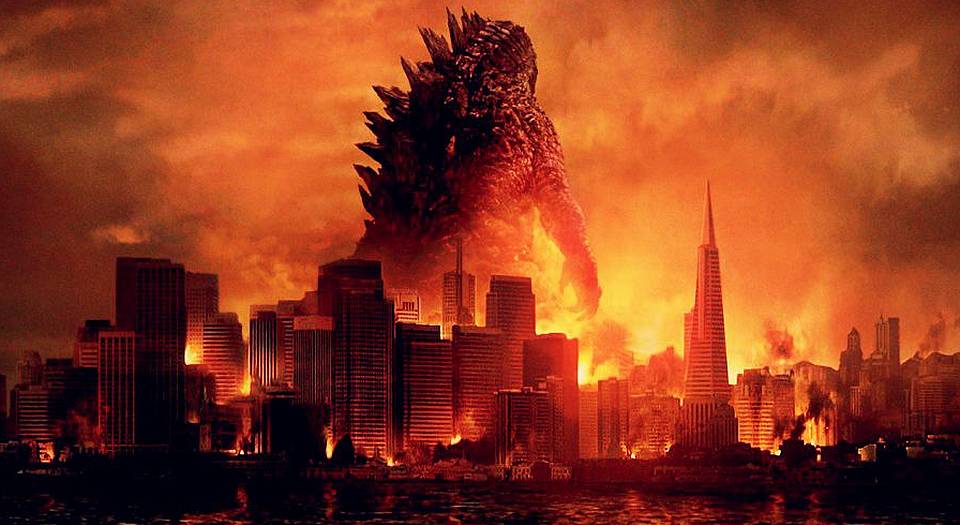 From his first appearance in Ishiro Honda's solemn Japanese original through to Gareth Edwards' new eye-popping reboot, Godzilla was always less a vicious beast with a taste for carnage than a clumsy oaf born of society's deepest anxieties. An existential crisis played out each time Godzilla waddled downtown: Honda's film, made in the aftermath of Nagasaki and Hiroshima, explored the fears surrounding the nuclear age; Roland Emmerich's 1998 US remake played on all our fears that Ferris Bueller was actually a shit actor after all; and now we have Edwards' contribution, which explores the Godzilla legend through the lens of modern environmentalism.
Edwards, the acclaimed box-bedroom director of 2010's shoestring-made Monsters, takes to the subject with all the tenacity of a fan boy with a big-studio budget. The wry opening sequence, a mix of stock footage and CGI, shows the military's first attempt to snuff out the beast in the 1950s, under the cover of the Pacific nuclear tests. We then flash forward to late-Nineties Japan, with Joe Brody (Bryan Cranston), a workaholic nuclear engineer at the Janjira plant, smelling trouble ahead.
With shades of the Fukushima disaster, what appears first as an earthquake lays waste to the plant, taking with it the life of Brody's wife, Sandra (Juliette Binoche). Brody, fuelled by guilt, devotes the next 15 years to sniffing out what really happened, as his son, Ford (Aaron Taylor-Johnson), heads back to the states, starts a family, joins the Navy and moves on.
Edwards is right to keep the monsters at bay, or at least just out of sight in the opening act. Any great monster movie is only as good as the characters who run away from the beast. The characters here just aren't that good. Cranston plays the affable pop-turned-unhinged-conspiracy-theorist with ease, but even his considerable tragi-comic chops can't chomp through the lazy scripting. 'You're mother's still out there, Ford', he says, gesturing to the wreckage of the plant, in one of many lame tugs at the heartstrings. Meanwhile, Taylor-Johnson's character has about 20 minutes of macho-man-with-abandonment-issues before he slips into being merely a pair of broad shoulders on which to carry the film into the smash-bang-wallop section of the proceedings.
Here's where everything gets a little silly. And not in a good way. Godzilla, it turns out, is really only the third-wheel to the mating dance of two other H R Giger-esque beasts called MUTOs (Massive Unidentified Terrestrial Organisms), who have awakened from their pre-historic slumber to reclaim the earth. For in Edwards' rendering, Godzilla and his ilk are not nuclear freaks but wholly natural ancient beings just a little out of time. The destruction they mete out to society is presented not as the destructive backlash of man's nuclear experiments, but a kind of Darwinian check on human progress altogether, summed up perfectly by the wise-seeming asides of Ken Watanabe's scientist: 'The arrogance of man is thinking nature is in our control.'
As Godzilla and the MUTOs duke it out in San Francisco, destroying everything in their path – a battle, in our Ken's words, to 'restore balance' to nature – you see how unhinged the environmentalist argument has become. In the completely baseless arguments that have been made of late about natural disasters being some kind of ironical backlash against humanity's carbon-huffing temerity, a check on a society that has gotten too big for its boots, the medieval idea of Mother Nature as some sort of semi-sentient force has been revived.
Whether or not people thought it was humanity's right to use and cultivate nature to suit our desires and needs, the idea that man was ultimately in control of what happened to the natural world, for better or worse, was central to the discussion. Honda's 1954 Godzilla concerned itself with the fear that, in developing nuclear weapons, human ingenuity had gone too far – a reasonably acceptable concern given the then recent events. In Edwards' vision, however, human progress and development is merely a trifle that neither Gaia nor Godzilla will tolerate any longer.
It is only when all the one-liner moralising, not to mention the balsa-wood characters, takes a backseat, and the CGI fracas is allowed to unfurl, that the film really picks up. Suspending your disbelief is oddly enough a lot easier when all you've got to deal with is scaly monsters battering each other with chunks of skyscraper.
In his latest outing, Godzilla looks greener than ever – and the result borders on the laughable.
Tom Slater is assistant editor at spiked.
Watch the trailer for Godzilla:
To enquire about republishing spiked's content, a right to reply or to request a correction, please contact the managing editor, Viv Regan.