Labour: minimum wage, minimum aspiration
Leader Ed Miliband's latest big idea is not as radical as he thinks.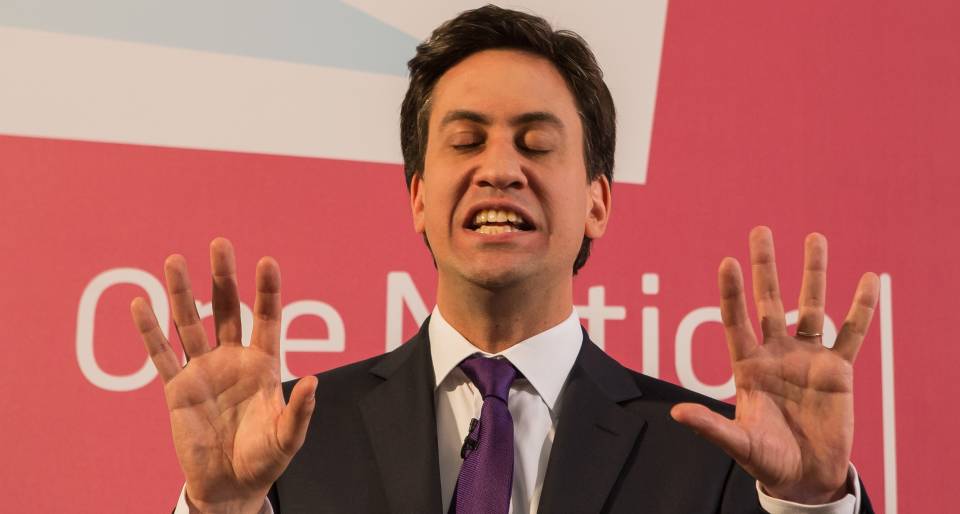 Perhaps the Labour Party's low-key approach to this Thursday's European and local council elections is a part of some tactical master plan dreamt up by David Axelrod, Labour's shiny new 'strategic adviser' and the organisational force behind Barack Obama's successful 2008 US election campaign. Perhaps Axelrod took one look at Labour leader Ed Miliband, a man with as much popular appeal as a runny nose, and thought the party's best hope lay in hiding him from view. Absence makes the electorate grow fonder and all that.
Still, eventually Labour had to do something. Its leading figures may have thought that it was a good idea, given New Labour's less-than-stellar legacy, just to wait for people to grow to dislike the Tories rather than put Labour itself out there. But it's not quite working out as they imagined. The Tories are certainly not a powerful electoral force, but Labour is now actually behind in some opinion polls and the General Election is just a year away.
So, like a fading rock band struggling to win over fans old and new with their latest noodling, Labour has decided to play what amounts to an old classic: the national minimum wage, a policy tune first pushed in the mid-1990s, and one to which people at least know the words. In fact, as Miliband's predecessor Gordon Brown discovered at the 2009 Labour Party conference, the national minimum wage was just about the only achievement of Labour's then 12-year reign that party members were prepared to greet with something that sounded like a big, unashamed cheer.
Labour even has a brand spanking new review of the national minimum wage, undertaken by former KPMG executive Alan Buckle, to accompany its big policy (re)announcement. The new electoral selling point is the recommendation that the minimum wage be linked to median earnings, rather than be set according to what the economy can afford. Miliband clearly found this inspirational. 'It is time to raise our sights again because Britain can do better than this', he said. 'The next Labour government will restore the link between hard work and building a decent life for your family.' Speaking on Radio 4's Today programme, Miliband even gave the heart strings a good old tug: '[Buckle's minimum wage proposal] gets at a terrible scandal in this country of five million in low-paid work unable to make ends meet. We have got to tackle it and I just don't think we can carry on as we are. The minimum wage has done a good job in tackling the worst of exploitation but we have now got to tackle low pay.'
But there is a bit of a problem for Miliband if he thinks talk of raising the minimum wage, even with a link to median earnings, will set voters' pulses racing. The Tories and the Lib Dems have also expressed support for raising the minimum wage. Indeed, the Tories and the Lib Dems have also expressed support for the so-called living wage (which would be even higher than the minimum wage, but would not be legally enforced). It is now one of those policies around which an aura of virtue hangs. You're more likely to get a Conservative minister calling for a return of the death penalty than challenging the idea of raising the minimum wage, let alone, as once might have been the case, abolishing it.
Yet the national minimum wage is an idea that should be questioned, that should be challenged. Not because it could be too high, as bosses concerned about wage increases contend. No, the problem with the idea of a minimum wage, or a living wage, is not that it is too high, or that it is too low. The problem, rather, is the very idea that it should be determined by a small group of de facto experts, be it the academics, trade unionists and consultants sat on the Low Pay Commission, or Alan Buckle and his team for the Labour Party.
An increase in the minimum wage, say from its current £6.31 per hour setting to over £7 per hour, would certainly make a difference to those struggling to scrape together enough on which to live, but it would still not be very much. The cross-party embrace of such pay levels may sound progressive and caring, but what it effectively amounts to is the turning of a low wage into an acceptable wage, complete with a seal of approval from highly paid experts in wage management. In short, the national minimum wage is little more than officially sanctioned low pay.
A bit of historical perspective is helpful here. For much of the nineteenth and twentieth centuries, wages had been a site of political conflict, a conflict increasingly mediated by powerful, often competing trade unions and their political wing, the Labour Party. As problematic as this conflict was, the idea of an acceptable wage was constantly being challenged by people wanting more. To be told what to aspire to, to be told there was a correct amount that people should earn by a team of management consultants and academics, would have seemed absurd.
The defeats suffered by the left during the 1980s changed things. A collective struggle for better wages was replaced by a top-down determination of what was deemed an acceptable wage. New Labour's national minimum wage, launched alongside the Low Pay Commission in 1998, was the final act in the shift from a political contest over wages to the technocratic management of wages. What had once been fought over by workers, unions and management was now to be pored over by consultants and academics. It seems that even New Labour's best tune, desperately revived by Miliband's band of never-will-bes, turns out to be less of an awe-inspiring innovation than an opportunistic, pragmatic response to a political defeat.
That all the main parties now embrace the idea that low wages should be determined by a small clique of experts is certainly nothing to celebrate. To be told by the powers-that-be what is an acceptable amount to earn is not only characteristically condescending; it also dampens down aspiration. By encouraging many millions of people to accept a certain amount as their lot, politicians are encouraging people not to demand any more. And that is wrong. We should be demanding more, much more.
Tim Black is deputy editor of spiked.
Picture: PA
To enquire about republishing spiked's content, a right to reply or to request a correction, please contact the managing editor, Viv Regan.