Ukraine: the Culture Wars turn bloody
The instability in Ukraine is a product of a West-v-East battle over values.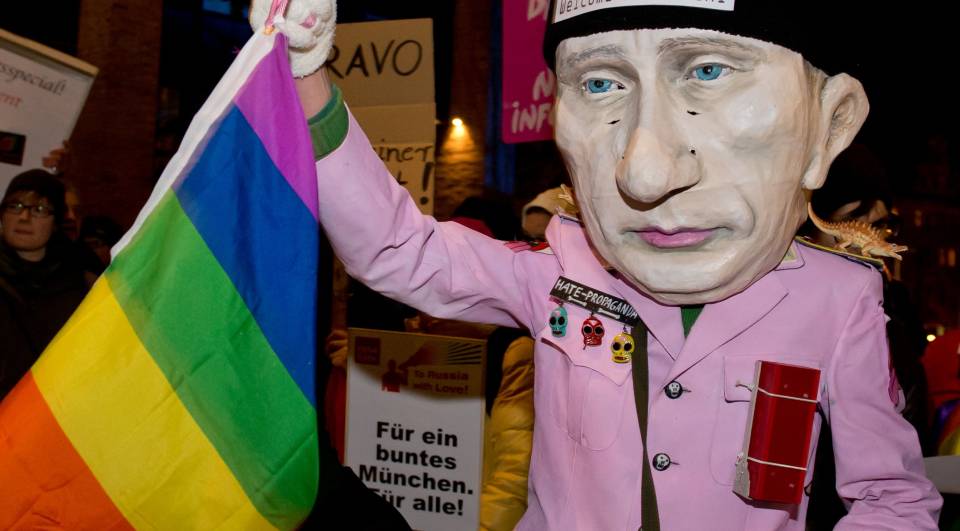 In Ukraine, the war of words between the West and Russia has finally mutated into a violent and destructive conflict. Local tensions existed before the coup in Kiev, the integration of Crimea into Russia and the eruption of civil conflict in the eastern part of Ukraine. But the unravelling of Ukraine is not merely the outcome of an escalation of those local tensions. Numerous global influences have also contributed to the escalation of the crisis, one of which is the generally unacknowledged phenomenon of the Culture Wars.
Although conflicts over values tend to be fought on the terrain of domestic public life, they also have a significant international dimension. For some time now, Western commentators have denounced Russia as 'traditional', 'outdated', 'misogynist', 'homophobic', 'patriarchal', 'nationalist' and 'censorious'. The intertwining of the domestic and the global was evident during the media- and celebrity-directed campaign against the Russian political and cultural establishment in the run-up to Sochi Winter Olympics, as Brendan O'Neill argued here on spiked. The Russian political oligarchy has responded in kind to what it perceives to be an attempt to impose Western values on its society: it frequently mocks the West's obsession with identity, difference and sexuality as a form of decadence, and it regards Russia's traditional values as morally superior to those of its opponents. In Ukraine, the same conflict has played itself out: Russophiles have portrayed the EU as a gay-rights-focused institution determined to force Ukrainians to adopt an alien lifestyle.
The politicisation of values has clearly created a destructive dynamic. Western NGOs, the media and assorted vain celebrities have campaigned to ensure that other societies live by their 'universal' values. Their assertive exportation of the ideals of Hollywood-style identity and gender politics often borders on the bellicose, which in turn provokes the fierce, defensive and irrational reaction of traditionalists.
Putin vs Obama
In their pronouncements, Russian president Vladimir Putin and US president Barack Obama personify two very different sets of values, which underpin the Culture Wars both domestically and internationally.
Putin, for instance, self-consciously cultivates an image of Russia as the moral guardian of human civilisation. Last December, in his annual state-of-the-nation address, he responded to Western criticism of Russia's attitude to homosexuality by lamenting the 'review of norms of morality' in the West. He drew attention to the supposedly morally disorienting consequences of Western-style social engineering: 'This destruction of traditional values from above not only entails negative consequences for society, but is also inherently anti-democratic because it is based on an abstract notion and runs counter to the will of the majority of people.' In his populist appeal to the Russian everyman, Putin embraced the values of back-to-basics conservatism. He claimed that traditional family values were the only effective defence against 'so-called tolerance – genderless and infertile'.
Although directed at the Russian people, Putin's denunciation of 'genderless and infertile' lifestyles was also addressed to a global audience. It is worth noting that just a few days before he gave this speech, an influential Kremlin-linked think-tank published a report entitled Putin: World Conservatism's New Leader. The report sought to present Putin as the global saviour of traditional values. Ordinary people throughout the world yearn for the stability and security offered by traditional values, claimed the report, before asserting that people believe in the traditional family and regard multiculturalism with suspicion. Dmitry Abzalov, a spokesman for the think-tank, told the press that 'it is important for most people to preserve their way of life, their lifestyle, their traditions', and because of that they 'tend towards conservatism'.
Putin's attempt to gain international credibility on the basis of his defence of traditional values has been noted by Western politicians. And, in turn, they have directed their criticism of the Russian oligarchy against populist and conservative currents within their own societies. That is why, in his recent high-profile Address to European Youth, Obama linked his condemnation of Russia's behaviour in Crimea with his criticism of those who opposed his political agenda in the US. Obama celebrated identity politics and permissiveness and denounced the 'older, more traditional view of power'. He added that 'instead of targeting our gay and lesbian brothers and sisters, we can use our laws to protect their rights'. Obama was not only attacking Russia; he was also condemning populist and conservative parties in Europe for their critical views on multiculturalism and immigration. Russia arguably served as a proxy for his traditionalist foes in the US, too.
What is most significant about Putin and Obama's statements is that they highlight the confluence of the domestic and global clash of values. They show that conflicts over values have transcended national boundaries, and are now exercising an important influence over the conduct of local disputes.
Intolerance and double standards
The politicisation of culture inevitably breeds a climate of intolerance towards one's opponents and their beliefs and behaviour. Cultural politics is typically censorious and focused on morally devaluing the other side. At the more extreme end, proponents of cultural politics strive to dehumanise their opponents and represent them as evil. The recent attempt by the Putin regime to ban swearing, and the Western reaction to it, illustrates these broader trends.
Earlier this month Putin signed a law which bans 'foul language' in films, books and public performances. This Stalin-style war on obscene language has been presented as a defence of conservative values against the corrupting influence of the liberal media. The law, which comes into effect in July, is an example of the petty controlling imperative immanent within cultural politics. From this perspective, intolerance is actually perceived as a virtue.
In the West, numerous critics have rightly drawn attention to the absurdity of policing language to the point of seeking to abolish obscenity and swearing. And they have also been keen to draw attention to the contrast between open and tolerant Western society and the censorship-ridden society of Russia. Sadly, many of these valiant defenders of free speech are far more selective when exercising tolerance in their own societies.
During the past two or three decades, the policing of language in Anglo-American society has become a veritable industry. Laws against so-called hate speech and informal censorship of 'offensive' words have proliferated. The petty controlling attitude of Putin towards obscenity is more than matched by the zealous policing of language in the West. Just a few days ago, a BBC dj was effectively fired for mistakenly playing a song from 1932 that contained the word 'nigger'. According to the Kafkaesque logic of the BBC, there are no innocent mistakes when it comes to offensive words.
Antagonists in these cultural wars are incapable of exercising self-criticism. That is why they so frequently exercise double standards. So 'we' have the right to ban words that 'we' find repugnant, but when 'they' attempt to exercise censorship, 'they' can be denounced as illiberal. Western culture warriors cannot comprehend that their attempt to stigmatise and devalue those outdated Russian traditionalists is the moral equivalent of their opponents' tendency to dehumanise the behaviour those who embrace a non-traditional lifestyle.
Confronted by the two faces of intolerance, those who genuinely uphold the values of the Enlightenment and democratic liberalism have a duty to speak out against these double standards. Both sides of this Culture War occupy the moral low ground. Those who uphold the humanistic ideals of freedom and tolerance need to point out that the politicisation of values is antithetical to dialogue. A war of culture, which occupies the territory of good and evil, cannot be resolved through rational debate. As the people of Ukraine will soon discover, there are no victors in a war driven by the politicisation of culture. And the best thing that all sides – global and local – can do is to keep their culture to themselves.
Frank Furedi's latest book, First World War: Still No End in Sight, is published by Bloomsbury. (Order this book from Amazon (UK).) Visit his website here.
To enquire about republishing spiked's content, a right to reply or to request a correction, please contact the managing editor, Viv Regan.