Quit your crying, Cameron – you boosted Boko Haram
How the West's war on Libya aided these Islamists.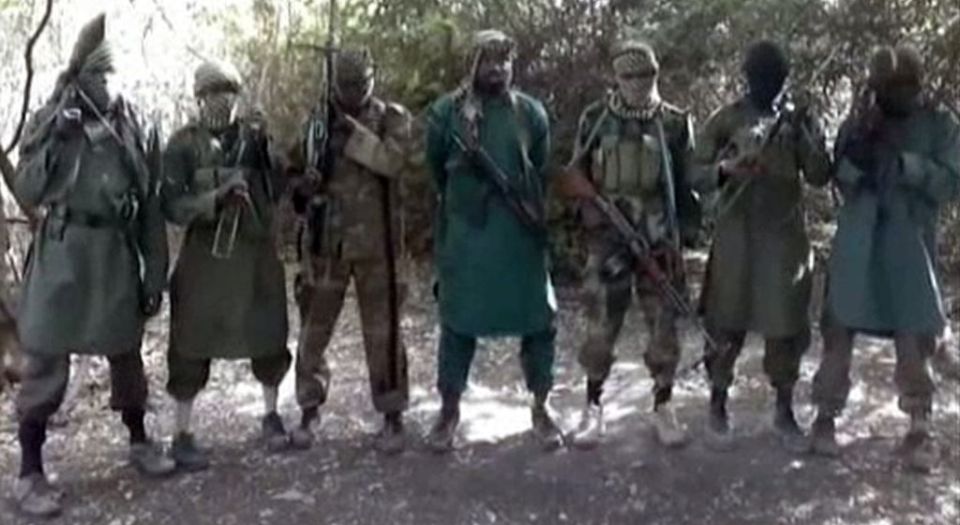 First the Obamas and now David Cameron have been photographed holding up that ceaselessly tweeted placard saying '#BringBackOurGirls'. Now all we need is for Nicolas Sarkozy to come out of retirement and do likewise and then all of the key invaders of Libya in 2011 will have registered their watery-eyed angst with Boko Haram, the Nigeria-based Islamist group that kidnapped 276 girls from a school in Chibok in north-east Nigeria, the 'our girls' referred to in that ubiquitous hashtag. Which would be profoundly ironic given that nothing boosted Boko Haram's fortunes so much as the West's assault on Libya in 2011. It was that vain bombing war, that Western-led dismantling of a regime that cohered Libya and its border regions for 40-plus years, which created new spaces in West Africa in which Boko Haram could train, get hold of weaponry and, in the words of one Nigerian observer, become more 'audacious' than ever. The Western politicians and hacks now expressing heartbreak over Boko Haram's barbarism are the same ones whose urge to intervene in Libya provided Boko Haram with new forums in which to hone that barbarism.
Reading the media coverage of Boko Haram since the Chibok girls were kidnapped on 15 April, you could be forgiven for thinking that this eccentric and extreme Islamist group exists in a bubble, cut off from the rest of the world, and even from the rest of Africa, in the jungles of Borno State in north-east Nigeria. In truth, Boko Haram has numerous connections with other violent Islamist groups in West Africa, particularly in Mali and Niger. And far from being sealed off from global affairs, Boko Haram has found itself a beneficiary of the terrible fallout from the West's attack on Libya in 2011. That fallout both created a new warzone, in Mali, in which Nigerian Islamists trained and fought, and it also leaked weapons across the increasingly failed-state territories of West Africa, some of which have ended up in the hands of Boko Haram – allowing it to learn, in the words of one expert, 'new methods of fighting'.
Among the iPad imperialists who demanded and then cheered the West's assault on Libya and its ousting of Colonel Gaddafi in 2011, there is a palpable reluctance to mention the L-word these days. None of them seems keen to talk about what has happened in Libya itself or in its neighbouring nations over the past three years. In fact, such is the allergy to analysis among these crusaders against evil in Libya that according to friends of David Cameron the PM continues to look upon Libya as his 'happy place', the place where, 'when times are tough and backbenchers uppity', his mind wanders and he thinks to himself: 'Well, at last we done good there.' Nothing could be further from the truth. In Libya itself there is violent turmoil, the country splitting into a patchwork of profoundly opposed tribal territories. And around Libya there is war, the ultimate bloody byproduct of the West's thoughtless unravelling of the political systems that cohered large swathes of northern Africa for a long period of time.
The greatest victim of the West's war in Libya has been Mali. It is striking that in 2011, the then government of Mali, alongside the government of Algeria, was implacably opposed to the international bombing campaign against Libya. It argued that such a violent upheaval in a region like north Africa could have potentially catastrophic consequences. The fallout from the bombing is 'a real source of concern', said the rulers of Mali in October 2011. In fact, as the BBC reported, they had been arguing since 'the start of the conflict in Libya' – that is, since the civil conflict between Benghazi-based militants and Gaddafi began – that 'the fall of Gaddafi would have a destabilising effect in the region'. Mali's main concern was that the ethnic Tuareg group, a huge number of whom are based in northern Mali and are hostile to Mali government forces, would be emboldened by the return of Tuareg fighters who had trained with and supported Gaddafi but who could no longer stay in Libya following the coming to power of the post-Gaddafi National Transitional Council. This is precisely what came to pass.
Mali's troubles started in January 2012, just months after the West's military assaults and ousting of the Gaddafi regime. As the authors of Libya, the Responsibility to Protect, and the Future of Humanitarian Intervention put it, Mali, previously 'perceived as the region's peaceful and democratic exception', suffered a devastating impact from the 'spillover' of the international intervention in Libya, when 'Malian ethnic Tuareg fighters in [Gaddafi's] security forces fled home with their weapons and launched a rebellion in their country's north' (1). Mali was enveloped in chaos. Later in 2012, Malian officers, frustrated by their losses in the north, carried out a coup against the Malian government. Even worse, the post-Gaddafi instability in the north of Mali acted as a magnet to the region's Islamist groups. The war in the north was 'hijacked by Islamists', as one account puts it, including by Al-Qaeda in the Islamic Maghreb (AQIM), Ansar Dine, and Boko Haram, allowing northern Mali to become a 'safe haven for radical Islamists' (2). These forces overthrew the Tuareg militants who had returned from Libya, and they declared large parts of northern Mali a Sharia state. The French military then intervened on the side of the rulers of Mali in the south and launched attacks against the northern Islamists.
Boko Haram benefited enormously from the vacuum created in once-peaceful northern Mali following the West's ousting of Gaddafi. In two ways: first, it honed its guerrilla skills by fighting alongside more practised Islamists in Mali, such as AQIM; and second, it accumulated some of the estimated 15,000 pieces of Libyan military hardware and weaponry that leaked across the country's borders following the sweeping aside of Gaddafi. In April 2012, Agence France-Presse reported that 'dozens of Boko Haram fighters' were assisting AQIM and others in northern Mali. This had a devastating knock-on effect in Nigeria. As the Washington Post reported in early 2013, 'The Islamist insurgency in northern Nigeria has entered a more violent phase as militants return to the fight with sophisticated weaponry and tactics learned on the battlefields of nearby Mali'. A Nigerian analyst said 'Boko Haram's level of audacity was high [in late 2012]', immediately following the movement of some of its militants to the Mali region. Boko Haram was founded in 2002, was a peaceful organisation until 2009, and its violence has intensified since 2012.
The Libya fallout did not only create a newly destabilised territory in which opportunistic Islamists could fight and train – it also unleashed weaponry across northern and western Africa. According to a report produced by the Al-Jazeera Center for Studies (AJCS), following the ousting of Gaddafi, and the creation of more 'porous borders' in north Africa, much of Libya's 'state armoury' fell into Islamists' hands. And, the report says, 'terrorist groups like AQIM acquired heavy weapons such as SAM-7 anti-aircraft and anti-tank missiles, transporting them back to the Sahel region' (a belt of Africa that encompasses parts of Mali, Burkina Faso, Algeria, Chad, Nigeria and elsewhere). According to AJCS, 'courtesy of AQIM, these arms have been transferred to groups such as Ansar Dine [and] Boko Haram… emboldening and enabling them to mount more deadly and audacious attacks. Thus, the audacity of Boko Haram grew with the proliferation of weapons in the Sahara-Sahel region.' The boosting of Boko Haram via the West's destabilisation of Libya and Mali was confirmed by West African analysts – last year, one told the Washington Post that Nigerian soldiers raiding Boko Haram camps had found new 'heavy guns' traceable to Libya, and also 'vehicles transformed into fighting machines', suggesting Boko Haram had 'learned new methods of fighting from the Islamist militants in Mali'.
The fallout from the West's war on Libya didn't only help Boko Haram get guns and learn new forms of warfare – it also impacted on its ideology, making it more globally focused. In early 2013, Boko Haram launched its first cross-border operation from its base in northern Nigeria, darting across to Cameroon to kidnap a French family of seven and holding them hostage in its Nigerian camps. It was its first kidnapping of foreign citizens. It said its actions were a 'response to the French military action in Mali'. In the words of the Washington Post last year, Boko Haram seemed to be 'spread[ing] its ambitions' and 'appeared to be shifting towards AQIM's strategy'. That is, a once very localised group, whose grievance was with the government of Nigeria, appeared to be adopting a more apocalyptic, globalised Islamo-mindset, declaring war on the West as much as Abuja. The kidnapping of the Chibok schoolgirls, which may well have been carried out with weapons leaked from Western-rattled Libya, also seems to have a global element to it, designed to outrage and cajole Western onlookers. From vicious local militants to heavily armed barbaric global warriors, courtesy of Cameron and Co.'s war-as-spin in Libya.
Mali and Nigeria are not the only African states whose troubles have been intensified by the West's war in Libya. The return of Gaddafi-trained Tuareg fighters to northern Mali and the outbreak of war there also led, in the words of the authors of Libya, the Responsibility to Protect, and the Future of Humanitarian Intervention, to the 'massive displacement of hundreds of thousands of Malian civilians', which in turn has spurred 'deadly ethnic conflict in Burkina Faso' and 'the growth of radical Islam in Niger' (3). Meanwhile, Libya's vast neighbour, Algeria, has suffered terrorist attacks by Islamist militants, most notoriously the storming of a gas plant in the Algerian Sahara in January 2013 during which 40 workers, mostly internationals, were killed. That attack was launched by militants based in southern Libya, which, according to analysts, has become a 'viper's nest' of Islamists. In May 2013 two massive suicide bombs killed 20 people in Niger – the president of Niger says the bombers came from Libya and had connections with groups in northern Mali.
The West's bombing campaign in Libya has had a terrible impact across vast swathes of northern and western Africa. It has provoked wars, intensified terrorism, led to the spread of state weaponry across borders, emboldened Islamist networks, and created new failed states. It has caused once relatively solid state entities to become destabilised or divided by the movement of forces and weapons from Libya, or as a consequence of the removal of the status quo in Libya. It has made former state-ruled territories into vacuums that are being 'hijacked by Islamists' (4). In the past, Western nations created states in Africa, drawing lines in the sand in order to encapsulate territories in which their interests might be best pursued and protected. Today, in stark contrast, Western nations create failed states in Africa, pushing aside governments, undermining state mechanisms and dissipating state armoury, before returning home to imagine that they have 'helped'. In truth they have done something that makes yesteryear's imperialism seem level-headed in comparison – they have dented the capacities of states in Africa to rule and massively blurred borders, empowering the borderless, like Boko Haram, to gain influence, to learn skills, to get weaponry, and to benefit from chaos.
So quit your crocodile tears for those tragic Chibok girls, Cameron and Co. For it was Western observers' agitation for war in Libya, and Western politicians' execution of war in Libya, which further inflamed the Islamist problem in Africa, creating the perfect conditions for the thriving of Boko Haram, who, as one Nigerian analyst said, were 'never as audacious as they suddenly became [after the Libya war]'. All that hashtagging by the leaders of the Western world is pretty grotesque – it's an act of pure vanity designed to make themselves look purposeful and caring, just as their bombing of Libya was, just as was that intervention that unwittingly emboldened groups like Boko Haram. When will the new infantile moral crusaders of global affairs learn that their vanity kills?
Brendan O'Neill is editor of spiked.
Footnotes:
(1) Libya, the Responsibility to Protect and the Future of Humanitarian Intervention, Aidan Hehir and Dr Robert Murray (eds), Palgrave Macmillan, 2013
(2) Libya, the Responsibility to Protect and the Future of Humanitarian Intervention, Aidan Hehir and Dr Robert Murray (eds), Palgrave Macmillan, 2013
(3) Libya, the Responsibility to Protect and the Future of Humanitarian Intervention, Aidan Hehir and Dr Robert Murray (eds), Palgrave Macmillan, 2013
(4) Libya, the Responsibility to Protect and the Future of Humanitarian Intervention, Aidan Hehir and Dr Robert Murray (eds), Palgrave Macmillan, 2013
To enquire about republishing spiked's content, a right to reply or to request a correction, please contact the managing editor, Viv Regan.