Gerry Adams: arrested by Northern Ireland's past
Northern Irish politicians have allowed the ghosts of war to rule the present.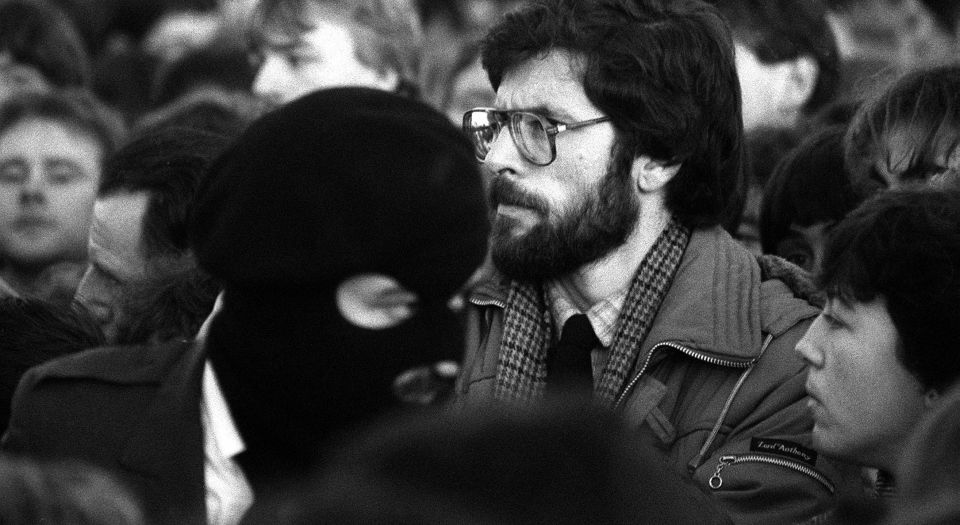 I was 11 in December 1972 when Jean McConville was taken from her home down the road from where I lived in West Belfast. It was not until 1999 that the Provisional IRA admitted responsibility for her killing and informed the authorities where the body was buried.
You would hardly know it from the current media coverage of McConville's killing, following the arrest of Sinn Féin leader Gerry Adams in connection with it this week, but McConville's disappearance was not the stand-out event of 1972. There was a lot going on in West Belfast. Just a few years before McConville disappeared, the British state had sent the Army into Northern Ireland to occupy our streets and quell the growing civil-rights uprising. In 1971, the British had introduced internment without trial for those same civil-rights activists who were defying bans on demonstrations. And in the same year as McConville's disappearance, on Bloody Sunday, the Army shot dead 14 unarmed people who had taken to the streets with thousands of others to protest against internment. And there was more. About 500 people died on all sides in the Irish war in 1972 and, in the weeks running up to McConville's disappearance, 11 people were shot dead by British paratroops in the streets around Ballymurphy where I lived. There were also numerous republicans and Catholic civilians assassinated by British soldiers acting on information from touts (informants). Indeed, the IRA killed McConville because they believed she was a tout.
I would apologise for the quick history lesson were it not for the fact that Adams' arrest seems to have prompted a rather more selective retelling of that period, with journalists and commentators presenting this event as a uniquely brutal and heinous crime carried out by cold-blooded murderers. It was not; it was part of a war.
The reason you will not hear anyone else present this wider context is that in Northern Ireland today a social and political history of the Irish war has been replaced by a victims' history of that war. We now rarely talk about the fundamental conflict at the heart of this long war – the struggle of Irish nationalists for a united Ireland against the British state determined to maintain the union with Britain. So fundamental was this political principle that people on both sides were willing to kill and be killed for it. Both the IRA and the British Army continued to fight for many years knowing full well that innocents would die, that normal peacetime values would be perverted, and that things never tolerated in peacetime would be justified by both sides. The IRA stated clearly that informers were legitimate targets; in 1981, the then UK prime minister, Margaret Thatcher, allowed 10 men to die on hunger strike rather than concede the principle that they were political prisoners.
But today, few are prepared to provide the context, or to explain the wartime backdrop against which the killings and the bombings took place. Instead, we talk about the legacy of pain and hurt left by individual deaths. We talk of the need for closure and catharsis, and of the rights of victims. Therapeutic politics has usurped politics proper, and anyone daring to suggest we should leave the past behind and 'move on' is lambasted by Northern Ireland's victims' commissioner. Our political news programmes, like Today and Newsnight, replace political actors with family members and the spokespeople for victims' groups. And when politicians do appear, they talk about victims' rights rather than politics.
But the victim culture embraced by all shades of political opinion presents problems for all. Sinn Féin has virtually transformed itself into the party of victims in recent years; it must often have felt that this approach had finally given nationalists the equality they failed to achieve through an armed struggle. After all, if all suffering is equal, then the nationalist community can certainly claim its fair share of grief.
However, as Gerry Adams languishes in a police cell, he should reflect on the way that he and his party have been hoist by their own petard. He was only too happy to turn the complex political struggles of the past into a tale of victims and victimisers when it benefited him; now this strategy appears to have bitten him.
The British and Irish governments clearly want to move on and are prepared to issue limited apologies and make symbolic gestures and compromises. But the constant dredging up of the past is preventing the progress they seek. The next 10 years in Northern Ireland look set to be dominated by backward-looking commemorations and investigations into past crimes that are likely to be bitter and divisive.
I am not interested in re-fighting the war in Ireland through the lens of the victims. No one listening to the children of Jean McConville telling their story can feel anything other than pity and sympathy. It was a terrible tragedy and it wrecked their lives. But it does not follow that those who suffered during this period of history should get to block progress and keep us in the past. Victim culture is essentially undemocratic. This was demonstrated recently when a campaign by one victim's family resulted in two Sinn Féin politicians being barred from holding office because of their past IRA activity.
While it might be necessary to accept that we may not see a united Ireland in our lifetimes, we can at least ensure that we do not spend the next 10 years obsessing over each tragic act from a long, drawn-out conflict. Revelling in this mawkish and divisive raking over of the past will do no one in Ireland any good – least of all the victims. We should instead learn the lessons of the war and work together to create a progressive and less divided political future.
Kevin Rooney is a writer and based in London.
To enquire about republishing spiked's content, a right to reply or to request a correction, please contact the managing editor, Viv Regan.