Max Clifford is a creep, but what's that got to do with Savile?
The first celebrity to be hanged from Yewtree is unlikely to be the last.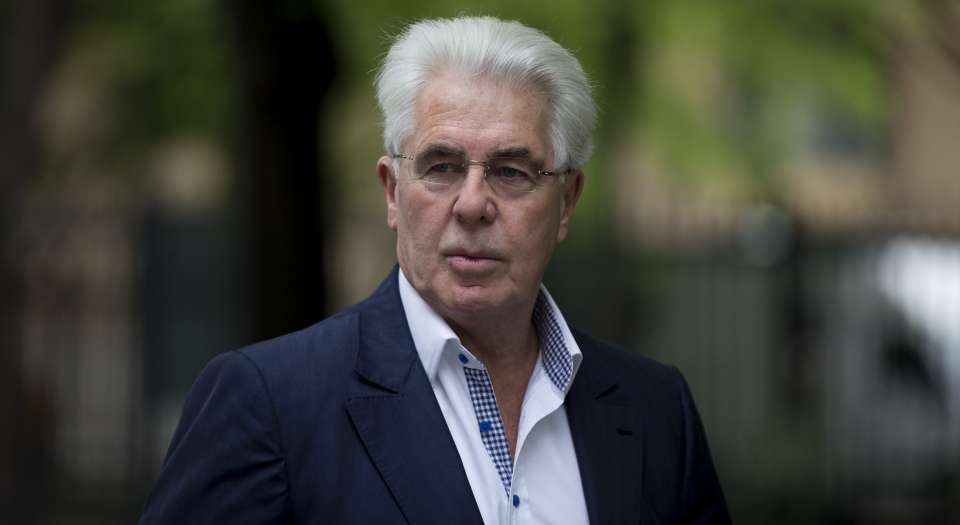 After a trial lasting six weeks, with wall-to-wall media coverage, we now know 'beyond reasonable doubt' that celebrity PR guru Max Clifford is a thoroughly unpleasant individual, who nobody would want giving their teenage daughter careers advice.
Whether he has been proven to be a Jimmy Savile-style serial 'predatory child sex offender', as claimed by prosecutors and campaigners after the verdicts, seems rather less certain. And their bigger claim, that creepy Clifford's conviction for indecently assaulting four young women proves that Operation Yewtree is 'not a celebrity witch-hunt', turns the truth on its head.
The authorities were hugely relieved this week when Clifford was found guilty on eight counts of indecent assault over a period of 18 years, after the jurors – who had deliberated for more than a week – were told they could bring in majority verdicts. He was found not guilty of two other charges, the jury failing to agree a verdict on the final charge.
The media fixer thus became the first of the 17 suspects arrested under Operation Yewtree to be convicted of historic sexual offences. After the embarrassing acquittals of Yewtree arrestee DJ Dave Lee Travis, as well as soap stars William Roache and Michael Le Vell, and Tory MP Nigel Evans, more voices have been publicly questioning the pursuit of such high-profile allegations of past sex abuse on shaky evidence, accusing the Crown Prosecution Service (CPS) of being 'star-struck'. Little surprise that supporters of the police/CPS campaign were keen to crow after the guilty verdicts on Clifford. His conviction, announced a leading lawyer who represents more than 150 claimants in the Yewtree inquiry, proves first and foremost 'that Operation Yewtree is not just about a celebrity witch-hunt'.
Yet even her valedictory defence of Yewtree only posed more questions. Such as: what connects Max Clifford with Jimmy Savile anyway? Operation Yewtree, after all, was launched in response to the posthumous scandal about Savile's alleged sexual abuse of young and vulnerable people. But from the first, it was far more than a normal police investigation into the reported offences of Savile and his associates. Yewtree is a huge publicity-driven fishing operation, actively seeking out claimants who are invited to accuse high-profile people of past sexual offences without the need for any forensic or other collaborative evidence. Indeed, it celebrates the possibility of evidence-lite convictions. That Yewtree claimants' lawyer said the second reason to cheer Clifford's case was that 'it's vital to give confidence to other victims that a conviction can be achieved so many years after an event without DNA or other types of scientific corroboratory evidence'.
The runaway train that is Operation Yewtree itself is the only connection between Jimmy Savile and Max Clifford. Indeed, Clifford was first accused and arrested after he spoke out about the post-Savile climate of fear Yewtree was creating among his celebrity clients. Yet his trial, as his defence QC observed, was 'haunted by the spectre of Jimmy Savile'. And the only thing that connects Yewtree suspects such as Clifford and Dave Lee Travis is that they are all celebrities from the past, charged with committing sexual offences in the Sixties, Seventies and Eighties, on the uncorroborated word of their accusers. With shades of Salem, the melodramatic-sounding 'celebrity witch-hunt' might seem as good a description as any after all.
After the botched prosecution of Travis, Frank Furedi argued on spiked that critics were wrong to imagine that such failures in court would put a stop to Operation Yewtree in the world outside. Such criticisms, he observed, 'overlook the fact that Yewtree was never simply about investigating and fighting crime. From its inception, Yewtree was more like a propaganda campaign or a moral crusade devoted to the task of sending out an officially sanctioned message.' Those promoting that propaganda campaign would not be put off by such details as some 'not guilty' verdicts. Equally, we should not allow Clifford's conviction to detract from the fact that Yewtree remains a moral crusade, more concerned with teaching us all a lesson about the supposed evil and vulnerability within humanity than with the guilt or innocence of individual celebs.
Of course, the jury did eventually find Clifford guilty on eight counts of indecent assault, and spiked (unlike the moral crusaders) has long upheld the democratic wisdom of juries. It is still worth looking at the conduct of the trial, to see how the rules of criminal prosecutions might be rewritten under the cover of Yewtree. These trials seem to mark a shift away from an objective idea of justice based on evidence, towards a more subjective brand of justice based on feelings and attitudes.
Clifford, now aged 71, stood accused of assaulting seven women between 1966 (when he was 23) and 1984 (when we was 41). Unsurprisingly, there was no physical evidence to prove what may or may not have happened between two people in cars, toilet cubicles and offices so long ago. Nor were there any corroborative witnesses to support the prosecution's case. The desperate search for some physical evidence led the trial into farce at times; the jurors were sent out of the courtroom after a discussion of what witnesses recalled about the precise dimensions of Clifford's penis reduced the jury members to tears of laughter.
Unable to prove conclusively that Clifford had committed any of the specific offences, prosecutors instead set out to show a pattern of behaviour on his part. The aim appeared to be to get sufficient unsubstantiated allegations of sexual misconduct together to suggest that he must be guilty of something nasty.
In recent failed celebrity prosecutions, critics have described this as the 'bundling together' of several weak cases to try to present the overall impression of a strong prosecution case. In Clifford's trial, the prosecution took this a step further. In addition to the seven women claiming he had indecently assaulted them, several others appeared in court to give evidence that Clifford had assaulted them, too – even though their cases were so weak that the CPS did not actually charge Clifford with those alleged offences.
These 'phantom' offences included the most damning allegation of all, that Clifford had assaulted a 12-year-old girl in Spain. He furiously denied it, and it could not be put to the jury. But it hung over the court anyway.
In focusing on proving Clifford's apparent pattern of behaviour rather than particular offences, the authorities were effectively prosecuting him for what he is rather than what he had done. That is a novel interpretation of 'beyond reasonable doubt'.
At the end of this process, the prosecution had convincingly established that Clifford is and always has been a creep and a sleazebag. He had tried to cajole and con young women into giving him sexual favours using the age-old methods of the casting couch. He seemed thoroughly deserving of the kick in the balls one witness claimed to have given him. To judge by the evidence presented in court, it appears he often had as little success in getting what he wanted as the young hopefuls had in securing the film parts he promised them.
The prosecution tactics eventually proved successful in convicting the arrogant and charmless defendant. Even so, did those convictions prove, as leading Yewtree crusader Mark Williams-Thomas claimed afterwards, that Clifford was 'a predatory child sex offender'? Only really by the standards of the new subjective justice.
Most of the young women who accused Clifford of groping them, sticking his tongue down their throat or 'forcing them to perform sex acts' all those years ago were 18 or 19 at the time of the alleged offences – that is, adults. Of the others, the jury failed to reach a verdict on whether he had groped a 14-year-old Wimpy bar waitress in his car in 1966, and found him guilty of indecently assaulting a 15-year-old whose family he allegedly met on holiday in Spain in 1977. Under the subjective justice system, that was enough for crusaders to hang him from Yewtree as a 'predatory child sex offender' like Savile.
(The high profile of Mark Williams-Thomas in all this is revealing. He is a former policeman turned TV journalist who is now helping to drive the prosecutions. He made the 2012 ITV documentary on Savile's dark side that exploded the scandal into life. He was then involved in getting Clifford prosecuted after a woman approached him with an allegation. Williams-Thomas the TV crusader embodies the character of Yewtree as a police/CPS PR operation.)
The message of Operation Yewtree all along has been that all allegations against Savile and 'others' must be immediately treated as true, all claimants must be automatically accepted as the victims of crime, and that the purpose of the criminal-justice system is not to decide what can be proved as true, but to 'give the victims a voice' – one which cannot legitimately be questioned. After the verdicts, the detective chief inspector in charge of the Clifford case expressed his wish 'to thank the victims' (isn't it normally the other way round?) and his 'hope [that] they feel, and know, that they were listened to'. Listening to the voice of rational argument as to the proper meaning of criminal justice and 'innocent until proven guilty' does not get a look in.
The conviction of the execrable Max Clifford will, of course, encourage the moral crusaders to dig up more ageing celebrities to hang from Yewtree. Where will it all end and how far back will they go? Any advance on 1966? After all, the famous Jack the Ripper has not been brought to book for his historic crimes of sexual violence yet.
Mick Hume is spiked's editor-at-large. His book, There is No Such Thing as a Free Press… And We Need One More Than Ever, is published by Societas. (Order this book from Amazon(UK).) Visit his website here.
To enquire about republishing spiked's content, a right to reply or to request a correction, please contact the managing editor, Viv Regan.