South Korea ferry disaster: playing the blame game
Pundits have even blamed South Korean culture for the Sewol tragedy.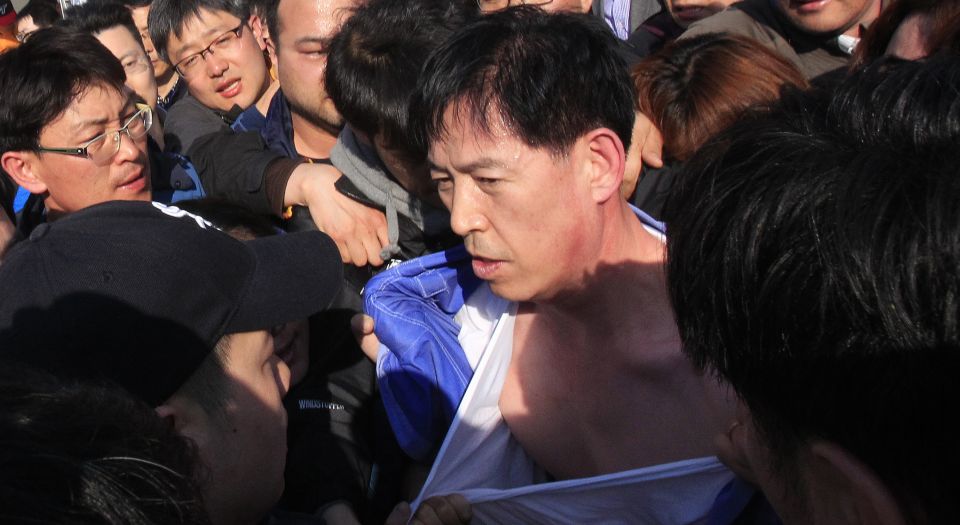 Shortly before nine in the morning on 16 April, the 6,825-tonne ferry, Sewol, under the stewardship of an inexperienced third mate, made a sharp right turn while navigating a group of islets off South Korea. Some passengers reported hearing a loud bang. Others were not so sure. Either way, the Sewol began to list and tilt, while the captain, 68-year-old Lee Joon-seok, made his way from his room to the bridge. By nine o'clock, the captain had informed the authorities at the harbour in nearby Jindo that the Sewol had capsized and was going to sink.
Over the following 40 minutes, the crew and Jindo harbour authorities vacillated between urging all 476 passengers to remain aboard and urging everyone to abandon ship. By 9.40am, the captain made his final decision: everyone was to leave the Sewol. One hundred and seventy-four passengers, including the crew, were able to make it out, but for the remaining 302, it was too late. So far, nearly 200 bodies have been accounted for. The rest are still missing, presumed dead.
The emotional pull of this disaster is immense. Many of those on board were children, including 336 pupils from a single Seoul high school. And, as we've been informed by the countless reports of the disaster, many of these kids, anxious and frightened, were to phone their parents looking for assurances as the ship went down. It is painful to imagine.
But alongside the grief, there has been anger, too, a sense that what happened could have been avoided, a sense that there is someone, or increasingly something, to blame for what happened out in the cold Yellow Sea.
The anger of friends, relatives and, increasingly, the South Korean public, and their demands for accountability, are not without foundation, of course. Questions need to be answered: Why had Captain Lee left the helm to a third mate who had never navigated that stretch of water before? Why did the third mate make a sharp turn? Why did the crew insist the passengers stay in place? Why did harbour officials not challenge the crew's orders earlier? Why was the rescue mission so slow? And why have the authorities, from the misidentification of bodies to the lack of communication, behaved so incompetently?
And as the questions have proliferated, the South Korean state has answered: by pointing the finger, by attributing responsibility, by exacerbating the sense that someone or something is really to blame. It came as little surprise, then, that a few days after the Sewol went down, Captain Lee, alongside the ship's helmsman and the third mate, was arrested and charged on a range of counts, from criminal negligence to violation of maritime law. South Korea's president, Park Guen-hye, didn't mince her words: 'My heart and the hearts of all South Koreans have been broken and filled with shock and anger', she said. 'Above all, the conduct of the captain and some crew members is unfathomable from the viewpoint of common sense. It was like an act of murder that cannot and should not be tolerated.'
But the blame hasn't stopped at the crew, or even those directly involved in the Sewol's sinking. Criticism has gone well beyond those of whom questions need to be asked. Now, the disaster seems to have been transformed into an indictment of South Korean politics and culture as a whole.
One Seoul-based journalist claimed: 'We need to turn our eyes to the government situation, government atmosphere. If we can revise those things, I don't think this kind of disaster will happen again.' A national newspaper editorial thundered: 'A typical underdeveloped-country style action… confusion, haste and a delayed rescue.' In fact, given the volume of criticism levelled at South Korea's political class, it came as little surprise when the prime minister, Chung Hong-won, tendered his resignation over the weekend. 'On behalf of the government', he said, 'I apologise for many problems from the prevention of the accident to the early handling of the disaster'.
Broader still has been the suggestion, especially in stereotype-rich commentary from outside South Korea, that national culture is to blame. That is, if South Korean society was less hierarchical, if the young were more willing to rebel against their elders, if the questioning of authority were encouraged, then those pupils would have plunged into the freezing depths regardless of the instructions to stay on board. Hence the Los Angeles Times reported that the disaster has 'cast a harsh light on a Confucian culture in which young people are taught to respect the older generation'. A South China Morning Post journalist echoed this Confucius-citing explanation, explaining that 'young people are taught to obey authority figures without question'. And a Reuters piece simply (and callously) stated: 'Many of the children did not question their elders, as is customary in hierarchical Korean society. They paid for their obedience with their lives.'
This massive expansion of blame has been startling. The chain of cause and effect that led to a horrible event has extended to people and elements well beyond those individuals actually involved. It has engulfed a body politic; it has implicated a national culture.
Of course, the blame game in South Korea has not gone unnoticed. A piece in Time magazine explained the willingness of many Western journalists to blame national culture as a product of simple ignorance; many are simply unfamiliar with South Korea and reach for the explanation most readily at hand. Others decided to blame the blaming on the nature of South Korean society. 'Koreans should drop the existential wailing and concentrate instead on what can be practically achieved… Proper safety drills and adequate safety regulations, strictly enforced, would be a good place to start', stated one piece in the Financial Times. A Guardian columnist placed the blame for blaming squarely on South Korea. 'Cultural difference [between South Korea and the West] may determine, in part, where that line is drawn [between human error and culpability], but it is nowhere as clear – not in the East, still less in the West – as where President Park seemed to place it when she spoke of "murder".'
Yes, President Park's labelling of Captain Lee as a murderer was a striking illustration of an overweening readiness to blame. But despite commentators' insistence to the contrary, the blame game is more than flourishing in the West, too. Again and again, when something bad happens, be it a train crash or even a road accident, there are more than enough commentators willing to seek out someone or some force to be held responsible. Just think of the willingness to blame a shooting in America on some specious 'gun culture'. There is nothing distinctly Korean about it. This inability to cope with sheer contingency, to accept that sometimes terrible events, as devastating as they can be, do happen, is alive and well in Western nations, too, enjoying as we do the dubious riches of compensation culture.
It was telling that in the week that the Sewol sunk, another news item garnered considerably less coverage in the UK: the publication of a coroner's report into the 2011 M5 car crash in which seven people died.
At the time of this fatal pile-up, however, there was no shortage of commentary. But was it characterised by a mature recognition that accidents do happen? Was there an acceptance that with all human endeavour, including travel, there is a risk, albeit decreasing over time, that something can go wrong? No, not at all. In fact, there was a veritable carnival of opportunistic blaming, from the anti-car lobby's eagerness to blame, well, cars, to those who saw the accident as a product of our unhealthy cultural need for speed. But most striking of all was the number of people willing to suggest that the accident was caused by the visibility-reducing smoke emanating from a nearby fireworks display. That's right; so unwilling were some to accept that despite everyone's best intentions, contingency can still affect events, they were willing to blame a pyrotechnics company for a car crash. And what did the coroner report? 'I dismiss smoke being the cause of the crash.'
So, despite the suggestion that a massive blame game – which has already cost the prime minister his job, and prompted the president to call the ship's captain a murderer – is a peculiarly South Korean phenomenon, it's clear that it is very much a part of our historical moment as a whole. We need to replace this prevalent pre-modern belief in some animating, sometimes malevolent force at work in the world, with a modern acceptance of the sheer, occasionally tragic, contingency of existence. Because no matter how hard one searches for something or someone to blame, nothing will ever stop accidents from happening.
Tim Black is deputy editor of spiked.
Picture: PA
To enquire about republishing spiked's content, a right to reply or to request a correction, please contact the managing editor, Viv Regan.