Six random lessons of the David Moyes debacle
spiked's resident 'Cockney Red' on the latest circus surrounding Man United.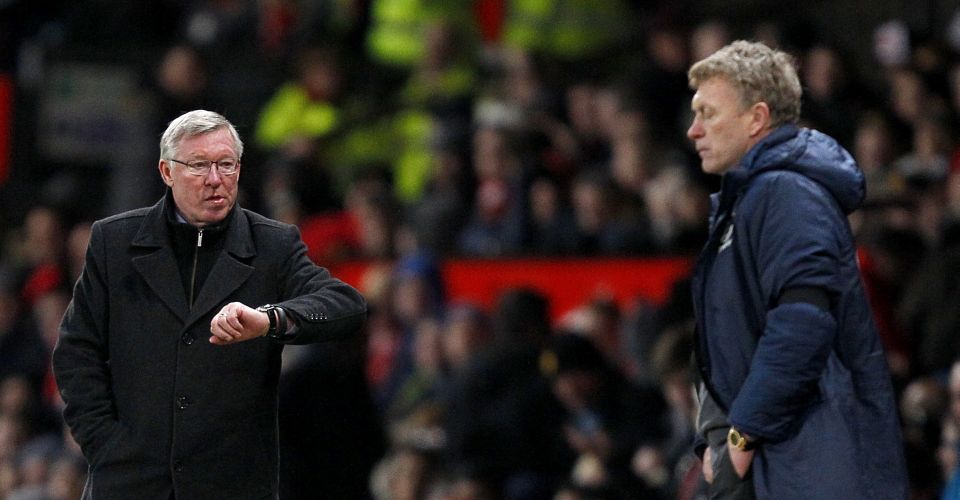 Manchester United is not quite North Korea
Never mind asking why David Moyes has been sacked, after a pretty dire 10 months as Manchester United manager. The question remains, how was a manager with long experience but no track record of success appointed in the first place? Answer: he was not so much appointed as anointed, by the retiring manager, Sir Alex Ferguson. Hence the appearance at Old Trafford of that much-derided banner hailing Moyes as 'The Chosen One', which bizarrely was protected by security guards during a recent home match.
Thus was a retiring employee of the club permitted to act like a dying dictator and select his own mini-me successor, regardless of the superior merits of other candidates. The Cult of Fergie had already led to United renaming the biggest stand and a road to the ground after Sir Alex. Now it enabled him to remake the next manager in his own image. It was a wonder the players were not all ordered to have Fergie haircuts. But, as I pointed out last season in the United fanzine, Red Issue, after Ferguson tried to tell fans what songs to sing, just because it now had the glorious leader's name emblazoned across it was no excuse for 'mixing up the North Stand with North Korea'.
All of this nonsense was Ferguson's reward, not only for the fantastic success he brought United on the pitch, but also more importantly for the loyal and unconditional support he gave off the pitch to the real rulers of Old Trafford, the widely despised Glazer family who own the club. Now, as with the Glazers' use of United's earnings to service their debts, it is the fans who are paying the price for Ferguson's delusions of establishing a dynasty. The abrupt de-selection of his 'Chosen One' should surely lead to the fall of the Cult of Fergie, leaving our former leader to enjoy his well-earned retirement, despite the mad talk of him having a hand in the next appointment. Perhaps Fergie and Moyes should just be grateful that United is not really North Korea, where failed members of the ruling 'family' tend to receive a different sort of pay-off.
Continuity can require revolution, not risk aversion
The buzzword around Moyes' appointment as United manager was 'continuity'. Ferguson's team had just won the Premier League by 11 points, a remarkable thirteenth league title in 21 seasons to go with two European Cups and assorted other trophies. So all they needed was to find another manager in the Ferguson mould and Carry On, United, right? Not quite.
Continuity in terms of success had to mean more than getting another dour Scot for a manager. What was required after such a long reign, with the squad fast passing its sell-by date, was more like a revolution – of the sort that Ferguson himself led first at Aberdeen, where he broke the Glasgow Old Firm's grip on Scottish football, and then at United, where he knocked Liverpool 'off their fucking perch'. Instead, United went for the risk-averse (and cheaper) option of appointing Fergie's mini-me, the inherently risk-averse and defensive-minded Moyes, who treated every match as an away game. In so doing, they missed the chance to get José Mourinho, who was desperate to secure the United job and could have been just the man to shake up the crumbling remains of United's empire. Which was why, of course, Sir Ego Ferguson could not allow the Special One to succeed.
You cannot buy the league on the cheap
There has been much disparaging talk of first United and then foreign megabucks clubs such as Chelsea and Manchester City trying to 'buy the league' by acquiring big-money signings on astronomical wages. Yet the truth is that all top clubs 'buy' success to one degree or another. What has changed is that the price has gone up. United arguably 'bought' the first Premier League title when Ferguson paid just over a million quid to sign bargain-of-the-century Eric Cantona from Leeds in 1992. Two decades later, it cost City's Arab owners more like a billion pounds to assemble the squad that became champions in 2012.
What the Glazers have sought to do since taking over United in 2005, with the acquiescence of Ferguson and then Moyes, is to buy titles on the (relatively) cheap. The remarkable thing is not that United legend Ryan Giggs has been put in temporary charge of the team, but that the 40-year-old should still be part of the playing squad of the Premier League champions. Ferguson did not buy a proper midfielder for five years before his retirement, failing adequately to replace not only Giggs or Paul Scholes but even Roy Keane, who departed way back in 2005.
Ferguson just about got away with this until last season, at least in domestic football, by compensating for the weakness of his players with the undoubted force of his personality and benefiting from the failings of his opponents. Moyes had little chance of repeating the pinchpenny trick – to be fair, most would have struggled. In demanding success, yet failing to make a single top-class signing in the summer, it is now possible to see that United effectively signed his sacking letter before the season had even begun.
A 'brand' is no good if you don't have the ball
The Glazers have understandably been bitterly criticised for the way that they 'bought' United by loading the club with debt, and have since taken millions out of the coffers to pay the interest. All that they really did, however, was to apply the parasitic financial practices of modern capitalism to the old world of football. Such 'leveraged' buyouts, aimed at inflating the paper price of assets rather than producing real value, were an important foundation of the alleged UK economic boom before the financial crash.
Football, we have endlessly been told of late, is 'just another business' and must be run as such. United have devoted their efforts to developing a global brand to appeal to their claimed 650million-odd followers worldwide, and to signing up far more big sponsors and international commercial partners (35 and counting, according to the website, from 'Official Motorcycle Partner' to 'Official Noodle Partner') than top players or managers. The Glazers not only replaced Fergie with the comparatively cut-priced Moyes (compared to what Mourinho would have cost them), but at the same time allowed their experienced chief executive to depart and replaced him with a former investment banker who might know how to seduce a sponsor, but has no idea how to sign a footballer.
Now, however, the Glazers and Co. have had to face the uncomfortable fact that football is not 'just' a business. It remains a sport, a passion, an obsession, from which many of us expect more than overpriced replica shirts. They have thus had to make it look as if they care about United's grim season by sacking Moyes and promising new signings. After all, the hardcore football fans might be seen as blindly faithful mug punters who will swallow whatever crap we are handed (although the recent empty seats at Old Trafford suggest even that may not be true of the new class of fairweather fans). But many among the global audience United covet are more like 'followers' in the Twitter sense of the word, liable to switch allegiances at the press of a touchscreen if they don't get some instant gratification. Whether or not the new United amounts to anything more than another rebranding job remains to be seen.
'Man United will never die', but…
Generations of Manchester United supporters, raised on 20 years of almost unbroken success, are now aghast at the prospect of the team finishing this season potless and seventh in the league. Let's not lose a sense of perspective over losing some football matches. It is a reminder that nothing is forever and change happens, for better or worse, in football as well as society. (The real pity is that politics has become as much of a spectator sport as football, so that most feel powerless to do much about it.)
So yes, as the famous old song goes, let us hope to 'Keep the red flag flying high/ Cos Man United will never die'. But we may also have to live with the bitter fact that the red flag flying high this season belongs to Liverpool. Everything is relative, in success as well as failure. Exactly 40 years ago this month, in April 1974, United finished twenty-first out of 22 in the league and were relegated to the old Second Division. The experience is enough to make us old reds more phlegmatic about 'relegation' from the top four Champions' League places. Let them laugh, our day will come again (won't it…?). It is also worth recalling that in that 1974 season, while United were going down, the team crowned champions of England were a little-known club called Leeds United. Whatever happened to them?
Football is too big for its boots
The national furore over the sacking of David Moyes marks another moment in the over-inflation of football in British society. The game has blown up beyond all reason, brought on as a substitute for anything of more substance, to fill the gap where society's political and public life ought to be. It is not only that the Moyes story, like the Ferguson retirement story before it, topped every news agenda this week, easily relegating such minor matters as wars and deadly disasters. It is also the way that the debacle at Manchester United, like the success that preceded it, can be used as a metaphor for wider issues in society – typically, some even sought to blame the media for Moyes' fall.
Most 'proper' football fans, on the other hand, tend to have a more reasonable take on these matters. Few of my fellow United fans were actively calling for the manager to be sacked – the recent match day 'Moyes Out' plane banner was a stunt that flopped. But even fewer of them will have been as surprised he has gone as the apparently shocked pundits and experts. We are not naïve enough to believe that Moyes was the fundamental problem at Manchester United, or to imagine that he could have been the solution.
Despite the global importance apparently attached to the departure of one failed club manager this week, for most of us football remains a glorious irrelevance – in the words of a song that charted the last time Liverpool were top dogs, it is my favourite waste of time. And contrary to what one famous manager half-jokingly suggested even longer ago, football is not more important than life or death. Sometimes it just seems like it.
Mick Hume is spiked's editor-at-large. His book, There is No Such Thing as a Free Press… And We Need One More Than Ever, is published by Societas. (Order this book from Amazon(UK).) Visit his website here.
To enquire about republishing spiked's content, a right to reply or to request a correction, please contact the managing editor, Viv Regan.