Turkey's Twitter twitch-hunt
Prime Minister Erdogan's war on social media is uncannily similar to the war on unacceptable speech in the West.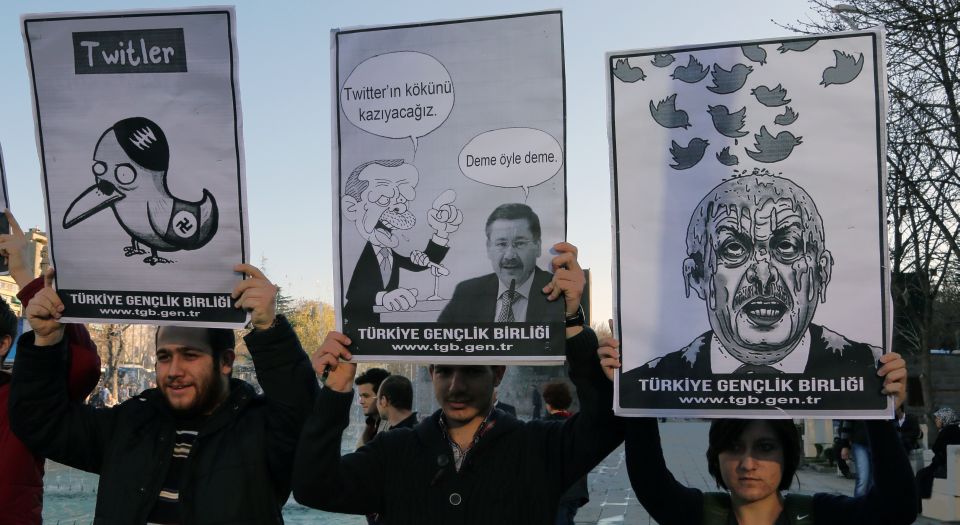 In March this year, Turkey's prime minister, Recep Tayyip Erdogan, head of the ruling Justice and Development Party (AKP), launched an assault on free speech as audacious as it was repressive. He tried to shut down Twitter. And then, for the grand finale, he had a go at turning off YouTube and Facebook, too.
For anyone with a scintilla of freedom-loving feeling, Erdogan's move was dispiriting. Its purpose was nothing less than the silencing of those critical of the government, and, especially, of Erdogan. In other words, the ban on Twitter was effectively a ban on dissent.
It made its own authoritarian sense, of course. Over the past year, Erdogan has been the focus of increasing resentment from a mainly urban, middle-class section of Turkish society. That resentment came to global attention last summer following the police's heavy-handed reaction to a sit-in protest over an urban development plan for Gezi Park in Istanbul – most of which was relayed to the wider world through, you guessed it, social media. Since then, the political attacks on Erdogan have continued, and their medium has principally been Twitter and YouTube. Most damaging to Erdogan have been the tweeted and posted stories, including audio clips, that allegedly implicate Erdogan and other family members in a large-scale corruption scandal. As Turkey's Telecommunications Authority stated when issuing the Twitter ban last month: 'Twitter has been used as a means to carry out systematic character assassinations by illegally acquired recordings, fake and fabricated records of wiretapping [and] continuing violation of personal rights.'
The approach of local elections at the end of March had clearly focused Erdogan's mind on his increasingly vocal opponents. Given the widely held assumption that Erdogan plans to stand for the revamped position of president this August, the March elections were effectively seen, in the words of the Brookings Institute, as 'a plebiscite on Erdogan's legitimacy'. The constant tweeting from his critics, blasting out corruption allegations and political attacks into the public sphere, was deemed by Erdogan to be too damaging. So, like all good authoritarians, he decided to shut them up.
Since then, Erdogan has convincingly won the local elections, garnering over 45 per cent of the vote, but not before the Turkish judiciary ruled that the government's ban on Twitter, YouTube et al 'had violated the public's right to information and communication'. The defeat was hardly surprising given that members of Erdogan's own government were opposed to the ban. Still, the battle between Erdogan and the world's biggest social-media platforms continues, with Erdogan now insisting that Twitter is a 'tax evader', and demanding that certain anti-government Twitter accounts are deactivated – a demand to which reports suggest Twitter has agreed.
All in all, Erdogan's war with Twitter and other social media has made for a miserable free-speech-crushing spectacle. Turkish citizens have voiced criticism and aired concerns, as they should be able to in a democracy, but not finding the opinions to his liking, Erdogan has tried to wipe them from the public sphere.
And yet there is something oddly familiar about Erdogan's move against Twitter. You can hear it in the way he has talked about Twitter to his supporters. 'There is now a scourge called Twitter', he said at the height of the Gezi Park protests last June. 'This thing called social media is currently the worst menace to society.' And you can hear it again in his speech to a rally in March: 'Twitter schmitter; we will wipe out all of these [social media platforms]. The international community can say this, can say that. I don't care at all.' And again, at another pre-election rally: 'Everyone will see the strength of the Republic of Turkey.'
It's almost uncanny: the shrill tone; the hyping up of a menace to society; the posturing self-aggrandisement. As unlikely as it may seem, Erdogan has launched a twitch-hunt against, well, Twitter. These are the methods used by too many of the right-thinking classes in Western Europe, and especially the UK, to cleanse the public sphere of 'unacceptable' speech. He has made his opposition to the bad things people say on Twitter into a moral crusade, copper-fastening his absurd pursuit with a piece of hasty, illiberal legislation. And in doing so he has tried to use it to bolster his own authority, even going so far as to suggest it will reflect well on Turkey, showing the world how strong and resolute Turkey is. That is to say, Twitter has itself become the troll, the source of unacceptable speech, to Erdogan's civilising, censorious mission.
There has, of course, been no shortage of politicians and NGOs outside of Turkey willing to condemn Erdogan's obsessive pursuit of Twitter. Doug Frantz, US State Department assistant secretary of public affairs, likened it to 'twenty-first-century book burning'. EU commissioner Stefan Fule, the man responsible for overseeing EU accession negotiations with Turkey, felt Erdogan's attitude to Twitter raised questions about Turkey's commitments to 'European values and standards'.
Turkey's Twitter war has even become something of a cause célèbre for campaign groups nominally concerned with free speech. Pen International and English Pen, for example, roped in a host of literary stars, from Zadie Smith to Salman Rushdie, to put their names to a much-publicised letter to Erdogan in which Pen urged the Turkish government 'to remember that this beautiful country will be stronger and happier when, and if, it appreciates pluralism, diversity and the freedom of words.' Amnesty International piped up, too: 'The Turkish government appears to be itching for pretexts to close down websites because of their capacity to mobilise dissenting opinion and broadcast embarrassing material', said Andrew Gardner, Amnesty International's man on all things Turkish. A commentator in The Times approvingly cited a Turkish protester's placard: 'On it was a picture of Mr Erdogan as a beaked bird with a toothbrush moustache. It read "Twitler".'
But there is something that sticks in the craw about the long-distance outrage over Erdogan's Twitter twitch-hunt. And that something is the sly hypocrisy of it all. Because while American and British politicians, right-on NGOs and avowedly liberal pundits are all too ready to slam Erdogan's twitch-hunt, when the same methods are used, for example, in the UK, to silence the unacceptable and the batty, barely an eyebrow is raised.
Think of Daily Mail columnist Jan Moir who, thanks to an unseemly column about a recently deceased boyband member in 2010, was lynched by thousands of Twitter users, including high-profile celebs, before being sent before the Press Complaints Commission. Think of the drunken Welsh student Liam Stacey, who, thanks to an evening's worth of distasteful, racist tweets in 2012, was convicted of a racially aggravated public-order offence. Or think of the couple of lonely saddos, John Sorley and Isabella Nimmo, who, last year, were jailed for eight and 12 weeks respectively for tweeting horrible nonsense to Caroline Criado-Perez, a well-connected feminist campaigner. These unrelated cases of people being silenced for saying something deemed insensitive, or being incarcerated simply for being unpleasant, prompted no grand words from English Pen, no concerned statements from Amnesty International. Instead, they were greeted either with silence, or, in the case of some liberal pundits, approval.
Yes, there is a huge quantitative difference between twitch-hunting insensitive newspaper columnists or crass drunken students, and twitch-hunting an entire social-media platform. But qualitatively, these are similar pursuits. Erdogan is shrilly denouncing opinions he doesn't like, turning them into something dangerous and menacing to Turkey's supposedly vulnerable citizens, while here in the UK, the right-thinking classes shrilly denounce opinions they don't like and turn them into something dangerous and menacing to supposedly vulnerable citizens. Yet while politicos and pundits rush to damn Erdogan, sending him celeb-signed panegyrics to 'the freedom of words', when confronted by the twitch-hunting of views deemed inappropriate, offensive or wrong by the twitch-finder generals here in the UK, the same politicos and pundits go quiet.
It seems it's far easier to pose as a defender of free speech in foreign climes than it is to fight for the same principle at home. Yes, the Turkish government does have a free-speech-quashing mote in its legislative eye, but British society is not without quite a few beams itself. So criticise and challenge the violation of freedom of speech wherever it may be. But it's worth remembering that the best way to support the free speech of those in other countries is to fight for free speech at home. That way solidarity lies. All else is little more than feel-good grandstanding which, at its worst, provides the colonialist impulse of Western campaigners and politicians with the veneer of virtue. So let Turkish citizens challenge authoritarian Turkish rulers, and let us tackle the considerable threats to free speech in our own backyards.
Tim Black is deputy editor at spiked.
Picture: Burhan Ozbilici/AP/Press Association Images
To enquire about republishing spiked's content, a right to reply or to request a correction, please contact the managing editor, Viv Regan.