The fan-bashing spirit of the Eighties lives on
Attitudes to football fans have changed since Hillsborough. But for the better?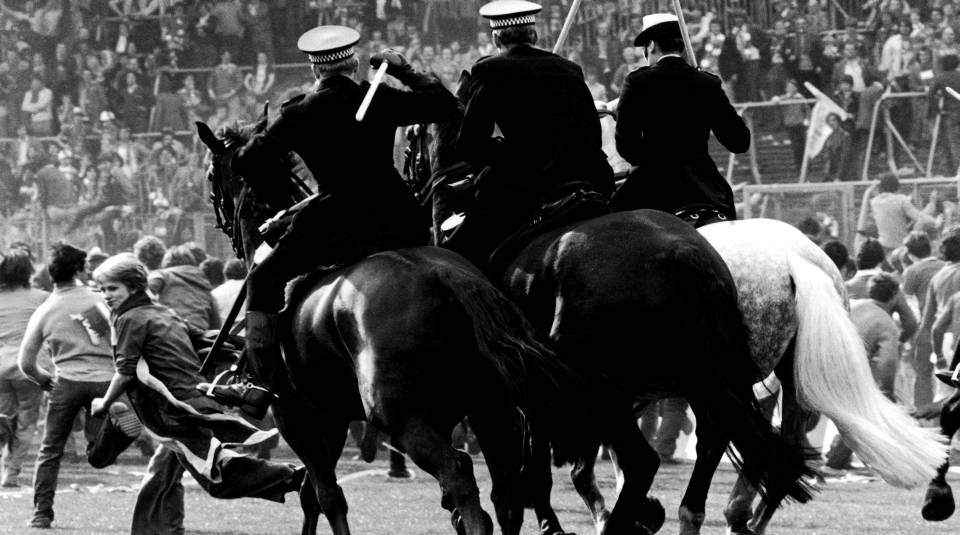 The official minute's silence to mark the twenty-fifth anniversary of the Hillsborough disaster is set to last a lot longer than 60 seconds. With the new inquests into the deaths of 96 Liverpool fans underway, both the Liverpool coroner and the UK government's attorney general have made clear that anybody publishing material or opinions that might impact on the inquest jury's view of the events of 15 April 1989 risks being prosecuted for contempt of court. Both officials made a point of singling out online publications and social media for their warning/threat. And jurors have already been told to expect the proceedings in the coroner's court to last up to 12 months.
So, we have effectively been told that we cannot comment on the causes of Hillsborough for a year. This legalese might seem slightly bizarre to those who have been seeking to spell out the truth (as opposed to 'The Truth') about Hillsborough for 25 years, much of which material is still available online and in print; I wrote the first of many attacks on the mainstream version of events one day after that FA Cup semi-final in Sheffield. Are we now supposed to pretend that we don't know what happened, until the coroner rubber-stamps a new official version?
Anyway, for the time being we are apparently not allowed to express our evidence-based opinions on who was to blame for Hillsborough (a hint: it wasn't the fans). So let's talk about something entirely different instead. Such as, the wider context of attitudes towards football crowds prevalent 25 years ago, and how far things have changed today.
It has been remarkable to witness the expressions of empathy towards the Hillsborough victims from high places in the past week – especially if we recall the hostility towards football fans that existed back then. Even if Twitter had been around in 1989, it is hard to imagine Tory prime minister Margaret Thatcher wanting to match her successor, David Cameron, by tweeting in sympathy with the bereaved families of football fans. Such has been the 'Never Again' consensus of opinion recently that one might think Britain in 1989 was run by some distant alien force – perhaps the Nazis? – with entirely different attitudes to those prevailing today.
Of course, attitudes towards football fans have changed beyond recognition in the past 25 years.
In the 1980s, the authorities and the police declared war on the spectre of football hooliganism and sought to tame the behaviour of crowds. Now, the authorities and police want to control not only what supporters do but also what they are allowed to say, sing or even think, and have declared war on 'offensive' chanting. There might be far fewer arrests for violence at matches today, but supporters are being nicked for alleged Thought Crimes – see the infamous arrest of Spurs supporters for calling themselves the 'Yid Army', or the three Gillingham fans arrested on suspicion of a 'racially aggravated public-order offence' after reportedly calling Rotherham manager Steve Evans a 'fat Scottish wanker'.
Until Hillsborough, the Tory government wanted to introduce ID cards specifically for football fans, to make it easier to identify, arrest and ban those accused of hooliganism. Now, the Lib-Con coalition wants to introduce something called IPNAs that would make it possible to punish anybody accused of causing 'nuisance or annoyance' to somebody somewhere; it might be hard to think of a football chant, song or wind-up that would not meet such a limbo-low standard of criminality.
In the 1980s, police treated away fans in particular like prisoners of war, marching them to the stadium and then herding them into packed metal cages to 'enjoy' the match. These days the police like to get their retaliation in early, often using Section 27 of New Labour's Violent Crime Reduction Act to bar away supporters from entering not just a pub or street, but an entire town or city on a match day. Police also file lengthy reports on the behaviour of away fans at every game, including whether they indulge in 'inappropriate chanting' (the horror, the horror). One recently leaked example, about Manchester United fans' day out in Norwich, was entitled 'Information for Inclusion in the Assessment of Football-Related Violence and Disorder and Emerging Trends Document' (I am not making this up). It denounced examples of 'unacceptable, anti-social [and] dangerous' behaviour inside the Carrow Road ground, including 'complimentary condiments being thrown around and sauce bottles being squirted on to the floor'. Something surely must be done, or they'll be smoking on the back of the school bus next…
Back then, the 'match-day experience' (not an expression you heard in the 1980s, when the sort of people who use such management speak did not go to football) was very different. Most fans, especially visiting-team supporters, watched from cramped and crumbling terraces where if you got a 'warm feeling' it probably meant the bloke behind was peeing on your leg. The locked cages made any big match a potential Hillsborough; the then Chelsea chairman wanted to supplement these security measures by erecting an electrified cattle fence around the pitch at Stamford Bridge. Now, fans watch in the safety and security of sanitised all-seater stadiums, brought in after Hillsborough, where the police and 'response teams' of security officials seek to micro-manage their behaviour by dictating not only what they can do or drink, but what banners they can bring into the ground, what songs they can sing and what language they are allowed to use. Effectively, fans today are told to sit down and behave themselves. As spiked's sports columnist, Duleep Allirajah, has pointed out, fans are now treated less as violent thugs than as naughty children. Why the atmosphere at matches should now be so dull and subdued compared to the old days remains a mystery…
In the 1980s, the Football Association was seen as a bumbling collective of blazers who could not organise a kickabout in a park. Now, by contrast, the FA is seen as a bumbling collective of suits who could not organise a World Cup in a multi-million pound national stadium. The FA's self-image has also changed in the past 25 years. Back then, officials would often claim that dealing with the behaviour of crowds was society's problem, not football's. Now, the FA boldly asserts, in declaring war on Spurs fans' use of the 'Y word', that its role is not merely to 'enforce the Laws of the Game', but also to 'send out clear messages about what is and is not acceptable language' among supporters. (As clear messages go, the Yid Army's chorus of 'We'll sing what we like' surely takes some beating.)
Back then, too, working-class football supporters were frequently attacked by the right-wing press and politicians. The Sun's notorious April 1989 front page, headlined 'The Truth', which falsely accused Liverpool fans of causing the disaster at Hillsborough, was only the most extreme example. In 1985 the respectable Sunday Times had condemned football as a 'slum sport played in slum stadiums increasingly watched by slum people, who deter decent folk from turning up'. In the pre-Hillsborough debate over introducing ID cards for football supporters, one Tory member of the house of lords demanded football ID cards to deal with 'the yob class' of teenagers who went to matches – that is, people like those who were to die that day – while another lord and admiral said football should not be the national sport as it was 'a slum game played by louts in front of hooligans'.
How times have changed. These days, of course, many of those whom Tories might consider 'decent folk' do go to watch football in the prawn-sandwich section of all-seater stadiums. But some of them still don't like what they see off the pitch, among the more proletarian supporters. Instead of Tory lords denouncing working-class fans as hooligans and yobs, we have liberal elitists denouncing them as homophobes and racists; one liberal newspaper columnist rails against the 'knuckle-dragging cretins' she is forced to listen to at the footie, while, in the run-up to the twenty-fifth anniversary of Hillsborough, a Channel 4 documentary demanded that the police do more to crack down on 'offensive' fans.
We can all agree that another Hillsborough must and will not happen. How far attitudes towards working-class football fans have changed for the better is a different question altogether – and one that the new inquests into the 96 deaths will not answer.
Mick Hume is spiked's editor-at-large. His book, There is No Such Thing as a Free Press… And We Need One More Than Ever, is published by Societas. (Order this book from Amazon(UK).) Visit his website here.
To enquire about republishing spiked's content, a right to reply or to request a correction, please contact the managing editor, Viv Regan.